Looking to cut back on carbs and eat more vegetables? This quick and easy Thai Sweet Chili Shrimp with Cabbage "Noodles" cooks in under 30 minutes, making it the perfect recipe to add to your menu planning.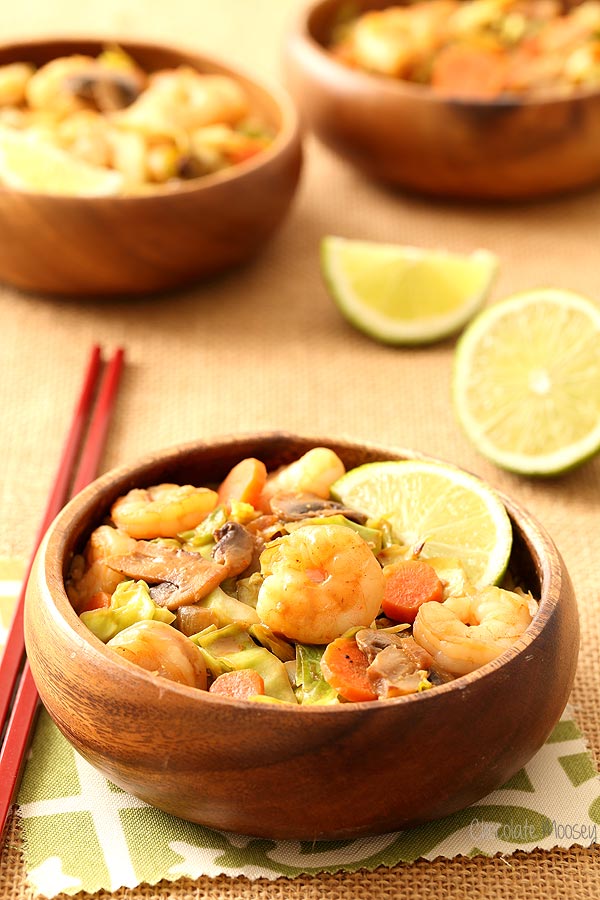 If 2013 was
my worst year ever
, then 2014 was my year of change. It's hard to believe how emotionally drained I was this time last year. I knew that I'd be moving back to Pittsburgh come hell or high water but never expected to actually quit my job and become a full time blogger. It's only been 6 months, but it feels like my previous job was eons ago. I've become bolder. I've become stronger. I've become more driven. I finally have a clear version of my goals, both short term and (more importantly) long term. I never took goal setting seriously before now. Sure, I had hopes and dreams but had never actually written them down on paper. I never set a deadline or steps on how to get there. I thought I knew what I wanted, but it's amazing how your perspective shifts when your goals are written right in front of you. There's a quote I saved
on my Pinterest quotes board
: "Sometimes on the way to the dream, you get lost and find a better one." I couldn't agree more.
Speaking of goal setting, last year I talked about incorporating more vegetables and improving my menu planning skills. I was actually doing pretty well, planning out two weeks' worth of meals and grocery shopping every other weekend. It faltered a little when I moved but then I got back on track. Until the holidays started. My workload increased, which means on days where I'm shooting cookies and cakes, I want to cook something quick and effortless for dinner. Unfortunately I turned to frozen pizza a little too often (which I'm still trying to find a favorite – any suggestions?). Time to take back menu planning. One dish I make probably every other week that is both quick and vegetable heavy is this Thai Sweet Chili Shrimp with Cabbage "Noodles", a clever dish that replaces the carbs from regular noodles with a healthier vegetable option. I can't quite say the overall dish is healthy as the sauce does have peanut butter and sweet chili sauce, but it is certainly one step closer to getting back on track for 2015.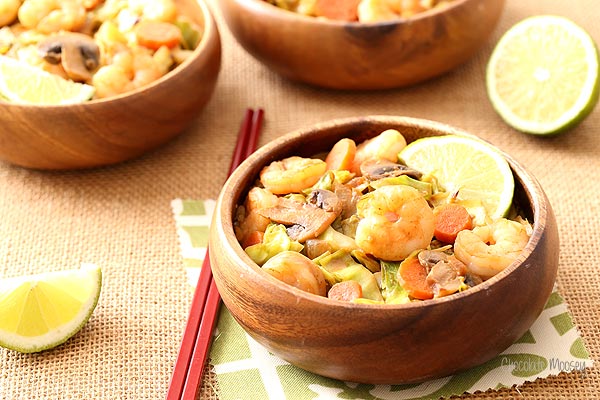 I originally called this Pad Thai Shrimp as the recipe I adapted it from also called it Pad Thai. However, after some research, I discovered this is nowhere near Pad Thai as it doesn't have tamarind paste nor fish sauce (along with a few other authentic ingredients). I'm not sure where the disconnect occurred – maybe it's equivalent to us Americanizing Chinese food where real Chinese cuisine involves chicken feet and fish heads. As much as I love tamarinds and fish, I'm convinced this Thai sweet chili and peanut butter sauce is much better tasting anyway.
If you really want to get technical, this is shrimp served over sautéed cabbage and carrots. However, it's more fun to say cabbage noodles. I was trying to think of a clever term mashing the two words together, kinda like zoodles is zucchini noodles, but I'm sure coodles isn't quite as appetizing. Would you like some coodles with your shrimp? There's also caboodles, but kaboodle is a type of cat food. Trust me – cats don't like cabbage.
They do like shrimp, however
.
What I love best about this recipe is that you can customize it. Mushrooms, carrots, snow peas, bean sprouts, bell peppers, whatever you have on hand, you can throw in. It's a great way to clean out your produce drawers. You can even use chicken instead of shrimp, but you'll need to cook that a little longer.
Thai Sweet Chili Shrimp With Cabbage "Noodles"
Yield: 2-3

Prep Time: 30 minutes

Cook Time: 20 minutes

Total Time: 50 minutes

Meal planning tip – Take some extra time on a day off to prep the shrimp and cut up the vegetables ahead of time. You can freeze the shrimp, making them ready to grab at a moment's notice. Feel free to customize this recipe with whatever you have on hand: mushrooms, carrots, snow peas, bean sprouts, bell peppers. You can also use chicken instead of shrimp, but you'll need to cook that until no longer pink in the middle.
Ingredients
2 tablespoons olive oil
1 small onion, chopped
1 carrot, peeled and cut into coins (bigger coins cut in half)
4 small button mushrooms, sliced
Half of a small head of green cabbage, cut into 1/2-inch thick strips that are 3-4 inches long* (see Note)
2 tablespoons soy sauce
1 tablespoon sweet chili sauce (homemade or store-bought)
1 tablespoon peanut butter
1 teaspoon ginger paste or freshly grated ginger (or 1/4 teaspoon ground ginger)
1 teaspoon fresh lime juice
1/2 pound raw shrimp, thawed, peeled, deveined, and patted dry
Instructions
Heat the oil over medium heat in a Dutch oven or large pot. Once hot, add the onions, carrots, and mushrooms and cook for 2-3 minutes. Add the cabbage and cook for 8-10 minutes, stirring often, or until the cabbage is cooked to your liking (I like mine a bit tender-crisp).
While the cabbage is cooking, make the sauce. In a small bowl, whisk together the soy sauce, sweet chili sauce, peanut butter, ginger, and lime juice.
Once the cabbage is cooked, add the sauce and shrimp, stirring to combine everything. Cover with a lid and cook 3-5 minutes or until the shrimp are pink and cooked. Serve hot.
Notes
*Cabbage comes in a variety of sizes, so you may need to guesstimate the amount. I bought a 2-pound head of cabbage and used half of it. However, if your cabbage is bigger, you may only need to use a quarter of it.



Source: Inspired by Paint and Tofu
More Shrimp and Cabbage Recipes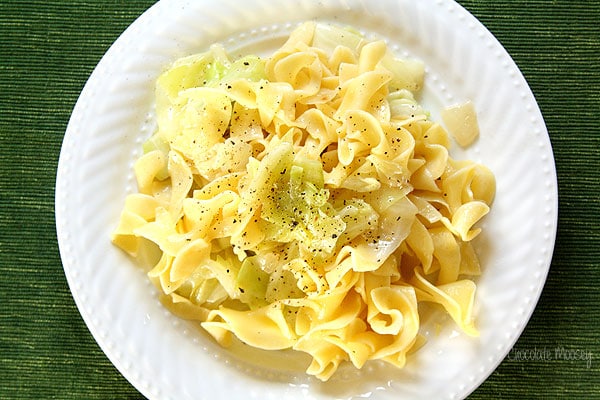 Haluski (Cabbage and Noodles)