When winter squash is in season, turn it into a hearty comforting dinner for two with Butternut Squash Alfredo with pasta, spinach, and mushrooms.
Once upon a time, this blog used to be my escape from adult responsibilities.
I could do and say what I wanted when I wanted, and nobody could stop me. When people asked me what my hobbies were, I would say baking and blogging.
Now that it has become my job, I need to find some new hobbies. Otherwise I was going to become a workaholic!
So far I've taken up Zumba classes and walking at the park, but is exercise really considered a hobby? "Hi, I'm Carla and like to exercise for fun." Lame.
Then I started thinking about what really excites me outside of my kitchen and came up with…visiting farmer's markets.
Seriously, I fail at this whole hobbies thing.
But it's true – I LOVE scouting out new-to-me markets and staring at the abundance of fresh produce begging to come home with me.
Although I've been to plenty of markets, I have yet to find one that keeps me coming back for more (usually they are small with only 3-4 tents).
Regardless of the size, the same thing ALWAYS happens – I buy too much produce, especially when a new season begins.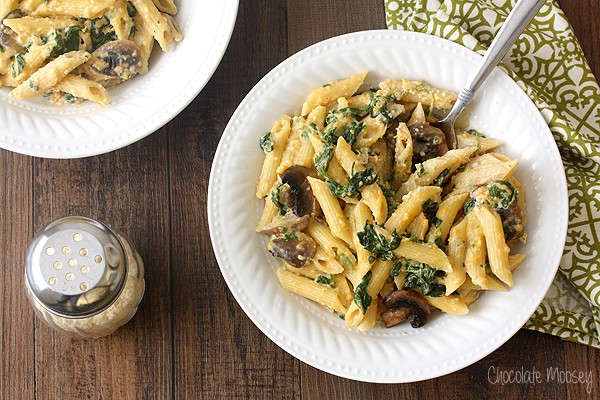 Take fall for example – I was so excited over all the winter squash available that I bought three different kinds.
Squash isn't small either, so three squashes translates into, like, 6 meals for me. Thank goodness they last long in the fridge.
One of my go to recipes when I buy butternut squash is this Butternut Squash Alfredo with pasta, spinach, and mushrooms. It's hearty and comforting, perfect for winter.
I knew I wanted to make an Alfredo sauce with butternut squash puree, but I wasn't feeling fettuccine. In fact, I really wanted penne.
Is it weird to crave a certain kind of pasta even though they all taste the same?
Butternut squash goes great with sage, but I don't like sage. I was thinking of something green and came up with spinach. T
hen of course I add mushrooms to everything.
Move over, fettuccine, because there's a new Alfredo dish in town.
Butternut squash is probably my favorite winter squash, yet I rarely cook with it. Why? Because it is a pain to cut those babies in half.
For the longest time, I had cheap knives, which are great if you are just starting out on a small budget.
Truth is I never realized how much knives mattered until I won a full chef knife set during a blogging conference. Knives – big deal, right? Wrong. Oh so wrong.
I was a little nervous since the chef's knife is huge, but it changed everything. That sounds dramatic, doesn't it? But it's true.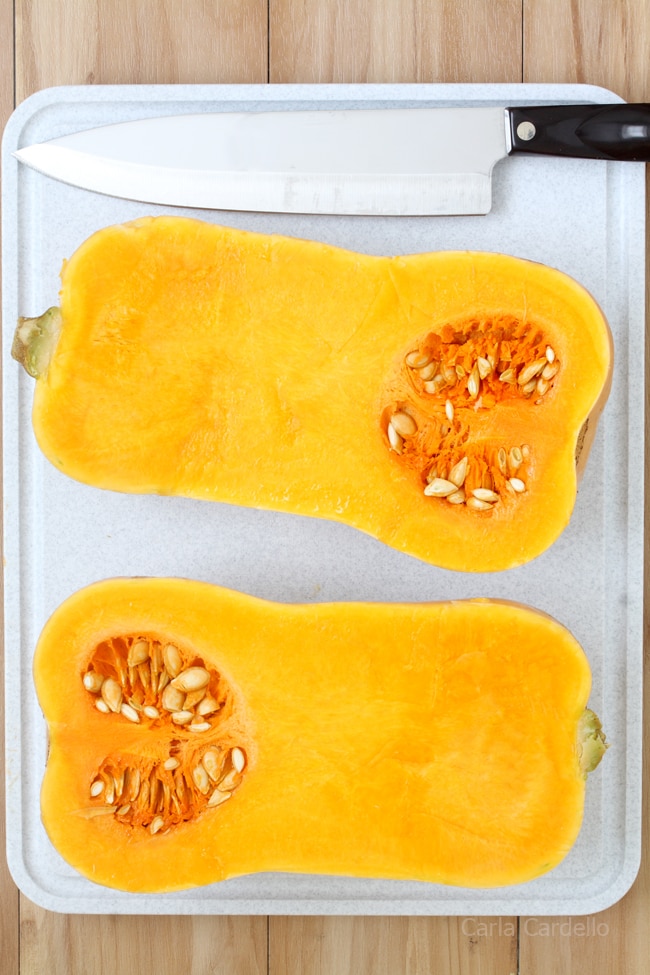 Last year, I cut a butternut squash with my cheap knife where it felt like it was going to snap. This year, I cut a butternut squash without hesitation.
Ok so I still can't cut a straight line, but it was almost effortless.
Rule of thumb – if your knife can't cut a winter squash in half, then it's not a very good knife.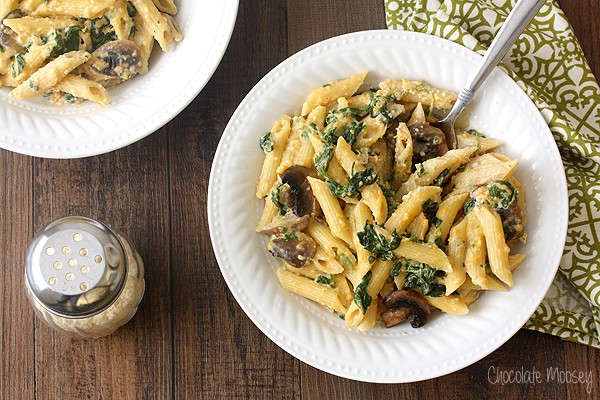 Originally I roasted the squash first, but then I realized how time consuming that was for a weeknight dinner.
I since then reworked the recipe to cook the cubed squash on the stove. It then becomes soft enough for you to puree in the blender.
If you want to roast squash, check out my Vegan Stuffed Butternut Squash.
If you're really, really tight on time and don't have butternut squash on hand, you can substitute canned pumpkin puree.
Butternut Squash Alfredo with Pasta, Spinach, and Mushrooms
When winter squash is in season, turn it into a hearty comforting dinner for two with Butternut Squash Alfredo with pasta, spinach, and mushrooms.
Ingredients
8 ounces uncooked penne pasta
6 ounces frozen spinach
2 tablespoons unsalted butter
1 cup sliced white button mushrooms (4-5 mushrooms)
1/4 cup chopped onion
3 cups cubed butternut squash
1 clove garlic, minced
1 cup heavy whipping cream
3/4 cup grated Parmesan cheese
Instructions
Bring a large pot of water to a boil. Once boiling, add a big pinch of salt then add the penne. Cook until al dente, about 10-12 minutes. Once al dente, add the spinach and cook for 1 minute. Drain everything together in a colander.
Meanwhile, in a large skillet, melt 1 tablespoon butter. Add the onion, mushrooms, and a pinch of salt. Cook until softened, about 5 minutes. Transfer to a bowl.
Melt the remaining 1 tablespoon butter. Add the butternut squash and a pinch of salt. Cover and cook until softened, about 10-12 minutes. Remove the lid and add the garlic. Cook for 1 minute.
Stir in the cream and Parmesan cheese. Bring to a boil.
Transfer to a blender. Puree until smooth. If it's too thick, add more cream to thin it.
Pour the sauce back into the skillet. Stir together the pasta, spinach, and mushroom mixture.