Gingerbread Blondies
Serve Santa these spiced Gingerbread Blondies to go with his glass of milk on Christmas Eve.
I must be crazy, posting all these recipes lately. So many ideas to share yet not enough time in the day.
I did want to squeeze in one more gingerbread recipe before Christmas.
As a photographer, I could not go through December and not have the famous bokeh Christmas tree picture (which just means having the Christmas tree lights blurred in the background).
In order to do that, I needed an extra special Christmas treat to photograph in front.
And considering how busy my December became, it had to be quick and simple yet scream Christmas. That's when my mind decided on Gingerbread Blondies.
I already brought you mini gingerbread cheesecakes, small batch gingerbread cookies, and small batch gingerbread cupcakes.
This year I'm focusing on gingerbread blondies (and hint – you can totally gift these to friends and even mail them. Or eat them all yourself. I won't judge).
It took some time, but I finally got my tree up last week.
It's an artificial tree that my parents gave me a few years ago when I moved into my own place.
I told myself one day when I had my own tree, it would be decorated with only cupcake ornaments.
I thought that would be difficult, but it's amazing how many cupcake ornaments are out there. Even Hallmark has a cupcake collection.
Here are some of my favorite ornaments (I have over 30):
As for the recipe, they are chewy in the center, just like how a blondie is supposed to be.
The molasses makes them look almost like brownies, but because of the brown sugar and lack of cocoa, they still fit the blondie family.
I went back and forth between semisweet and white chocolate chips, and as you can see white chocolate won. I think next time I'll throw both kinds in.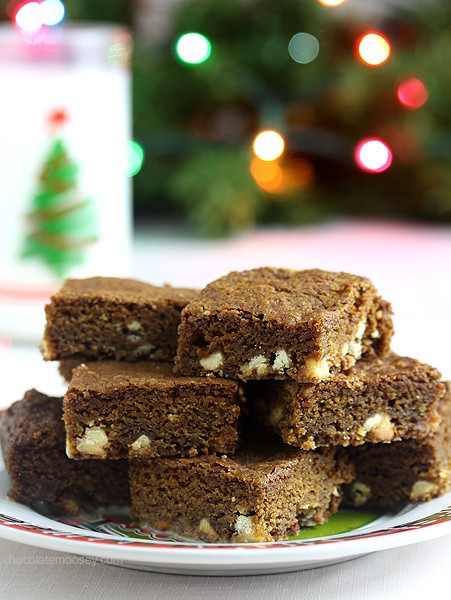 Equipment you may need (Amazon affiliate links):
Gingerbread Blondies
Serve Santa these spiced Gingerbread Blondies to go with his glass of milk on Christmas Eve.
Ingredients
1 1/4 cup + 2 tablespoons all purpose flour
3/4 teaspoon baking soda
1/2 teaspoon salt
1/2 teaspoon ground cinnamon
1/2 teaspoon ground ginger
1/4 teaspoon ground nutmeg
1/8 teaspoon ground clove
10 tablespoons unsalted butter, softened
2/3 cup brown sugar
1/4 cup granulated sugar
1 egg
1 egg yolk
1/2 teaspoon vanilla extract
2 tablespoons molasses
1 cup white chocolate chips
Instructions
Preheat oven to 350F. Line an 8x8 pan with parchment paper.
In a large bowl, whisk together the flour, baking soda, salt, cinnamon, ginger, nutmeg, and clove.
In a large mixing bowl, beat together the butter and both sugars until light and fluffy. Beat in the egg and yolk, one at a time. Beat in the vanilla and molasses then gradually beat in the flour. Add the white chocolate chips.
Spread the batter into the pan. Bake for 35-38 minutes or a toothpick inserted in the center comes out clean. Cool completely before cutting into squares.
Source: Adjusted from
Martha Stewart
—-
If you liked these Gingerbread Blondies, you may also like these recipes:
From me: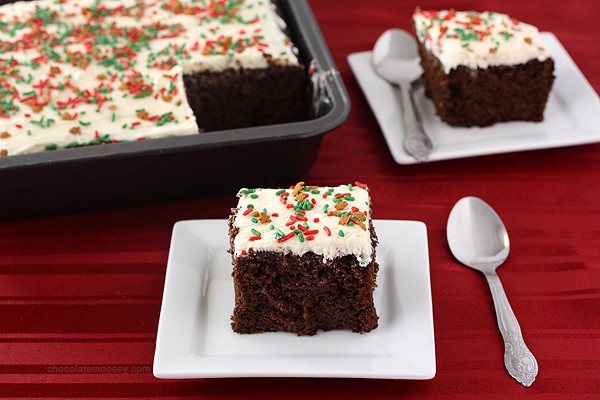 From others:
This post may contain affiliate links. As an Amazon Associate and member of other affiliate programs, I earn from qualifying purchase.