Snickerdoodle Cookie Bars with Apple Butter Frosting
Soft and chewy snickerdoodle cookie bars topped with apple butter frosting that won't require a trip to the store to buy cream of tartar.
Snickerdoodle cookies
were one of the first cookie recipes I learned to make.
When you learned baking in home economics class, you had several basic recipes – chocolate chip cookies, sugar cookies, and snickerdoodles.
One thing I like more than making cookies is making cookie bars because you throw it in one pan rather than spend extra time scooping. You don't have to worry about cookies spreading into each other (or not spreading at all).
Then when you're finished, you can frost one pan in a few minutes rather than frost several dozen cookies at a time.
I chose to pair my snickerdoodle cookies bars with an apple butter frosting because it's fall and apple butter pairs really well with cinnamon and sugar.
Oh and you don't have to go out and buy cream of tartar like most snickerdoodle recipes called for. In fact, I bet you have all the ingredients in your pantry right now.
I hate when a recipe calls for an item that you know you will rarely use again, such as cream of tartar.
Case in point – when I was reorganizing my spices in my pantry a few months ago, I found my tiny jar of cream of tartar, ready to be used for snickerdoodle cookies.
Except it expired in 2009. It's a shame since it only had a few (tiny) scoops of product missing. Practically a whole jar thrown out.
When I went to buy a new jar at the store, it was $3-$4! I couldn't justify spending that much on a tiny jar of something I was barely going to use.
Is it possible to substitute cream of tartar?
Yes it is. You can substitute baking powder.
That makes me wonder why we even buy cream of tartar, so I did a little research.
Cream of tartar is a fine white powder that forms inside wine barrels during winemaking because of a naturally occurring substance in grapes called tartaric acid (hence the name).
It helps control the acid level of fermentation and acts as a preservative for wine.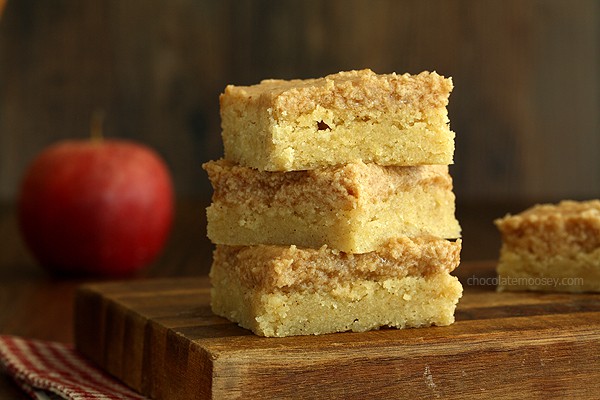 Bakers use cream of tartar to help stabilize egg whites and to help prevent sugar syrups and candies from crystallizing.
So why do cookie recipes even call for it? Cream of tartar is used as an acid to activate the baking soda often paired with it.
You can substitute baking powder (1 teaspoon = 1/3 teaspoon baking soda + 2/3 teaspoon cream of tartar) because most baking powders tend to contain cream of tartar already.
I can't promise this substitution will work with every recipe, but it works for these snickerdoodle bars.
For more apple butter recipes, check out my guide on what to do with apple butter.
Snickerdoodle Cookie Bars with Apple Butter Frosting
Ingredients
Cookie
1 1/2 cups all purpose flour
1 teaspoon baking powder
1/2 teaspoon cinnamon
1/4 teaspoon salt
3/4 cup granulated sugar
3/4 cup (1 1/2 sticks) unsalted butter, softened
1 egg
1 teaspoon vanilla extract
Frosting
1/2 cup (1 stick) unsalted butter, softened
1 1/2 cups powdered sugar
Pinch of salt
1/4 cup apple butter, room temperature
1/4 teaspoon vanilla extract
Instructions
For the cookies:
Preheat oven to 375F. Line a 9x9 pan with parchment paper.
In a medium bowl, sift together the flour, baking powder, cinnamon, and salt.
In a large mixing bowl, beat together the sugar and butter until smooth and creamy, about 2-3 minutes (the sugar should dissolve and not be gritty). Beat in the egg until smooth then beat in the vanilla. Gradually beat in the flour mixture (do not overmix).
Spread the batter evenly into the pan. Bake 23-25 minutes or until golden brown and the edges pull away. Cool completely.
For the frosting:
In a large mixing bowl, beat together the butter, sugar, and salt until smooth and creamy. Beat in the apple butter and vanilla until smooth. Spread on top of cooled bars.
Source: Recipe adapted from Land O' Lakes 5th Annual Holiday Cookies book. Cream of tartar info from
about.com
—-
If you liked these Snickerdoodle Cookie Bars with Apple Butter Frosting, you may also like these recipes:
From me:
This post may contain affiliate links. As an Amazon Associate and member of other affiliate programs, I earn from qualifying purchase.