What's easy to make, super moist, and packed full of chocolate chips? This irresistible egg free dairy free vegan Banana Chocolate Chip Snack Cake, which uses up overripe bananas.

When I meet up with friends, especially those I haven't seen in a long time, I usually bring dessert to share, whether it's leftovers from the blog (hey someone has to eat it) or I made it especially for them.
However, I have one friend who is vegan, and seeing how much butter, eggs, and milk I go through a year, it's not always easy to bake for her.
One time I almost fed her something with marshmallows in it, which are not suitable for vegetarians let alone vegans.
Even though she tells me not to worry about making her anything, being the kind-hearted friend I am, I wanted to figure out what I can make; why should she be excluded because of her lifestyle?
My goal was to make a cake that both vegans and non-vegans will enjoy with everyday ingredients as I don't want to discourage anyone from making this Banana Chocolate Chip Snack Cake based on its label.
So moist and packed full of chocolate chips, you can't tell it's vegan. In fact, I took it to the coworking place I go to once a week as a social experiment (also, my waist doesn't need me to eat an entire snack cake).
I didn't tell anyone what I did because I wanted natural reactions, and everyone raved over it.
Yes I did it! Now my friend can have cake.
Whether you're vegan, not vegan, have food allergies, or you just want to eat a really good snack cake, this banana chocolate chip cake has everything you've been looking for.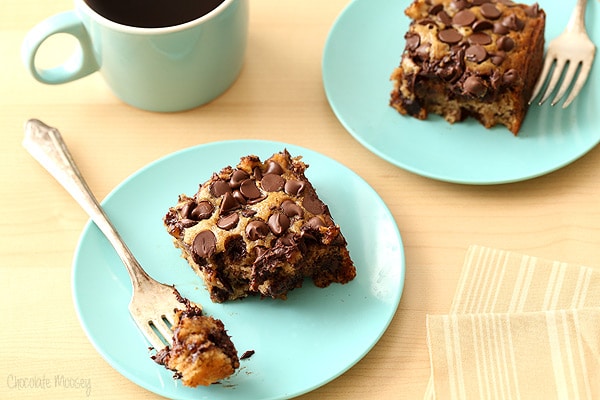 I go back and forth with eating bananas. For years, I used to eat them for breakfast when they would still have the a slight hint of green on them; I never did like them to be too ripe.
Now I can't really eat them as is but love them in my food – banana milkshakes, banana smoothies, banana bread, mini banana bread, small batch banana muffins, this banana snack cake.
In fact, last week I made three banana desserts. I'm on a banana roll.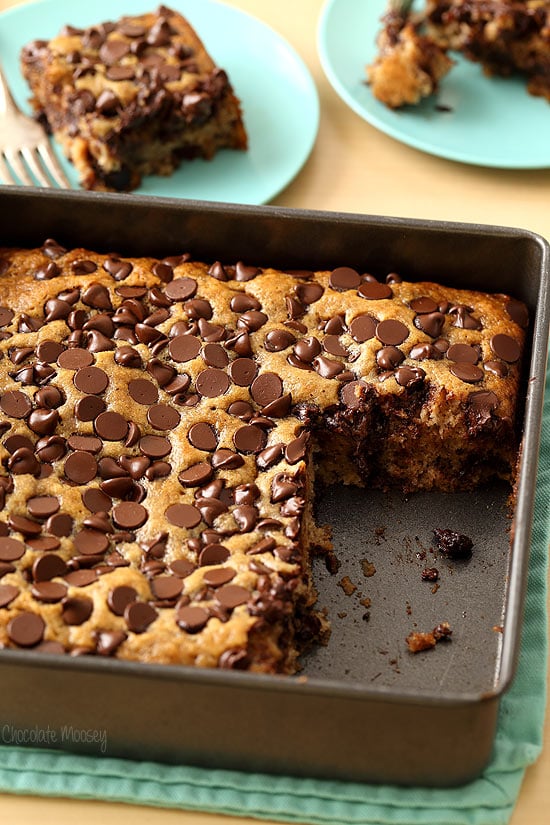 How to make vegan banana cake
Let's talk about how I made this cake vegan. I used vegetable oil for the fat, bananas for the eggs, and soy milk for the milk.
I've been crushing on edamame lately, which are green soybeans, so I wanted to give soy milk a try.
You can easily swap soy milk for dairy milk in most baked goods, as I did with this banana snack cake.
With that said, you can easily use the same amount of dairy milk in this recipe. Of course it's no longer vegan at this point, so make sure you know your audience before baking.
Even the chocolate chips can be vegan. If you're new to the world of vegan (such as me baking for my friend), you do need to read the label on your chocolate chips. The cheaper brands tend to use milk fat.
However, there are some brands that are dairy free, such as Trader Joe's. Worst case you can always chop up a chocolate baking bar (assuming it's also dairy free).
Banana Chocolate Chip Snack Cake (Egg Free, Dairy Free, Vegan)
What's easy to make, super moist, and packed full of chocolate chips? This irresistible egg free Banana Chocolate Chip Snack Cake, which uses up overripe bananas.
Ingredients
1 1/2 cups all-purpose flour, sifted
1/2 cup granulated sugar
1 teaspoon baking soda
1 teaspoon ground cinnamon
1/2 teaspoon salt
3/4 cup soy milk (or dairy for non-vegan cake), room temperature
1/4 cup vegetable oil
1 cup mashed banana (roughly 2 medium ripe bananas)
1 tablespoon white distilled vinegar
1 teaspoon vanilla extract
1 1/4 cup semisweet chocolate chips* (see Note)
Instructions
Preheat oven to 350F. Lightly grease an 8x8 inch square pan.
In a large bowl, whisk together the flour, sugar, baking soda, cinnamon, and salt.
In another large bowl or measuring cup, whisk together the milk, oil, banana, vinegar, and vanilla.
Pour the wet ingredients over the dry ingredients and gently whisk everything until is moistened, being careful not to overwork the batter.
Switch to a rubber spatula and stir in the chocolate chips.
Transfer the batter to the pan. Bake 20-25 minutes or until a toothpick inserted in the center comes out clean (it may have some chocolate on it). Cool completely before serving.
Notes
*Some chocolate chip brands do contain milk fat, so please read the label to ensure you are using dairy free chocolate chips if making this cake vegan.
Recommended Products
As an Amazon Associate and member of other affiliate programs, I earn from qualifying purchases.
More Banana Recipes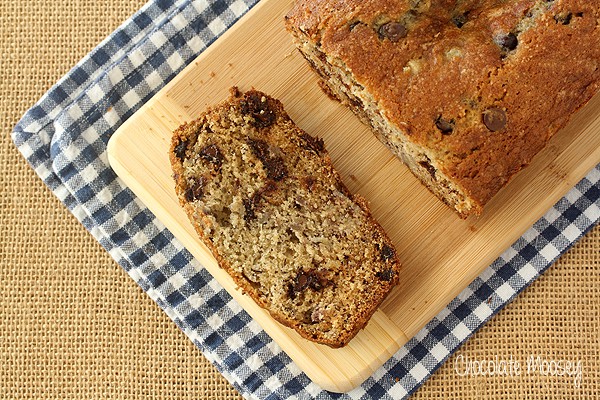 Banana Chocolate Chip Bread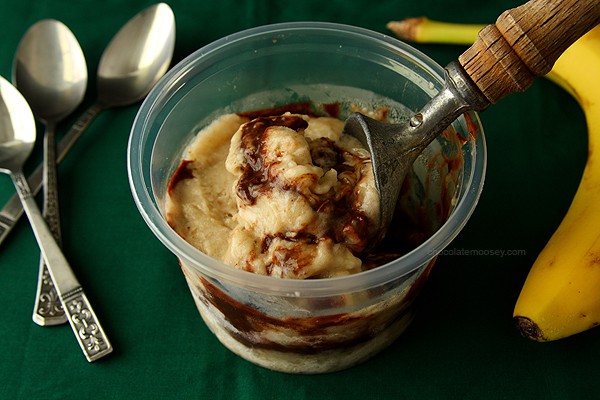 Banana Fudge Swirl Ice Cream

Banana Cupcakes with Fudge Frosting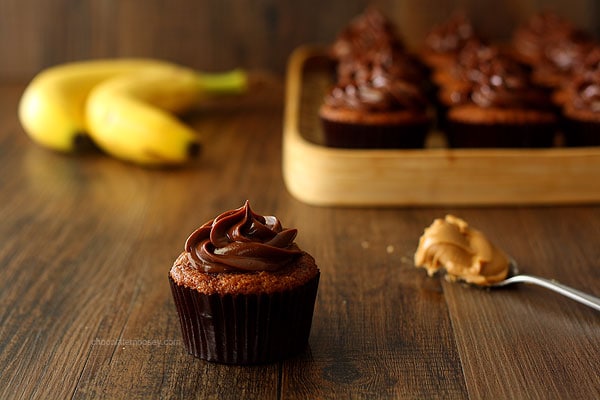 Roasted Banana Cupcakes with Peanut Butter Ganache Frosting