Homemade Small 6 Inch German Chocolate Cake For Two is a moist and delicious one layer chocolate cake you can make from scratch without a cake mix. Top it with a small batch of coconut pecan frosting.
Yesterday I teased you with my
Small Batch German Chocolate Cake Frosting
. Now I'm here with my Small 6 Inch German Chocolate Cake recipe to go with said frosting.
I wanted to break the recipe into two posts because I repeatedly use my coconut pecan frosting recipe in numerous recipes. I use that recipe so much, I even gave my recipes their own German chocolate category link.
I've been baking German Chocolate Cake (or some variation) since….well….forever. It's my dad's favorite cake flavor.
He always talks about some amazing slice of German chocolate cake he had at Busch Gardens. I've never tried that cake for myself, so I'll never know how it compares. All I know is Dad approves of both.
It wasn't until now I finally scaled it down into a one layer 6 inch cake, compared to the three layer cakes you find when you search for a recipe.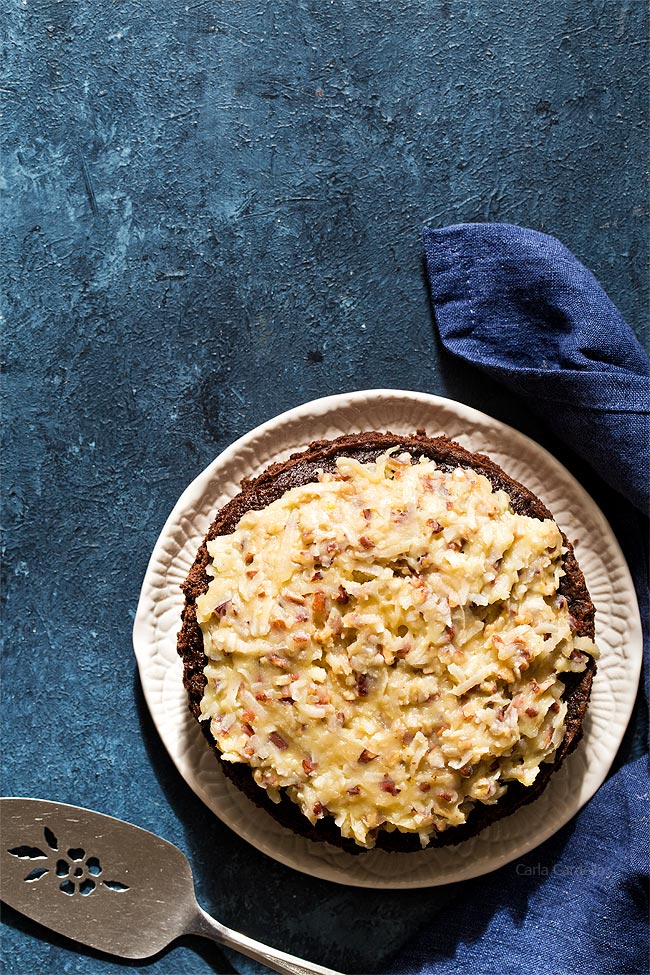 First, let's talk about what German chocolate cake isn't. Despite its name, it's not German. It's actually based off of a Texas sheet cake, also a chocolate cake with coconut pecan frosting.
The name comes from a guy named Sam German who discovered a new type of chocolate to use (in a green box strategically called German's chocolate). It's purely coincidental his name happened to be the word German and not in any relation to Germany.
The name of the cake started out as German's chocolate cake, which meant the cake belonged to Sam German. However, along the way the 's was dropped, making it seem like the cake came from Germany.
Side note: This is why grammar matters.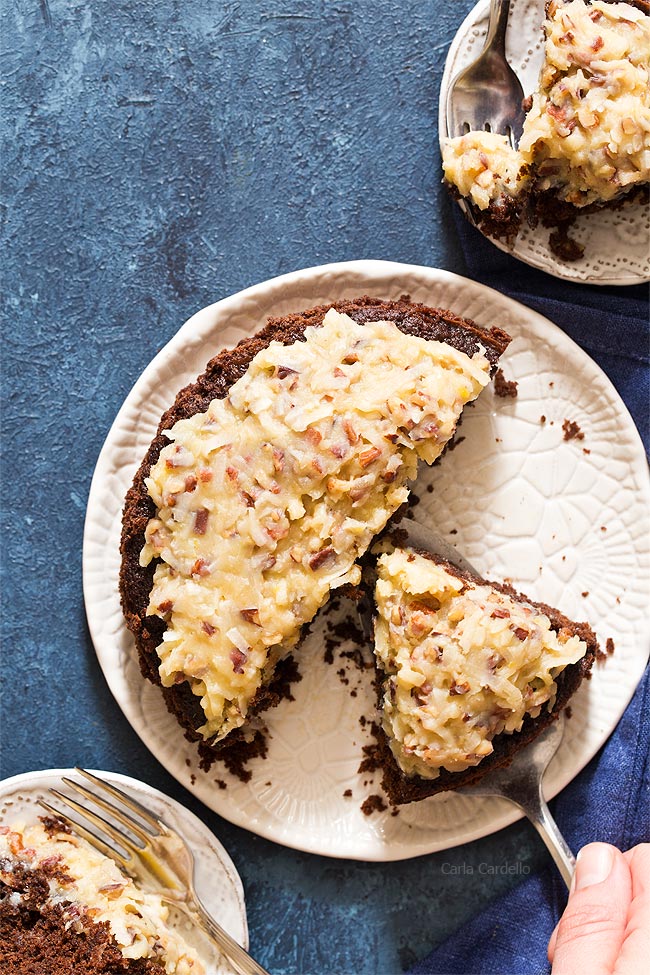 On the surface, German chocolate cake may look like my regular
6 inch chocolate cake
, but they're actually not the same.
The difference between German chocolate cake and chocolate cake is the type of baking chocolate used.
For German chocolate cake, you'd use German's chocolate, which is around 48% cacao. For a regular chocolate cake, you'd use semisweet chocolate, which is around 55% cacao.
No, that isn't a typo. I really do mean cacao, named after the cacao bean (not cocoa).
So what do these cacao percentages mean? They refer to how much of the chocolate is made from pure cacao beans and how much is added sugar.
The higher the percentage, the higher the cacao bean, which means it'll be on the bitter side. On the flip side, the lower the percentage, the more sugar is added, which means it'll be on the sweeter side.
Unsweetened chocolate is 100%, which means it's all cacao bean and no added sugar. It's also inedible to eat as a snack (trust me).
Semisweet chocolate is usually around 55%, which means 55% is cacao bean and 45% is added sugar.
German chocolate is 48% cacao bean and 52% added sugar.
An easy way to remember all of this is the higher the percentage, the bitterer it will be.
To sum it all up, German chocolate cake is different than regular chocolate cake because the chocolate used is sweeter.
Most German chocolate recipes call for only German chocolate. However, I added a little bit of cocoa powder to mine.
Not only does it add more chocolate flavor, but I also needed to balance the wet ingredients with more dry ingredients. Instead of extra flour, I chose cocoa powder.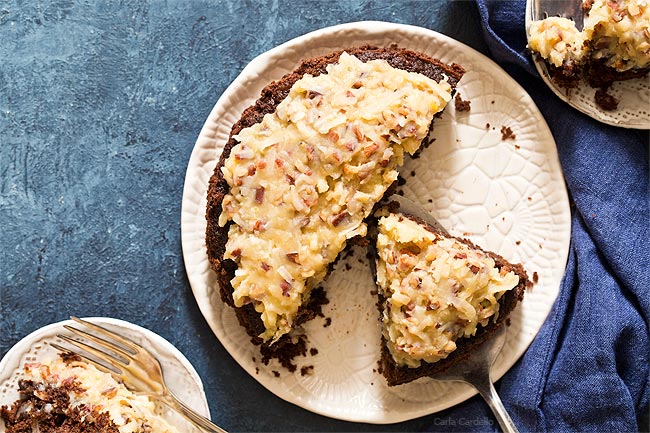 More German Chocolate Cake Recipes
If you're a big coconut fan, then you'd also love my Small Coconut Cake recipe.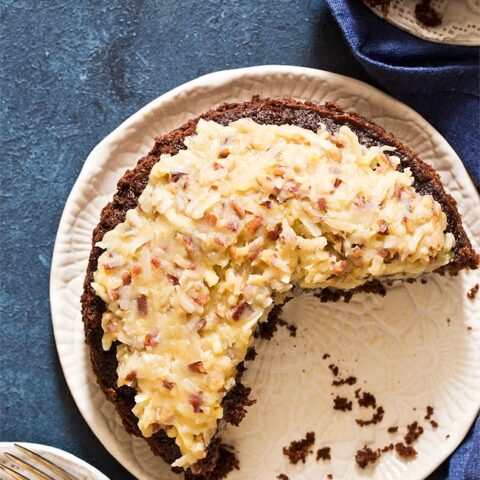 Small 6 Inch German Chocolate Cake (Dessert For Two)
Homemade Small 6 Inch German Chocolate Cake For Two is a moist and delicious one layer chocolate cake you can make from scratch without a cake mix.
Ingredients
1 ounce German baking chocolate, chopped
1/2 cup all-purpose flour
1/4 cup unsweetened cocoa powder
1/4 teaspoon baking soda
1/4 teaspoon salt
1/2 cup granulated sugar
1/4 cup unsalted butter, softened
1 egg, room temperature
1 teaspoon vanilla extract
1/4 cup buttermilk or whole milk with 1 teaspoon lemon juice added, room temperature
2 tablespoons hot coffee or hot water
1 recipe Small Batch German Chocolate Frosting (click here for the recipe)
Instructions
Preheat oven to 350F. Lightly grease one 6-inch x 2-inch round cake pan then line the bottom with parchment paper.
Add about an inch of water to a pan and bring to a simmer. Turn off the heat and place a heatproof bowl over top. Add the chopped chocolate and melt until smooth. Remove from the heat and cool.
In a medium bowl, sift together the flour and cocoa powder. Stir in baking soda and salt.
In a large mixing bowl, beat together the sugar and butter until light and creamy, about 1-2 minutes.
Beat in the egg and vanilla then beat in the cooled melted chocolate.
While the buttermilk is in the measuring cup, add the coffee and stir to combine.
Add the flour mixture alternately with the buttermilk mixture, adding the flour in 3 additions and the milk in 2 additions (begin and end with dry ingredients). Do not overmix the batter.
Transfer the batter to the pan. Bake 25-30 minutes or until a toothpick inserted in the middle comes out with a few crumbs (no wet batter). Cool for about 15 minutes, run a knife along the edge of the pan to loosen, and invert onto a cooling rack. Cool right-side-up.
While the cake is baking, make the Small Batch German Chocolate Frosting (click here for the recipe).
Once both the cake and frosting are cool, spread the frosting on top of the cake. Store in an airtight container for up to 1 week.
Recommended Products
As an Amazon Associate and member of other affiliate programs, I earn from qualifying purchases.