Get ahead of the busy Christmas season with this make-ahead No Bake Gingerbread Cream Pie made in a speculoos cookie crust and topped with homemade whipped cream. Made without Cool Whip in the filling!
Less than one week until Christmas! Are you hosting Christmas dinner?
I'll be cooking dinner at my parent's house since my apartment is too small to host, but unlike Thanksgiving I have more leeway with the menu.
Although we'll be serving our favorites such as easy cheesy scalloped potatoes and green bean casserole, I have total control over dessert whereas for Thanksgiving, Dad (and only Dad) makes the pumpkin pie. No exceptions.
Last year I made this No Bake Gingerbread Cream Pie for fun, but it turned out so well, I made a note to blog it this year.
As the name suggests, it's a creamy no bake pie that tastes exactly like gingerbread but in pie form. It's much easier (and probably even faster) than cutting out and decorating gingerbread cookies.
If there's one flavor that sums up Christmas in one bite, it's gingerbread. And like most no bake pies, it can be made ahead of time since it needs time to chill.
That is ideal if you have a busy holiday season and need to plan ahead.
What is gingerbread?
Gingerbread is a Christmas dessert made up of a few key ingredients giving it its namesake flavor – molasses, cinnamon, ginger, nutmeg, and clove.
I don't consume anything gingerbread until Black Friday, then it's #gingerbreadallthethings until December 31. I even drink gingerbread lattes to go with my gingerbread pie.
How do you make a no bake pie crust?
For a no bake pie crust, you mix together cookie crumbs and melted butter. Then you chill it before filling.
To pair nicely with the gingerbread for Christmas, I used speculoos cookies (sometimes spelled speculass) for the crust, which is a spiced shortbread cookie.
If you can't find speculoos cookies, you can easily substitute gingersnap cookie crumbs.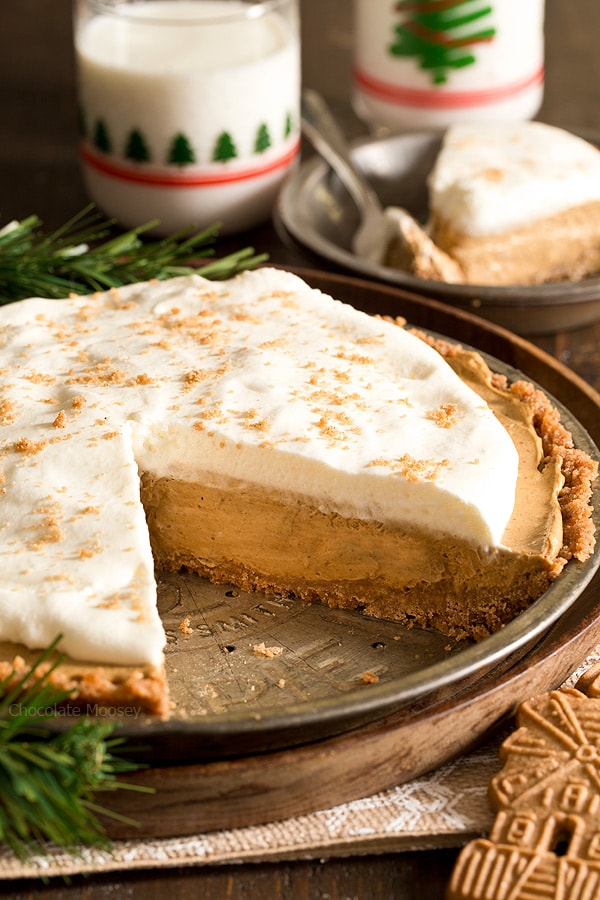 How do you make the no bake filling?
The filling for a no bake pie is simple. It's a beaten cream cheese mixture with whipped cream folded in. Once chilled, the whipped cream helps firm up the filling.
I got the idea to use homemade whipped cream after reading no bake pie recipes using Cool Whip. Instead of buying Cool Whip, I made whipped cream from scratch.
And since nobody likes an extra step, I make all of the whipped cream at once for both the topping and the filling. That way you don't have to make it twice.
How long do no bake pies last?
It's best to eat a no bake pie within 24 hours because the homemade whipped cream isn't stabilized like Cool Whip.
However, I've had leftover pie in my fridge for up to a week after serving. The whipped cream will deflate a little, but the pie is still edible.
Can you freeze no bake pies?
Yes, you can freeze no bake pies. In fact, I prefer freezing over refrigerating because it makes the pie easier to cut into clean slices.
To thaw a no bake pie, transfer it to the refrigerator a few hours before you want to serve it.
For the crust, I used Winternacht Spekulatius Cookies sold at
ALDI
nationwide.
They are German spice shortbread cookies similar to gingerbread cookies and have various shapes such as windmills, animals, and St. Nicholas.
I love that ALDI has imported European sweets for Christmas since it brings back memories from spending a few months in Ireland in 2007.
I wanted to use the spekulatius cookies instead of graham crackers for extra holiday flair.
And since you don't use the whole package, you'll have plenty leftover to put out on cookie trays or even for a holiday cheese board.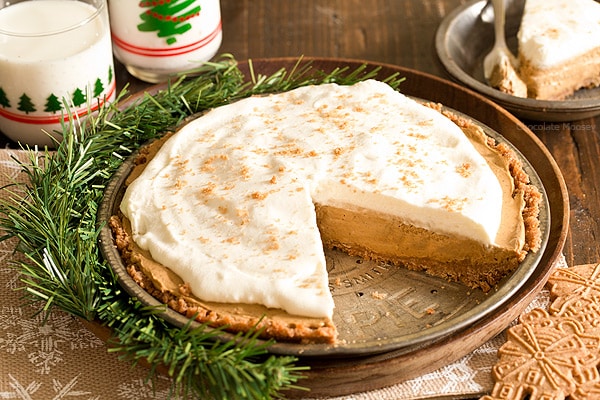 More Gingerbread Dessert Recipes
No Bake Gingerbread Cream Pie
Total Time:
4 hours
30 minutes
Get ahead of the busy Christmas season with this make-ahead No Bake Gingerbread Cream Pie made in a speculoos cookie crust and topped with homemade whipped cream. Made without Cool Whip in the filling!
Ingredients
2 cups speculoos or gingersnap cookie crumbs plus more for garnish
6 tablespoons unsalted butter, melted
1 1/4 cups heavy whipping cream, cold
8 ounces cream cheese, softened
1 cup powdered sugar, sifted
1 teaspoon vanilla extract
1/4 cup molasses
1 teaspoon ground cinnamon
1 teaspoon ground ginger
1/2 teaspoon ground nutmeg
1/4 teaspoon ground cloves
Instructions
In a large bowl, mix together cookie crumbs and melted butter. Pat into a 9-inch pie plate. Chill for at least 30 minutes before filling.
In a large mixing bowl (with whisk attachment if using stand mixer), beat the heavy cream until it starts to thicken, about 1 minute.
Gradually beat in 1/4 cup powdered sugar and 1/2 teaspoon vanilla then continue beating until stiff peaks form, about 2-3 minutes (when you pull the beaters up, peaks will form and not fall over). Transfer to another bowl and keep cold in the refrigerator.
In the same mixing bowl (no need to clean bowl - switch to paddle if using stand mixer), beat together the cream cheese and remaining 3/4 cup sugar until smooth and creamy, about 2-3 minutes.
Beat in molasses, cinnamon, ginger, nutmeg, cloves, and remaining 1/2 teaspoon vanilla. Scrape down the bowl.
Reserve about half of the whipped cream for the topping. Fold the remaining whipped cream into the cream cheese mixture until fully incorporated.
Spread the filling into the pie crust. Top with the reserved whipped cream then garnish with cookie crumbs. Refrigerate for at least 4 hours or overnight before serving.
Disclosure: This post is sponsored by ALDI. Thank you for supporting me and the companies I work with as sponsored posts help pay for the costs of running this blog, including website hosting and groceries for recipe development.