No Bake Turtle Cheesecake Phyllo Cups
Looking for a bite-sized dessert to share with family and friends? These easy-to-serve No Bake Turtle Cheesecake Phyllo Cups with chocolate, caramel, and pecans will be a popular hit!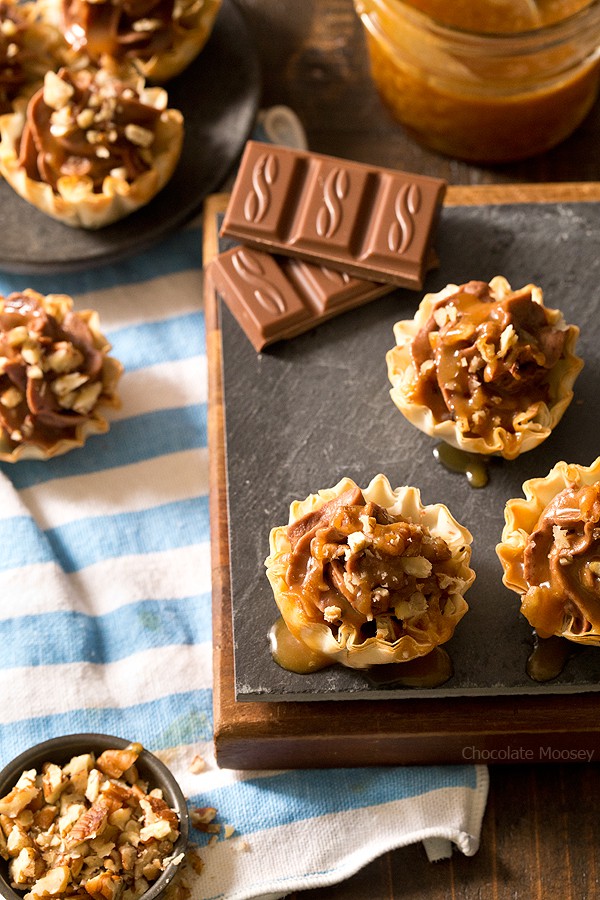 Did you have a wonderful Thanksgiving? Did you go Black Friday shopping?
The only time I go Black Friday shopping is in the afternoon when everyone else is home napping from being up all night. Even then it's usually for something unrelated to sales, like groceries.
I live such an exciting life, don't I?
Instead of shopping, I help my parents put up their Christmas tree. We've done it every year on Black Friday since I moved out because I'm always over that weekend for the holiday.
Now that Christmas is in less than 4 weeks, it's time to start planning for holiday entertaining.
Christmas is often synonymous with Christmas cookie trays.
When guests come over or when I'm a guest in someone's home, there's always a tray of sweets, usually with cookies but sometimes buckeyes and turtle candies too.
I started thinking about what other bite-sized treats I could serve this year and came up with phyllo cups. They are the ideal size for snacking as you catch up with family and friends.
Because I often associate turtle candy with the holidays, I decided to take those flavors of chocolate, caramel, and pecans and turn them into easy-to-serve No Bake Turtle Cheesecake Phyllo Cups.
They are crunchy phyllo cups filled with chocolate cheesecake filling then drizzled with homemade caramel sauce and chopped pecans.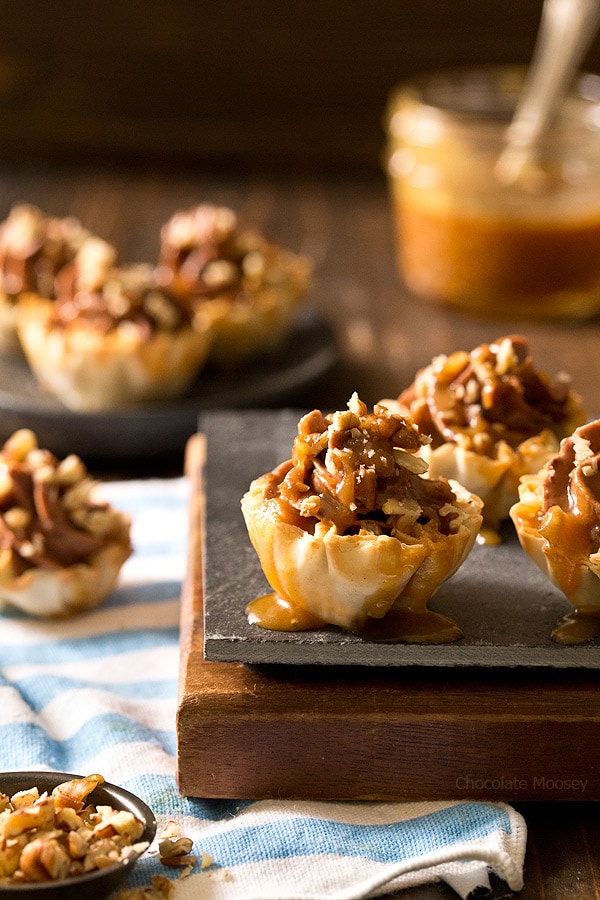 A turtle is a candy confection of chocolate, caramel, and pecans that when mixed together, look like a turtle with nuts for the feet and head.
Most turtle desserts are named for those three flavors together without the actual candy, like I did for these phyllo cups.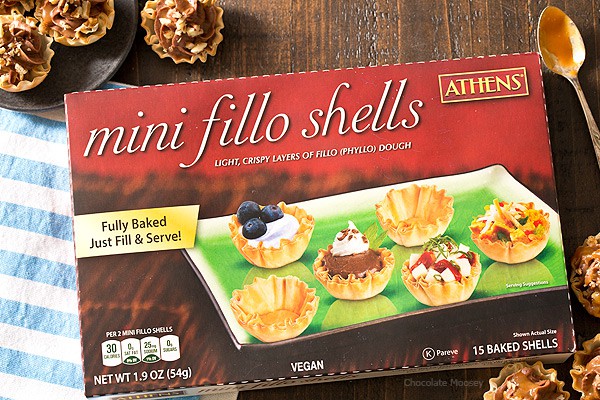 Let's talk about phyllo. Sometimes spelled as fillo or filo, it is a paper-thin unleavened dough made with little fat. Typically when working with phyllo, you layer multiple sheets together for a crisp, flaky texture.
For my cheesecake bites, I used mini fillo shells, which are ready-to-use mini cups made of phyllo.
They are ideal for the busy holiday season because they are ready to use right out of the package. No baking, no cooking, no prepping. Just fill and serve.
Sometimes you may bake them because of the filling, but in the case of no bake cheesecake, there's no need to bake anything.
They also only take about 10 minutes to thaw straight from the freezer, making them ideal for last-minute recipes.
This means you can keep a few boxes in your freezer and be prepared for almost anything. By the time you prep your ingredients, your fillo shells are now ready to fill.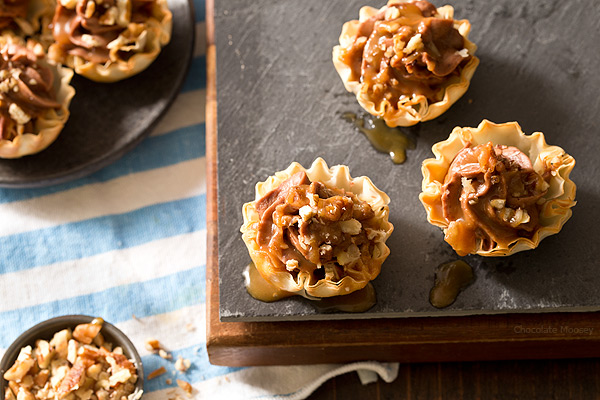 Looking to serve something that isn't chocolate? Check out my recipe for
No Bake Apple Pie Cheesecake Phyllo Cups
. Give your guests two options to choose.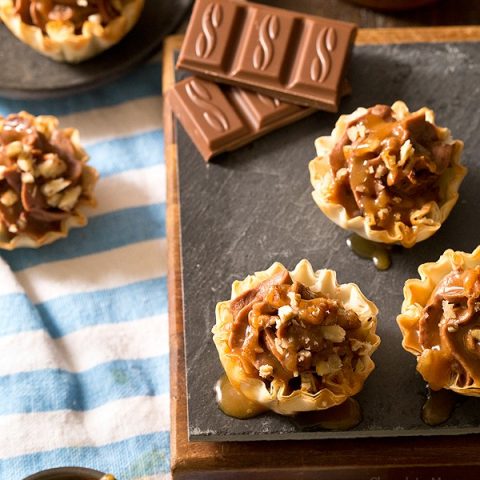 No Bake Turtle Cheesecake Phyllo Cups
Yield: 30 mini fillo shells
Prep Time: 1 hour 30 minutes
Total Time: 1 hour 30 minutes
Ingredients
1/2 cup heavy whipping cream, cold
8 ounces full-fat cream cheese, softened
1/2 cup granulated sugar
4 ounces semisweet chocolate, melted
1 teaspoon vanilla extract
2 packages (15 count each) Athens Mini Fillo Shells
Caramel sauce and finely chopped pecans, for garnish
Instructions
In a large mixing bowl (with whisk attachment if using stand mixer), beat the heavy cream until it thickens and stiff peaks form, roughly 3-4 minutes (when you pull the beaters up, peaks will form and not fall over). Transfer to another bowl and keep cold in the refrigerator.
In the same mixing bowl (no need to clean bowl - switch to paddle if using stand mixer), beat together the cream cheese and sugar until smooth and creamy, about 2-3 minutes. Beat in melted chocolate and vanilla. Scrape down the bowl.
Fold the whipped cream into the cream cheese mixture until fully incorporated.
Pipe the cheesecake filling into each fillo shell then top with caramel sauce and pecans. Chill for at least 1 hour before serving. Best served the same day as making.
This post may contain affiliate links. As an Amazon Associate and member of other affiliate programs, I earn from qualifying purchase.