Plenty of cheesy goodness in Garlic Parmesan Au Gratin Potatoes with layers of thinly sliced potatoes, Parmesan cheese, and garlic. Serve it as a holiday side dish or alongside meat and potatoes for dinner.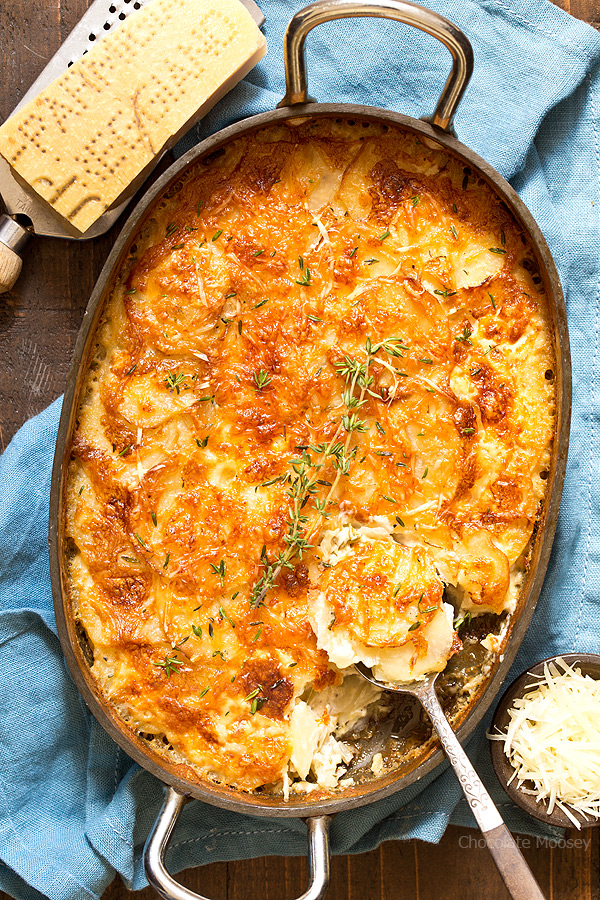 Every
Thanksgiving
, there's one conversation that always happens – what kind of potatoes are we making this year? Most of the time it's mashed, but sometimes it's scalloped or au gratin.
Confession – I grew up making au gratin potatoes from a box because that's how my parents made them. Bring milk to a boil, add box contents, cook. It wasn't until I bought a handheld mandoline (affiliate link) I started making my own because I can never slice the potatoes thinly (and consistently) enough for an entire dish.
That begs the next question – what's the difference between scalloped and au gratin? After spending numerous hours researching and reading through recipes, nobody else knows either. The main difference is au gratin has cheese while scalloped doesn't, but most recipes, including my easy cheesy stovetop scalloped potatoes, uses cheese.
Another difference is au gratin has breadcrumbs on top, but most au gratin recipes didn't include breadcrumbs. I've also seen recipes written as au gratin potatoes vs. potatoes au gratin. In conclusion, the rest of the world doesn't know the difference between scalloped and au gratin.
They DO know anything with cheese and potatoes is a winner, no matter what you call it. And when there's garlic and cheese involved, you know it's going to be a winning side dish with these Garlic Parmesan Au Gratin Potatoes. Layers of thinly sliced potatoes baked with plenty of cheesy goodness.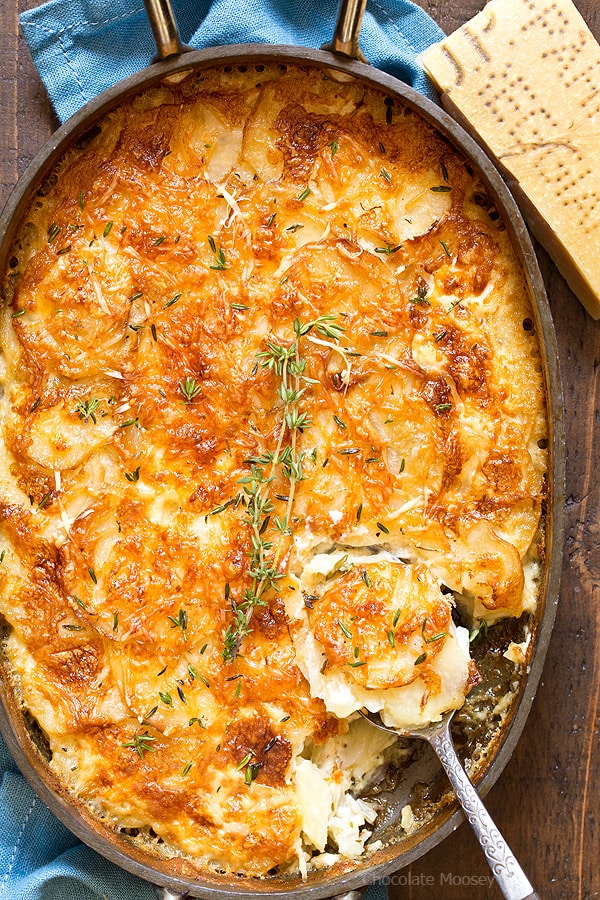 The key to au gratin is layering thinly sliced potatoes with cheese, garlic, and seasoning. Once layered, pour cream until the potatoes are covered then top with even more cheese. It's important to use heavy cream as the fat is important for the cheese sauce to bake properly. Otherwise, the sauce would be too thin and not stick to the potatoes.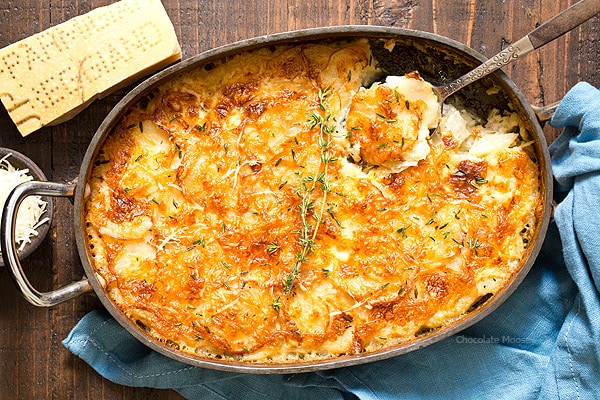 Since au gratin has cheese, let's talk cheese. I used Parmigiano Reggiano, which is imported exclusively from Italy and made with only three ingredients – milk, salt, and rennet. Sometimes you'll see domestic Parmesan made in the U.S., which sometimes contains additives.
You can easily recognize it from the pinholes in the rind that spell out Parmigiano Reggiano, but depending on how the cheese wheel is cut, the holes may not always be present. Ask your local cheese person if you're unsure about whether the cheese is imported.
Yields 4 servings
Garlic Parmesan Au Gratin Potatoes
30 minPrep Time
1 hr, 30 Cook Time
2 hrTotal Time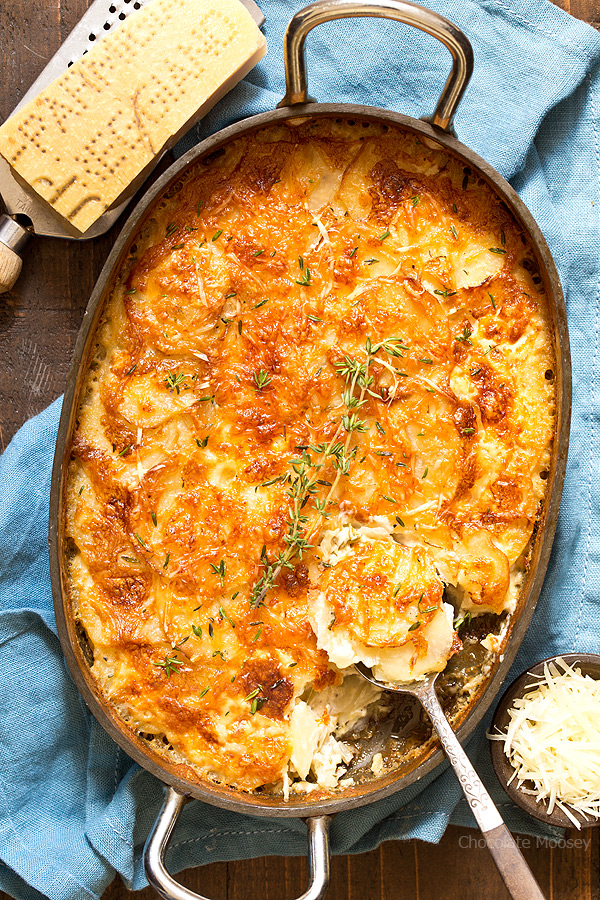 Ingredients
1 tablespoon unsalted butter, softened
1 1/2 pounds russet potatoes (roughly 4 large potatoes), peeled and thinly sliced (preferably with a mandoline for even, thin cuts)
1/2 cup chopped onion
2 garlic cloves, minced
1 1/4 cups shredded Parmigiano Reggiano
1 teaspoon fresh thyme
1/2 teaspoon salt
1/4 teaspoon pepper
1 cup heavy whipping cream
Instructions
Preheat oven to 350F. Rub the butter in the bottom and up the sides of a 1-quart casserole dish.
Layer some of the sliced potatoes in a single layer in the bottom of the dish, slightly overlapping.
In a large bowl, mix together the onion, garlic, 1 cup Parmigiano Reggiano, thyme, salt, and pepper. Sprinkle about 1/3 of the mixture over the potato layer.
Repeat the layering two more times, ending with a layer of potatoes.
Pour the cream over the potatoes, filling in between the spaces. Top with remaining 1/4 cup Parmigiano Reggiano.
Bake 60-90 minutes or until the top is golden brown and the potatoes are soft.
7.8.1.1
3570
https://www.chocolatemoosey.com/2016/11/07/garlic-parmesan-au-gratin-potatoes/