Peach Cobbler For Two is the perfect summertime dessert to share (or not). Warm, bubbly peaches topped with tender dough and ice cream.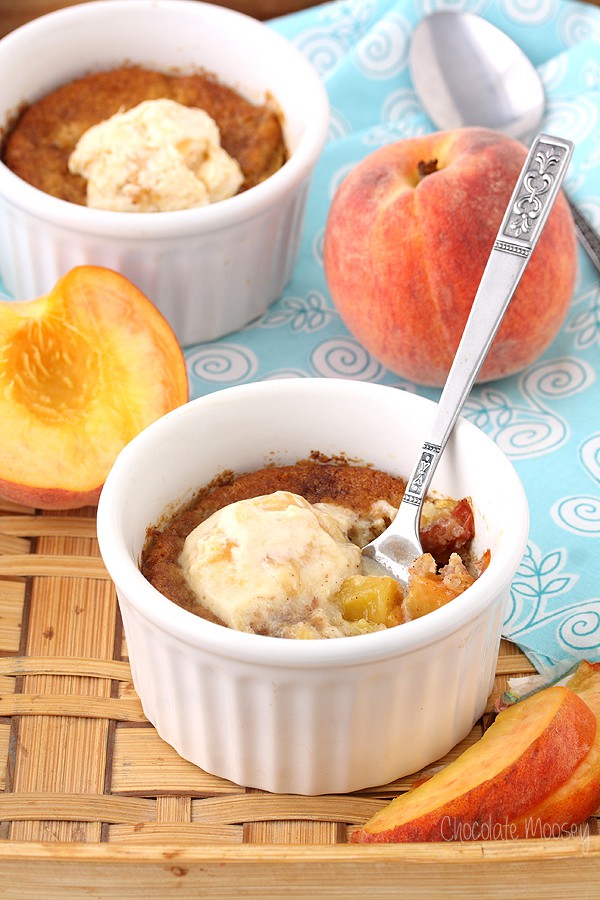 Summer wouldn't be complete without some sort of bubbly fruit dessert. In fact, I spent more time than necessary trying to figure out the difference between a crisp, a cobbler, a crumble, a buckle, a pandowdy, a grunt, the list goes on. Why are there so many names for baked fruit in a dish anyway? After staring at my bowl of peaches I got from the farm, I knew I had to make a Peach Cobbler but didn't want a ton of leftovers. Making small-scale desserts
is starting to become my specialty
, and this Peach Cobbler For Two is another one to add to the list. Warm, bubbly peaches. Tender dough on top. Cold yet slightly melted ice cream. Can you taste that? It's the taste of summer as August is starting to wind down.
A peach cobbler is a fruit-based dessert where there is dough on top, as opposed to a streusel topping like you would typically find on a crisp or crumble. After researching multiple recipes, it looks like the traditional way to make a cobbler is by plopping thick biscuit-like dough on top (looks like a cobblestone, hence cobbler). I did see recipes where you pour pancake-like batter on top. Mine is in between – you plop thick pancake-like batter on top. You bake the peaches before adding the batter for two reasons. One – to help soften the peaches and two – the heat from the peaches will help bake the batter from underneath.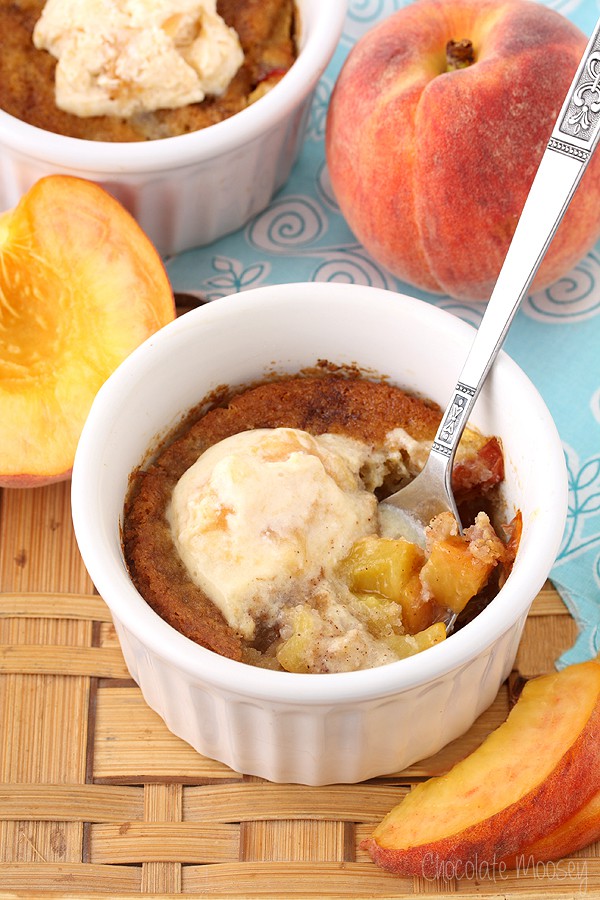 This cobbler for two recipe is so versatile. Use whatever fruit you have available. Next time I want to throw in raspberries for a peach melba cobbler. You can use plums, strawberries, cherries, nectarines, blueberries, even apple. Traditionally you serve peach cobbler with vanilla ice cream on top, but I decided to go all out and use my
Peaches and Cream Ice Cream
. You can even take it one step further and top it with
Peach Caramel Sauce
. Triple Peach Power Play Cobbler. Has a nice ring to it, doesn't it?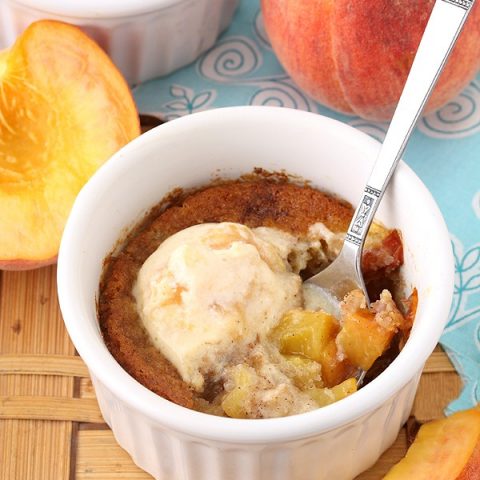 Peach Cobbler For Two
Ingredients
Peaches
1 cup chopped peaches (roughly 1 medium peach)
2 teaspoons lemon juice
1 teaspoon sugar
1 1/2 teaspoons cornstarch
1/4 teaspoon ground cinnamon
1/8 teaspoon ground nutmeg
1/8 teaspoon ground clove
Batter
1 1/2 tablespoons all purpose flour
1 tablespoon sugar
1/4 teaspoon baking powder
1/8 teaspoon baking soda
Pinch of salt
1 tablespoon melted butter
1 1/2 tablespoons buttermilk
Drop of vanilla extract
1/4 teaspoon sugar
1/8 teaspoon cinnamon
Instructions
Preheat oven to 375F. Have two 6-ounce ramekins or other small oven-proof dishes ready.
For the peaches: in a medium bowl, mix together the peaches, lemon juice, sugar, cornstarch, cinnamon, nutmeg, and clove. Divide evenly between the ramekins. Bake 8-10 minutes or until peaches are hot and start to bubble.
Meanwhile, for the batter: In another medium bowl, whisk together the flour, sugar, baking powder, baking soda, and salt. Whisk in the melted butter, buttermilk, and vanilla. Spoon over the baked peaches, spreading the dough to cover as much as you can.
In a small bowl, combine the cinnamon and sugar. Sprinkle on top of the cobblers. Bake 20-25 minutes or until golden brown and a toothpick inserted in the center comes out clean. Cool for 5 minutes then serve immediately with ice cream on top.
Source: Adapted from
Slate
—-
Want More Fruit Desserts?

Peach and Cherry Gingerbread Cobbler