If you love homemade red velvet cake, then you'll love these sugar cookie bars from scratch with a red velvet twist, complete with vanilla buttercream frosting and sprinkles.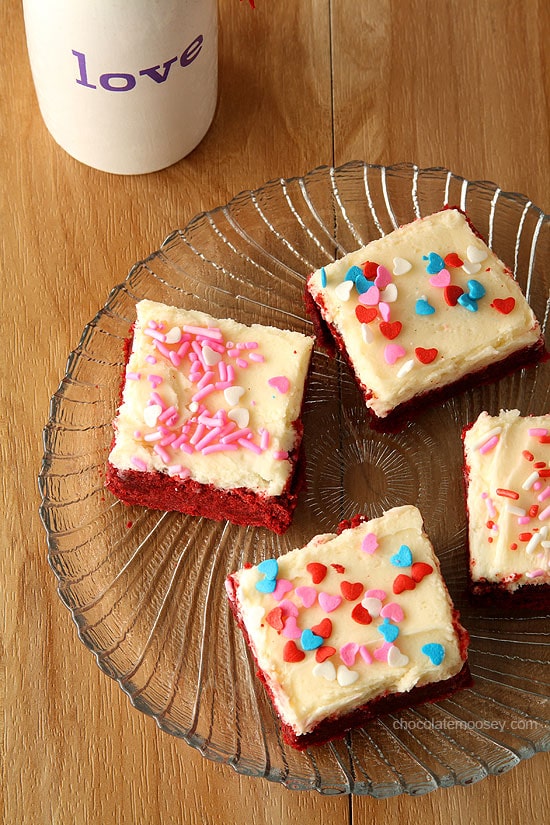 I couldn't get through February and not post a red velvet recipe, right? I know, I know. You're tired of seeing red and pink, and everything that could be turned into red velvet has been turned into red velvet. What if I told you I made a red velvet recipe that appeals to laziness? What if you wanted to decorate cookies but don't have the time nor energy to cut out shapes? That's why I made these Red Velvet Sugar Cookie Bars – red velvet cookies made in a cake pan, topped with vanilla frosting then decorated with sprinkles. The only cutting is into squares that you can serve. You can even mail these bars if your loved ones are far away.
I do it every year – the holiday passes and I regret not making enough holiday recipes. I didn't use my sprinkles. I didn't use my cupcake liners. I didn't embrace the holiday spirit and always want to dive right into last minute recipe ideas before the next holiday takes place. That's why you may see pink sprinkles at the end of February as we soon approach St. Patrick's Day.
Last year I made
Red Velvet Mug Cookies
, so this year I took the same dough recipe and turned them into cookie bars. Traditionally, red velvet is paired with cream cheese frosting, but I wanted to mail them, so I used vanilla. If you want to mail them to your loved ones,
check out my tips on mailing cookies
.
Items you may need (affiliate links):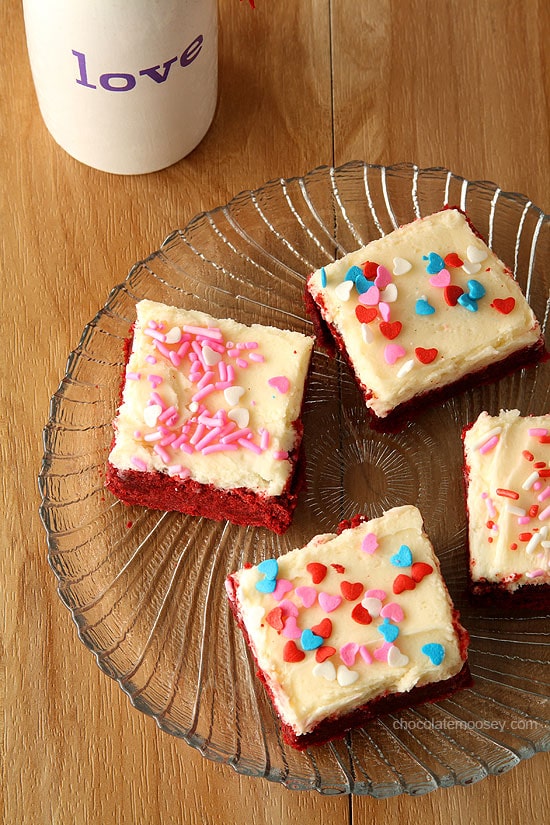 Ingredients
Cookie

1 2/3 cups all-purpose flour
2 tablespoons unsweet­ened Dutch processed cocoa powder
1/4 teaspoon salt
1/2 teaspoon bak­ing pow­der
1/2 cup (4 ounces or 8 tablespoons) unsalted but­ter, softened
3/4 cup sugar
1 egg, room temperature
1 teaspoon vanilla extract
1 tablespoon red food coloring

Vanilla Frosting

1 1/2 cups powdered sugar
1/2 cup (4 ounces or 8 tablespoons) unsalted butter, softened
Pinch of salt
1/2 teaspoon vanilla extract
Sprinkles for decorating
Instructions
For the cookies:

Preheat oven to 350F degrees. Line an 8x8 pan with parchment paper.
In a large bowl, whisk together the flour, cocoa, salt, and baking powder.
In another large bowl, beat together the butter and sugar until light and creamy, about 2-3 minutes Beat in the egg and vanilla for another minute. Gradually beat in the flour mixture until a dough form (do not overmix).
Press the dough evenly into the pan. Bake about 18-20 minutes or until the edges start to pull away and a toothpick comes out of the center with very few crumbs. Cool completely.

For the frosting:

In a large bowl, beat together the butter, powdered sugar, and salt until creamy, about 2-3 minutes. Add the vanilla and beat on high until light and fluffy, another 2-3 minutes. Spread onto the cooled cookie bars and decorate with sprinkles. Cut into 12 bars.
7.6.3
2958
https://www.chocolatemoosey.com/2013/02/10/red-velvet-sugar-cookie-bars/
Source: Adapted from Cake Artisan (link to site appears to be broken)
Other Cookie Recipes You May Like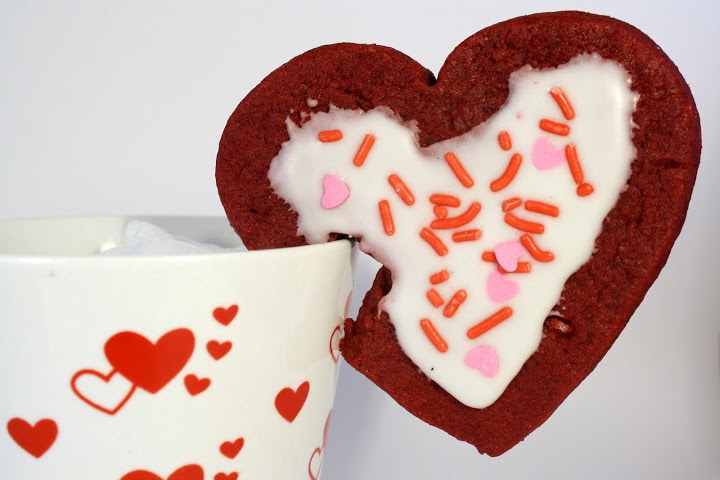 Red Velvet Mug Cookies