Smores Chocolate Chip Cookie Bars
Smores Chocolate Chip Cookie Bars are my favorite chocolate chip cookie in bar form then topped with toasted marshmallows and chocolate drizzle. Easy to whip up when you need a special treat.
Happiness is a hot cup of (good) coffee to warm you up as you wander around downtown visiting all of the specialty food shops. Happiness is cuddling with your favorite furball as he squeezes you tight for a hug. Happiness is Smores Chocolate Chip Cookie Bars. If you ever need to bribe me, this is what you would make. It combines two of my favorite desserts into one, turning two classics into one modern twist.
The idea came to me when I was at a fall festival in October. There was a table set up with all kinds of baked goods for sale. As I tried to pick only one item, there it was. A (giant) chocolate chip cookie square with marshmallows and chocolate on top. I knew I had to have it for lunch.
This recipe is different than the one I ate. My cookie layer is thicker and not as dense. Then I toasted the marshmallows for a true smores effect. Although there is no graham cracker element, I'm still calling these smores.
You really do need to broil the marshmallows after you add them. I tried to continue baking them, but they didn't brown at all. And of course I highly recommend eating these when still warm because of the melted chocolate and gooey toasted marshmallows (although if you do want the chocolate drizzle, you have to let them cool completely. Can't have it all I guess!). In fact, I wish I could eat some right now.
I can verify the freshness of these Smores Chocolate Chip Cookie Bars last all week because we had so many goodies in the house for Christmas, they didn't get eaten right away. I was concerned about the texture of the toasted marshmallows, but they were fine. Or I just loved them so much that I didn't care. Either way, I think I ended up eating half the pan. Whoops.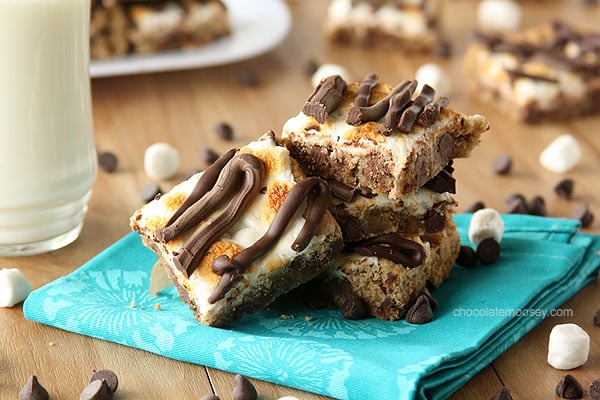 [rss-cut]
Smores Chocolate Chip Cookie Bars
Yield: 16 squares
Prep Time: 30 minutes
Cook Time: 25 minutes
Total Time: 55 minutes
Smores Chocolate Chip Cookie Bars are my favorite chocolate chip cookie in bar form then topped with toasted marshmallows and chocolate drizzle.
Ingredients
1 1/2 cups all-purpose flour
1 teaspoon baking powder
1/2 teaspoon salt
1/2 cup (4 ounces or 8 tablespoons) unsalted butter, softened
1/2 cup granulated sugar
3/4 cup packed brown sugar
1 egg, room temperature
1 teaspoon vanilla extract
1 3/4 cup semi-sweet chocolate chips (divided into 1 cup + 3/4 cup)
2 cups mini marshmallows
Instructions
Preheat oven to 350 degrees. Line a 9×9 pan with parchment paper.
In a small bowl, sift together the flour, baking power, and salt.
In a large bowl, beat together the butter and both sugars until light and fluffy, about 2-3 minutes.
Beat in the egg and vanilla.
Gradually beat in the flour mixture until it is all incorporated. Stir in 1 cup chocolate chips.
Press the dough into the prepared pan. Bake for 20 minutes or until golden and a toothpick comes out clean. Remove from the oven. Turn the broiler on.
Evenly distribute the marshmallows in one even layer over the cookie layer. Place under the broiler for a few minutes until toasted (I had to keep rotating my pan because my broiler doesn't toast evenly). When toasted, remove from the broiler and let cool.
When completely cool, place remaining 3/4 cup chocolate chips into a sandwich bag. Microwave 30 seconds. Gently massage the bag. Keep microwaving in 15 second intervals until the chocolate has fully melted. Push all of the chocolate to one corner of the bag. Cut a small hole then pipe in a zigzag pattern over the marshmallow layer. Let the chocolate harden before serving.
Source: Adapted from
Nestle's Best-Loved Cookies
(Amazon affiliate link)
—-
If you loved these Smores Chocolate Chip Cookie Bars, you'll love these treats:
From me: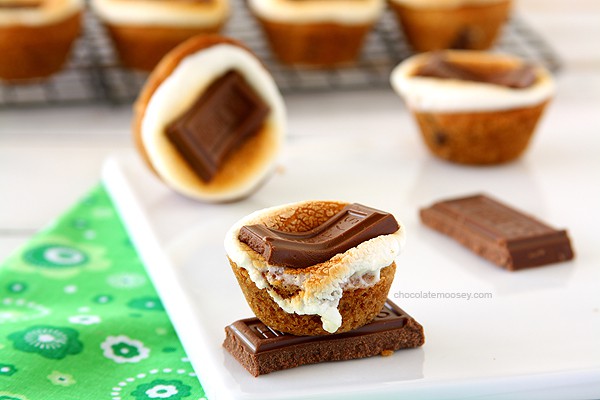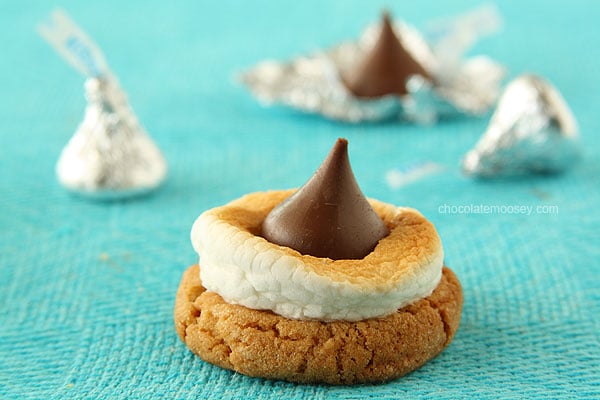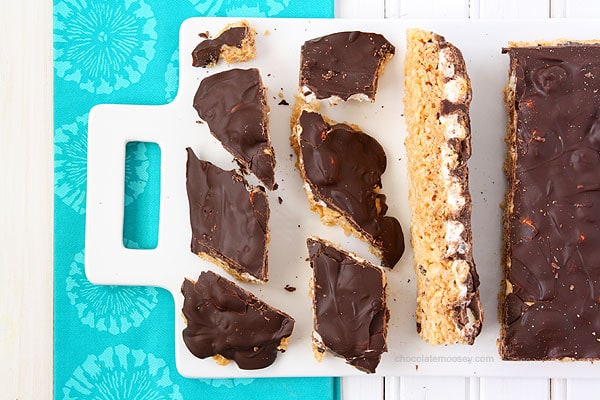 From other bloggers:
This post may contain affiliate links. As an Amazon Associate and member of other affiliate programs, I earn from qualifying purchase.