(Really Thick) Smores Rice Crispy Treat Bark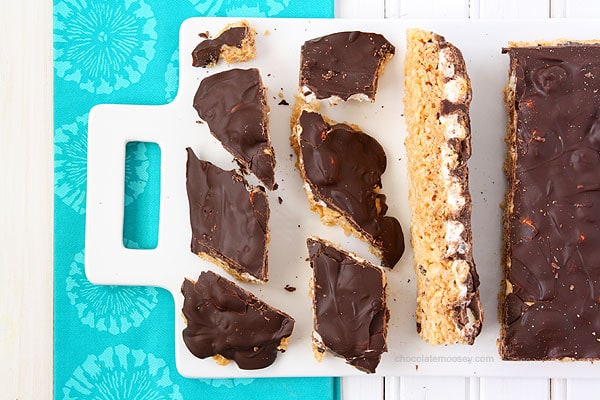 (Really Thick) Smores Rice Crispy Treat Bark. Or (Really Thin) Smores Rice Crispy Treats. What's in a name anyway? All you need to know is these treats are one of my favorites. I had this idea for rice crispy treat bark written in my notebook from December. You know, the long list of ideas to try but will probably never get to half of them because the list keeps growing? Well
Miriam of Tales of an Overtime Cook
tweeted one day about a rice crispy treat bark she did. Funny because I had an idea myself! We decided to team up and post our bark ideas together. Miriam made
Chocolate Peanut Butter Crispy Treat Bark
and I made this Smores Rice Crispy Treat Bark.
Bark is a really thin layer of chocolate broken into pieces. I thought it would be fun to do a rice crispy treat version. Except my layer is an inch thick and not quite thin as I'd like. Maybe I was just tired. Or maybe I didn't account for the toasted marshmallows and chocolate being piled on top. Either way, I didn't realize how thick it was until I started cutting it. I asked Miriam if it was ok to still call it bark. She promised she wouldn't call the bark police.
When I say smores, I mean it. I've seen rice crispy treats pretending to be smores, but unless you toast the marshmallows, they aren't smores. Not sure if you get see the toasted parts in the pictures, but I promise the taste is distinguishable. Then I used cookie butter to mimic graham crackers. I guess looking back on it, I could've stirred in graham cracker crumbs, but cookie butter is more fun (and if you are new to the cookie butter concept, you can read about it in my Smores Blossom cookies post). If you don't have cookie butter, you can substitute peanut butter. Or leave it out altogether and just stir in a bunch of graham cracker crumbs.
Looking for a more traditional recipe? Check out my Small Batch Rice Krispie Treats made in a loaf pan.
(Really Thick) Smores Rice Crispy Treat Bark
(Really Thick) Smores Rice Crispy Treat Bark
Ingredients
2 Tablespoons unsalted butter
3 1/2 cups mini marshmallows
1/4 cup cookie butter
3 cups rice crispy cereal
12 ounces semisweet chocolate baking squares, chopped into pieces
Instructions
Line a cookie sheet with parchment paper. Set aside.
In a large pot, melt the butter. Once completely melted, add 2 cups of the marshmallows and stir until melted. Add the cookie butter and stir until everything is smooth. Remove from the heat and add cereal. Stir until everything is completely coated.
Spread the cereal mixture onto the cookie sheet and make the layer as thin as possible (my thick rectangle was 11x8 inches). Let cool completely.
When the cereal layer is cool, top with the remaining 1 1/2 cups mini marshmallows. Broil until all of the marshmallows are toasted (you may need to turn your pan if some are cooking faster than others). Let cool completely.
Place the chocolate into a heatproof bowl. Heat the bowl over barely simmering water and melt the chocolate (do not let the bottom of the bowl touch the water). Once the chocolate is completely melted, pour over the toasted marshmallow layer. Let the chocolate cool and harden before serving (if you refrigerate it, let sit at room temperature for a few minutes for easier cutting).
If you liked these Smores Rice Crispy Treat Bark, you may also like these recipes:
From me:
From other bloggers:
This post may contain affiliate links. As an Amazon Associate and member of other affiliate programs, I earn from qualifying purchase.