Gingerbread S'mores Cookie Bars
Don't have the time (or energy) to cut out and decorate gingerbread men? These Gingerbread S'mores Cookie Bars are quick to make and will put you in the Christmas spirit in no time.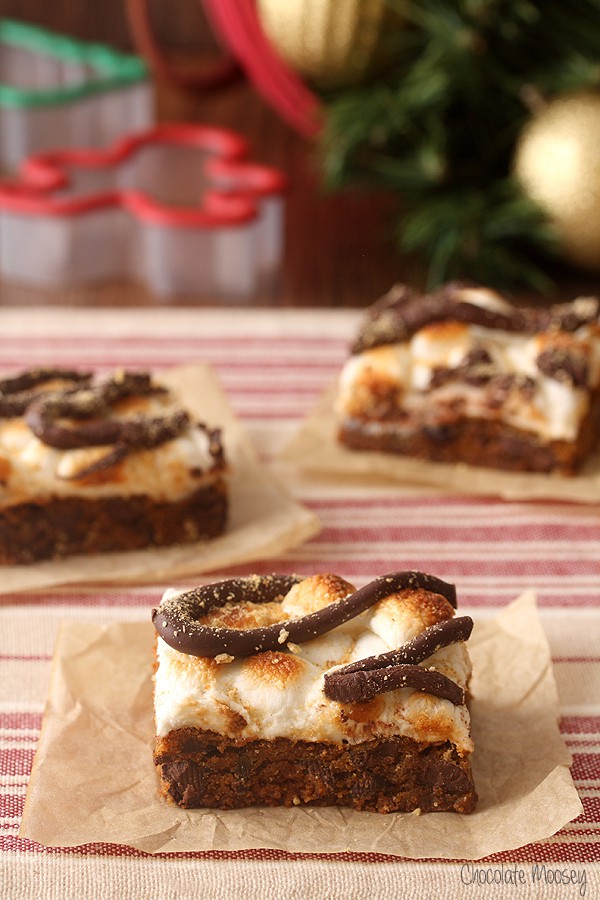 Halfway through November, and I think my body is confused. On one hand, my brain has been wanting peppermint mochas, Christmas trees, and gingerbread. On the other hand, my heart has been lacking a bit of Christmas spirit. In fact, two weeks ago I was walking around the mall and wondering why Christmas trees were up everywhere. Then I realized Halloween is over and Christmas season has begun. A few days later, I got my first peppermint mocha of the season in hopes to liven my spirit. It worked for a little bit (or at least until my coffee was gone). Then I started craving gingerbread. I didn't want to make gingerbread men because I'm lazy and quite frankly not very skilled at decorating. And when I'm feeling lazy like that, I often turn cookies into bars since all you have to do is spread the dough into the pan and frost. Except instead of frosting, I decided to top with mini marshmallows and make Gingerbread S'mores Cookie Bars.
As a baker during the holidays, I go through a ton of ingredients – butter, eggs, sugar, flour. Even though I'm all about getting the most for your money, sometimes you do need to invest in quality baking products (if you don't believe me, try using cheap generic chocolate. No thanks). If you're looking for a chewy Christmas cookie that is reminiscent of everyone's favorite campfire treat, these Gingerbread S'mores Cookie Bars need to premiere on your holiday table.
I'm pretty sure you can't get any more Christmas than gingerbread, and these bars have made me feel a little more jollier. However, I'm still not ready to put up my decorations. Not until Black Friday at the earliest. In fact, when I was done shooting these bars, I put my decorations that had exploded all over my living room back into their totes and said not for a few more weeks (that and I still hadn't put away my Halloween decorations).
I love pairing chocolate and gingerbread together. Adding marshmallows and graham crackers to make them s'mores bars was only a step away. As I mentioned earlier, I used Bob's Red Mill flour, which is the same high protein flour used by professional bakers. Flour is incredibly versatile as you can use it both in cooking to thicken sauces and baking to make, well, everything.
What about you – are you ready for Christmas? Or are you still holding out a few weeks longer?
Gingerbread S'mores Cookie Bars
Yield: 1 dozen
Prep Time: 30 minutes
Cook Time: 35 minutes
Total Time: 1 hour 5 minutes
Don't have the time (or energy) to cut out and decorate gingerbread men? These Gingerbread S'mores Cookie Bars are quick to make and will put you in the Christmas spirit in no time.
Ingredients
1 cup all-purpose flour
1/4 cup + 2 tablespoons graham cracker crumbs
1 teaspoon baking powder
1 teaspoon ground ginger
1 teaspoon ground cinnamon
1/4 teaspoon ground nutmeg
1/4 teaspoon ground cloves
1/4 teaspoon salt
1/4 cup (2 ounces) unsalted butter, melted
3/4 cup packed brown sugar
1/4 cup molasses
1 egg, room temperature
1/2 teaspoon vanilla extract
1 1/2 cups semisweet chocolate chips
2 cups mini marshmallows
Instructions
Preheat oven to 350F. Lightly grease an 8x8 pan (do not use parchment paper as you'll be putting the pan under the broiler later).
In a large bowl, whisk together the flour, 1/4 cup graham cracker crumbs, baking powder, ginger, cinnamon, nutmeg, cloves, and salt.
In another large bowl, beat together the melted butter, brown sugar, and molasses until smooth. Beat in the egg and vanilla. Gradually beat in the flour mixture then stir in 1 cup chocolate chips.
Spread the dough into the pan (the dough will be sticky. If you're having trouble, you can use lightly floured hands). Bake for 30-35 minutes or until the dough no longer looks wet on top and a toothpick inserted in the center comes out clean (except for melted chocolate from the chocolate chips).
Turn on the broiler. Top the hot pan with marshmallows and broil until lightly toasted (if you do use parchment paper, watch it doesn't catch on fire). Cool completely.
Once the bars are cool, add the remaining 1/2 cup chocolate chips to a plastic sandwich bag. Microwave 30 seconds then massage the chocolate to help smooth it out. Continue microwaving in 10 second increments on power level 5 until the chocolate is completely melted.
Push the chocolate to one corner of the bag and cut the corner. Pipe the chocolate on top of the marshmallows then sprinkle with remaining 2 tablespoons graham cracker crumbs. Let chocolate harden before cutting.
More Baking Recipes For You

Gingerbread Blondies
Disclosure: This post is sponsored by Bob's Red Mill. As always, thank you for reading and supporting brands I work with, which helps keep Chocolate Moosey running.
This post may contain affiliate links. As an Amazon Associate and member of other affiliate programs, I earn from qualifying purchase.