Chocolate Cherry M&M Thumbprint Cookies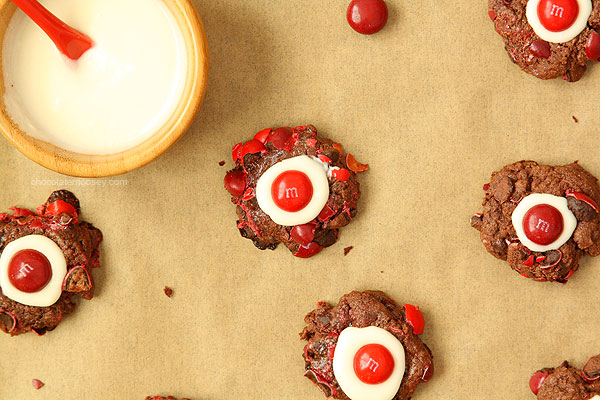 Special thank you and shout out to Robin of Grits Design for the design update!
It wouldn't be a holiday until I create a recipe with seasonal candy, like these Chocolate Cherry M&M Thumbprint Cookies. As much as I love M&M cookies, I was getting tired of the typical recipes where you simply stir M&Ms into the batter and call it a night. Nothing wrong with that, but I wanted something new. I can think of a thousand recipes with Hershey's Kisses and Reeses Peanut Butter Cups, but M&Ms? Finally, I thought of doing thumbprints with Valentine's Day Cherry M&Ms – chocolate thumbprint cookies rolled in chopped cherry M&Ms then topped with vanilla icing and a whole M&M.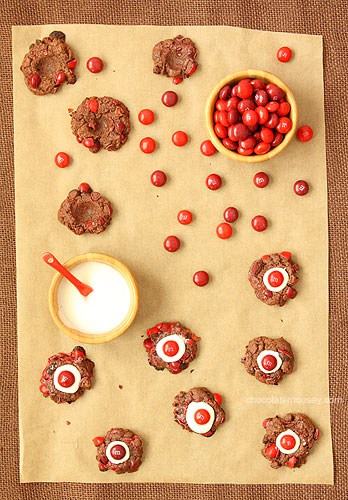 I consider thumbprints fun cookies because you can change the color of what you roll them in and the icing to match any season. Instead of rolling the dough in nuts or sprinkles, I chopped up cherry M&Ms I found for Valentine's Day. If the M&Ms don't stick when rolling, flatten the cookies as directed then go back and press in a few pieces yourself.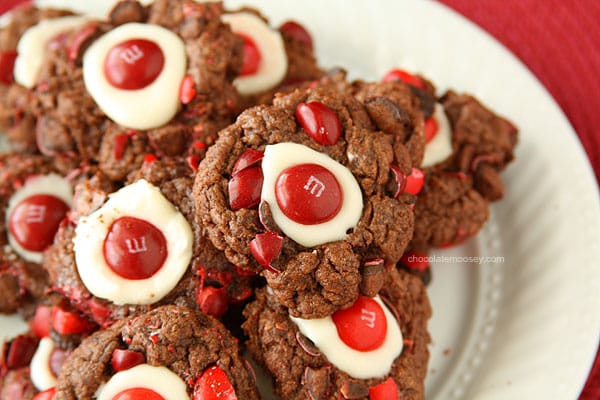 Chocolate is a very versatile flavor, so if cherry M&Ms aren't available or you simply prefer another flavor, this recipe works with M&M – plain, peanut, mint, raspberry, peanut butter, peppermint. The possibilities are endless.
[rss-cut]
Chocolate Cherry M&M Thumbprint Cookies
Easy chocolate thumbprint cookies filled with vanilla cream and topped with cherry M&M candy
Ingredients
1 cup flour
1/3 cup unsweetened cocoa
1/4 teaspoon salt
1/2 cup unsalted butter, softened
2/3 cup sugar
1 egg yolk
2 Tablespoons milk
1 teaspoon vanilla extract
1 cup chopped cherry M&Ms plus 24 whole M&Ms
Vanilla Filling
1/2 cup powdered sugar
1 Tablespoon unsalted butter, softened
2 teaspoons milk
1/4 teaspoon vanilla extract
Instructions
In a small bowl, whisk together the flour, cocoa, and salt. Set aside.
In a large bowl, beat together the butter and sugar until light and creamy. Beat in the egg yolk, milk, and vanilla. Gradually beat in the flour mixture until a dough forms. Chill for 1 hour or until firm enough to handle.
Preheat oven to 350F. Line two cookie sheets with parchment paper. Place the chopped M&Ms in a small bowl.
Shape the dough into 1-inch balls. Roll each ball into the M&M mixture until the candy sticks (if it won't stick, just press a few pieces into the dough). Place on the cookie sheet then flatten with your thumb. Repeat with the remaining cookies.
Bake 10-12 minutes or until set. After you pull them out of the oven, if any indents puffed up, flatten them again. Let cool completely.
For the filling: In a small bowl, beat together the sugar, butter, milk, and vanilla until smooth. Fill each cookie with some of the filling. Top with a whole M&M.
Source: Adapted from Hershey's Make It Chocolate Cookbook
If you liked these Chocolate Cherry M&M Thumbprint Cookies, then you may like these similar recipes:
From me:

From other bloggers:
This post may contain affiliate links. As an Amazon Associate and member of other affiliate programs, I earn from qualifying purchase.