Learn how to make this easy Strawberry Swirl Cheesecake recipe with homemade strawberry curd, which will surely impress your family and friends this summer. Made with fresh strawberries.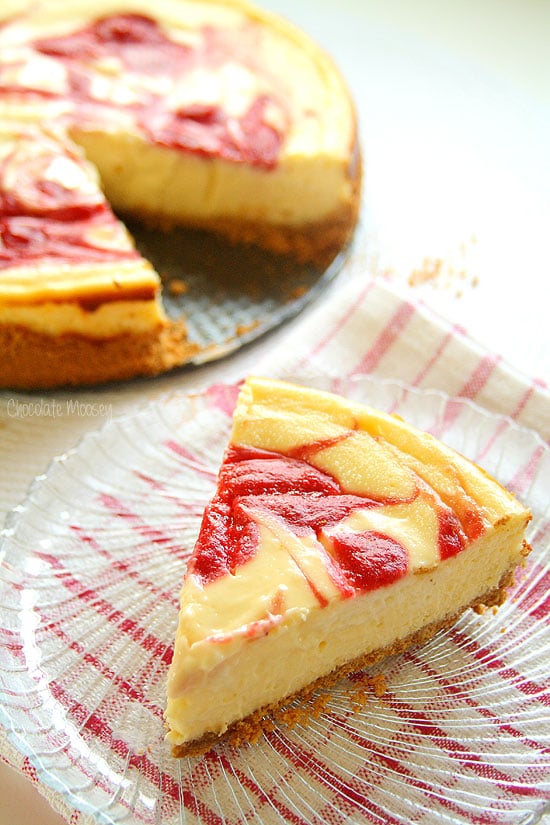 I sure do love
cheesecake
. At its core,
classic cheesecake
is a blank canvas. You can turn it into
chocolate cheesecake
, scale it down and make
cheesecake for two
, or add
German chocolate frosting
on top.
This Strawberry Swirl Cheesecake with strawberry curd was inspired by a good friend who no longer blogs. We do keep in touch through Facebook, although our chats are sporadic now. We used to talk all the time on Twitter, but things change and people are busy living.
She loves curd, which is a soft custard used as a dessert spread or sauce. Considering it's strawberry season, Strawberry Swirl Cheesecake with strawberry curd was the perfect recipe for the occasion.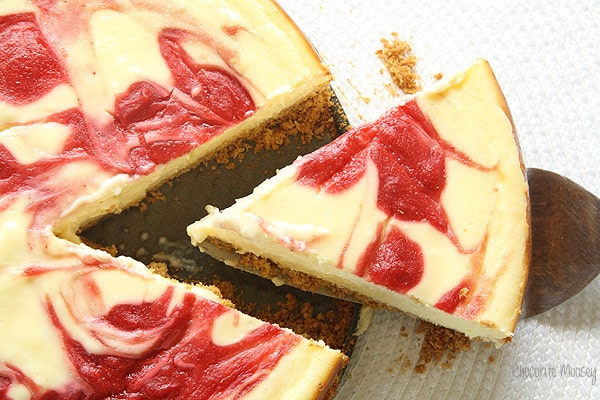 Finding a good base recipe that you know works is a great way to adapt recipes. You know the original recipe worked, so you can focus on developing the recipe you want it to be. One where the recipe can only be improved with your imagination.
That is how I developed this Strawberry Swirl Cheesecake recipe by taking my trusted cheesecake recipe and making it elegant with a strawberry curd swirled on top. Rich, creamy, and guaranteed to brighten your day.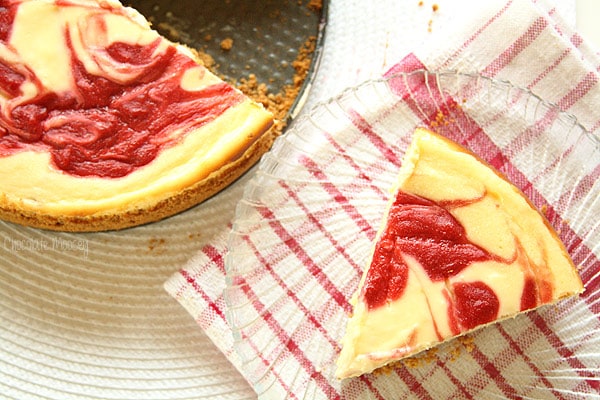 There is a specific pan you need to use for a successful cheesecake. It is called a
springform pan
, which is a deep pan where the side detaches from the bottom. You can't use a regular round cake pan as it wouldn't be deep enough and impossible the remove the cheesecake all in one piece. Cheesecake is very delicate dessert. You can't just flip out like a normal cake.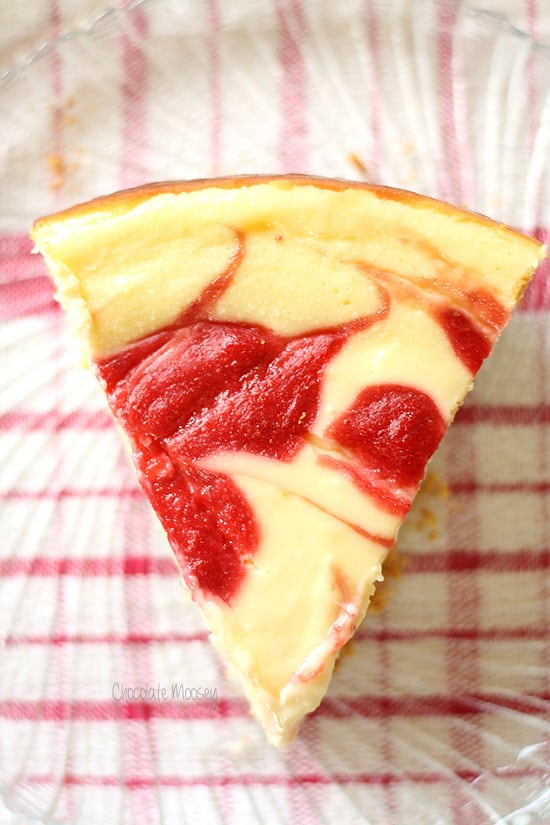 Traditionally curd is made with lemons, but I figured out how to make
strawberry curd without eggs
. Once you add the cheesecake batter to the pan, drop spoonfuls of the curd on top then swirl it around with a knife. If your swirls start to peak, smooth it out as much as possible.
Looking for a smaller recipe? Check out my Small Batch Strawberry Swirl Cheesecake Bars made in a loaf pan, which makes only 6 bars!
Strawberry Swirl Cheesecake
Total Time:
1 hour
10 minutes
Ingredients
2 1/2 cups graham cracker crumbs
6 tablespoons unsalted butter, melted
24 ounces full-fat cream cheese, softened (do not use fat free)
1 cup granulated sugar
3 eggs, room temperature
1 tablespoon lemon juice
1 tablespoon vanilla extract
1/2 cup strawberry curd (homemade or store bought)
Instructions
Preheat oven to 350F. Have an 8.5 or 9 inch springform pan ready.
In a small bowl, mix together the graham cracker crumbs and melted butter. Press into the bottom and sides of the pan. Place on a cookie sheet.
In a large mixing bowl, beat the cream cheese and sugar until smooth, roughly 2-3 minutes. Add the eggs one at a time, beating 1 minute after each addition. Beat in lemon juice and vanilla.
Pour the batter into the pan. Add spoonfuls of curd on top and swirl with a knife. Bake for 35-40 minutes minutes or until the center is almost set (it will still move slightly when shaken but the top should be firm). Cool for 10 minutes then take a knife and run it around the edge of the pan to loosen it. Cool for another 50 minutes in the pan. Cover and refrigerate for at least 4 hours or overnight. Remove the pan side before serving.
Source: Adapted from
Taste of Home