Watermelon Yogurt Pops (Small Batch)
Everybody loves juicy watermelon during the summer, so why not serve Watermelon Yogurt Pops? Small Batch Watermelon Yogurt Popsicles made with Greek yogurt are not only refreshing after a long hot day, they are almost guilt-free.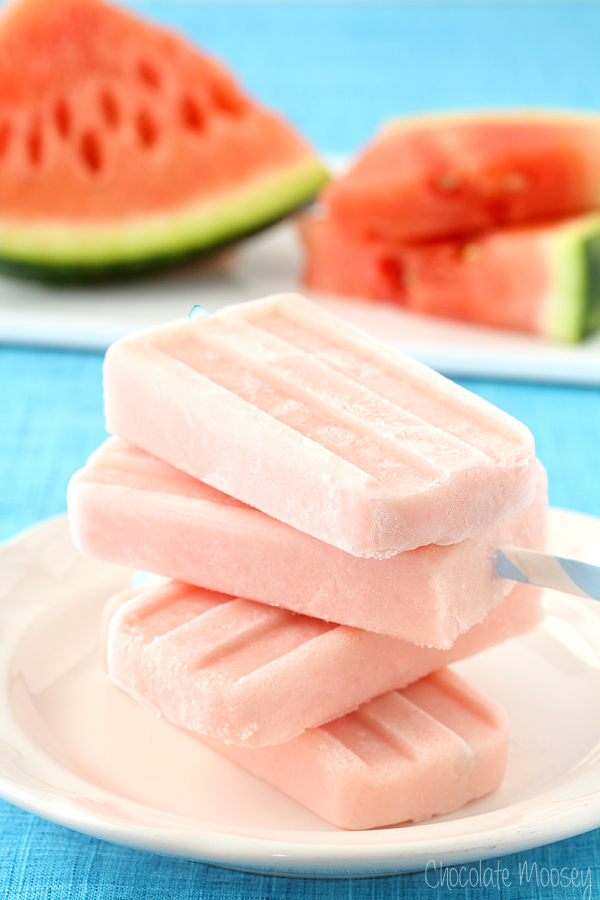 The hardest part about cooking for two is being forced to buy a lot of one ingredient when you only need a small amount.
Take the watermelon, for example. When you buy a watermelon, you end up with a lot of watermelon. A lot. Even the smallest one I found left me with watermelon for days.
And although I did snack on it, I needed to make other recipes with it. Otherwise, it would soon become wasted watermelon.
Because watermelon is essentially 92% water, I wanted to make something refreshing and cold.
My first thought was ice cream, but heavy cream and watermelon don't exactly go together. I've made watermelon ice cream before and it's…fine. Also a little odd.
What if I paired it with Greek yogurt? It would still have that creaminess but won't be as heavy as ice cream.
And that's how these small batch Watermelon Yogurt Pops were born. Creamy refreshing summer popsicles made with only 4 ingredients.
Plus since you have to freeze them anyway, you can easily make them way ahead of time and have them ready at a moment's notice.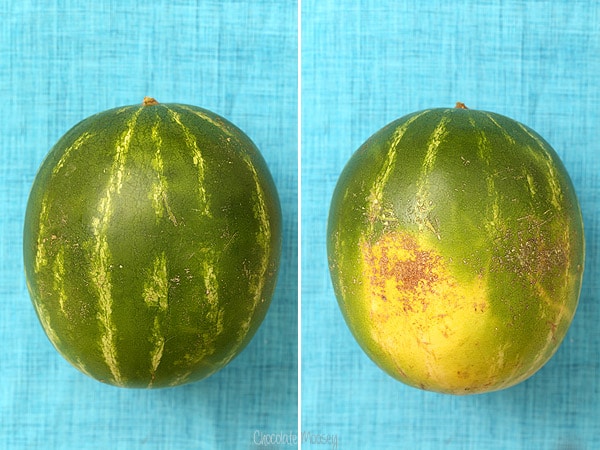 How To Pick A Watermelon
Although you can buy packaged watermelon slices at the store, there's no guarantee as to how fresh and juicy they'll be. That's why I opted for a whole watermelon.
Buy what's best for your household. If you honestly won't eat a whole melon, there's no point in wasting your time, money, and fruit.
If you do decide to buy a whole watermelon, here's how to pick the best watermelon:
First, it should be heavy to lift, even the small ones. Watermelons are 92 percent water. It should most definitely feel like it too.
Second, look for a yellow spot. This is called a sun spot and indicates that the watermelon has sat on the vine long enough to ripen.
Third, it should be symmetrical and free from cuts and bruises. If it's oddly shaped, pick another melon.
What Can I Use As A Popsicle Mold?
In order to make homemade popsicles, first you need a popsicle mold.
I went a little fancy with mine and bought this Norpro Frozen Ice Pop Maker from Amazon (affiliate link).
I personally love the fudgesicle shape to it, but really any popsicle mold will work.
However, you certainly don't need to buy one, especially if you're trying to save money or simply don't have the room for one.
Buy some 3-5 ounce paper or plastic cups (often called Dixie cups). After filling the cups, wrap the tops in foil and make a small hole so you can hold the sticks in place.
Once frozen, you can cut away the cup to unmold the pops.
For the popsicle sticks, you can easily buy them from the craft section of most stores.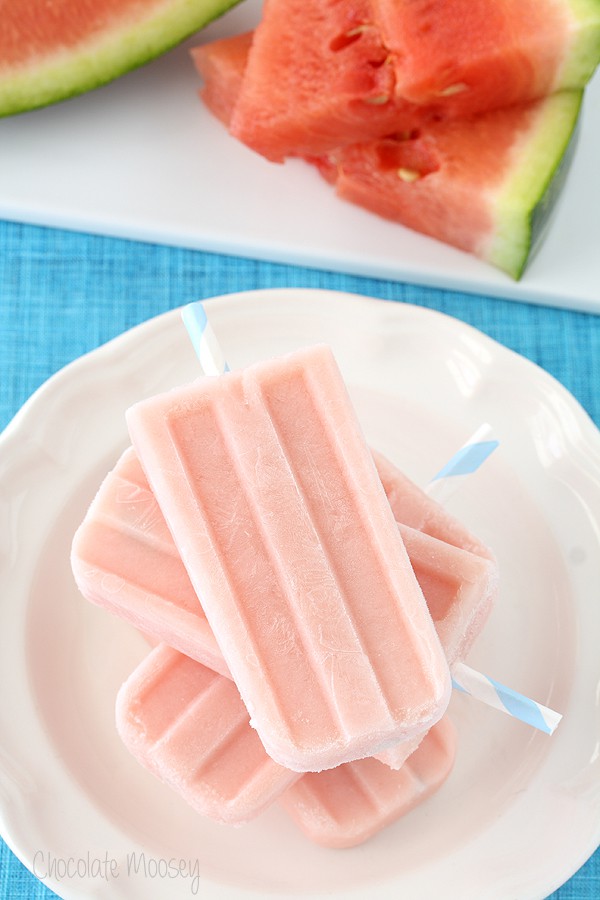 How To Make Popsicles
Now that you have your popsicle mold, time to make the recipe!
This recipe is so quick and easy, it'll take you longer to cut up the watermelon than to make the filling.
Put your cubed watermelon, plain Greek yogurt (although vanilla yogurt does add a nice touch!), sugar, and lemon juice to a blender then blend until smooth.
The water from the watermelon should be enough to thin everything out. However, if for whatever reason it's too thick, add a touch of water or even milk until thin and pourable.
Transfer the filling to your popsicle molds, secure your sticks, and freeze until firm. It takes about a minimum of 4 hours to freeze popsicles, but I prefer letting them freeze overnight to really firm up and develop more flavor.
How To Unmold Popsicles
Now comes the fun (and perhaps the most challenging) part – unmolding your fresh batch of homemade Greek yogurt pops!
If using a plastic mold, fill a container deep enough for your mold with warm (not hot) water. Let the mold sit in the water for about 30 seconds then gently pull upwards to remove the pops.
If you get some resistance, let the mold sit in the water again for 30 second increments until loose.
Alternatively you can run the plastic part until warm running water, making sure you don't accidentally get water into the top of your mold.
If using plastic or paper cups, you can use the same method as above. If you can't pull them loose, you can cut away the cups.
How To Store Homemade Popsicles
As much as you want to eat all six popsicles at once, you'll want to store them after unmolding.
First, line a baking tray with plastic wrap or wax paper then lay the extra pops on top. Freeze until firm again, about 30 minutes.
Next, wrap each pop in plastic wrap then place them in a freezer bag, squeezing out the extra air.
If properly stored, homemade popsicles can last up to 6 months.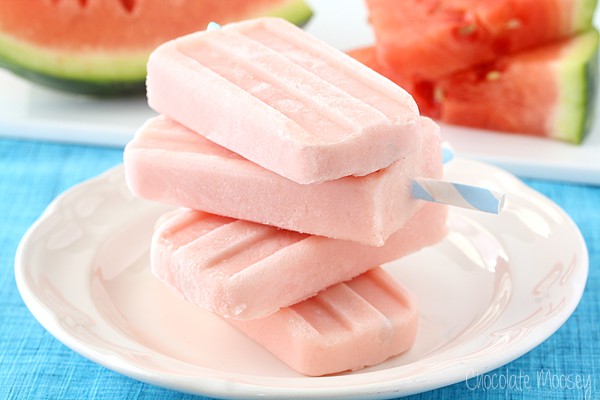 How To Freeze Watermelon
Spoiler alert: You WILL have leftover watermelon after making these watermelon Greek yogurt popsicles.
Even though you have good intentions to use your whole watermelon, sometimes time gets the best of you.
Luckily you can prep and freeze watermelon ahead of time. That way you can make watermelon recipes all summer long!
Cut your entire watermelon into cubes then arrange them in a single layer on a baking sheet or two. Freeze until firm, about an hour.
Next, transfer your frozen watermelon cubes to a freezer bag. This method ensures they don't stick together in the bag.
Now you have instant watermelon ice cubes! Put them into drinks such as watermelon lemonade margaritas or blend into smoothies.
Or thaw them out and make more easy Greek yogurt popsicles.
What To Do With Leftover Watermelon

As I mentioned earlier, a whole watermelon for 1-2 people is a lot of fruit! However, with a little bit of planning you can easily use up the rest of the fruit in no time by making these other refreshing watermelon recipes:
Equipment you will need (affiliate links):
Looking for more popsicle recipes? Check out strawberry popsicles and pineapple popsicles.
Watermelon Yogurt Pops
Yield: 6 popsicles
Prep Time: 30 minutes
Chill Time: 4 hours
Total Time: 4 hours 30 minutes
Small Batch Watermelon Yogurt Popsicles made with Greek yogurt are not only refreshing after a long hot day, they are almost guilt-free.
Ingredients
3 cups cubed watermelon
1/2 cup plain Greek yogurt
1/4 cup granulated sugar
1 tablespoon lemon juice
Instructions
In a blender, blend together the watermelon, yogurt, sugar, and lemon juice until smooth.
Transfer the mixture to your popsicle molds and insert sticks. Freeze until firm, about 4 hours (24 hours is preferred to allow the flavors to develop).
Recommended Products
As an Amazon Associate and member of other affiliate programs, I earn from qualifying purchases.
This post may contain affiliate links. As an Amazon Associate and member of other affiliate programs, I earn from qualifying purchase.