Watermelon Margaritas
These cold and refreshing Watermelon Margaritas are the perfect summer cocktail for when you want to kick up your feet and relax.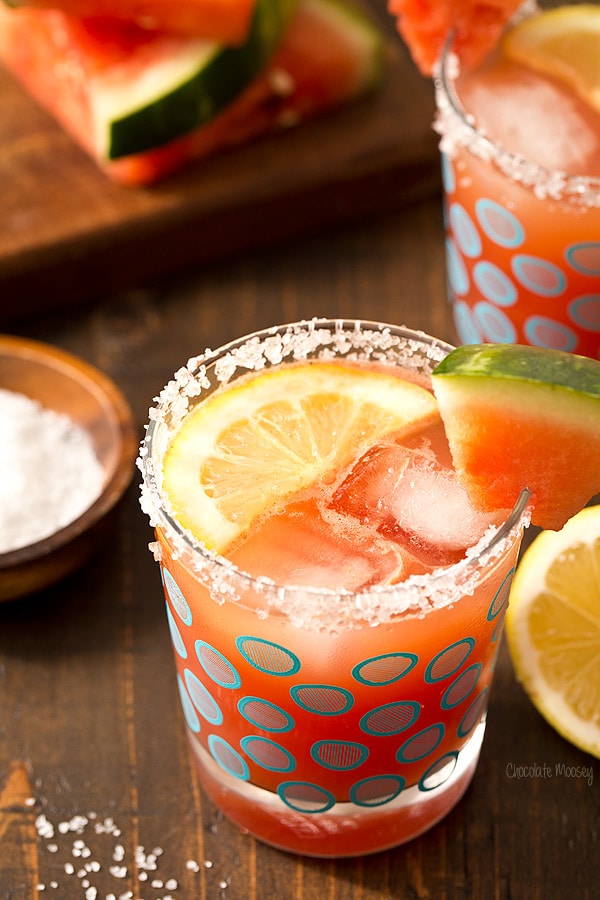 Happy Cinco de Mayo! Do you have dinner plans for Mexican food today? Or is it just another Thursday for you?
I'll probably make my salsa chicken enchiladas for dinner.
Then I'll probably end my evening with one of these Watermelon Margaritas. Don't worry if you don't get to make them for tonight because these watermelon margaritas aren't just for celebrating Cinco de Mayo.
They combine the two best things of summer – watermelon and lemonade – into a cold and refreshing summer cocktail for you to enjoy as you kick up your feet and grill outside.
Or you can stay inside like me and kick up your feet in the a/c.
This cocktail is based off of my margarita popsicles I made last summer.
When I was making the pops, I tasted the mixture before freezing. I thought, these would make a great drink right now as is.
I didn't get a chance last summer to post the drinks, so here I am posting them as way to kick off Cinco de Mayo and summer.
If you don't drink alcohol, don't worry – I provided a non-alcoholic alternative for you. You can also check out my Watermelon Slushies as well.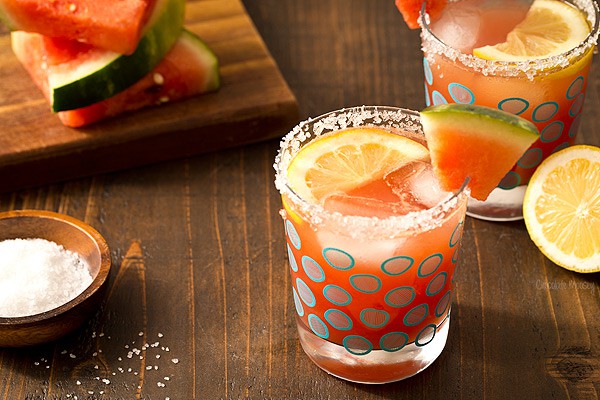 Is it too early to start thinking about watermelon? Watermelon is available all year round, but it isn't until summer that I think about eating (and drinking) it.
Last year I talked about how to pick a watermelon based on a few criteria, so check out that post before you go shopping. You'll need to know about weight, shape, and color.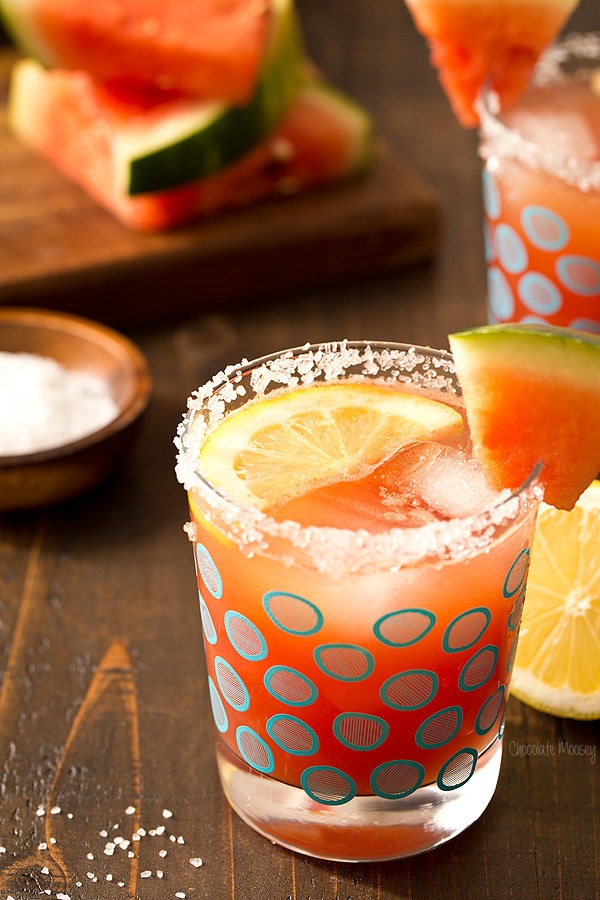 Traditional margaritas are made with limes, tequila, and orange liqueur, like my
frozen mango margarita recipe
.
I chose lemons for my watermelon margaritas instead because I love lemons more than limes.
If you want to make this drink alcohol-free, you can use lemon lime pop instead of the tequila and triple sec.
Since you'll likely have leftover watermelon, check out my watermelon ice!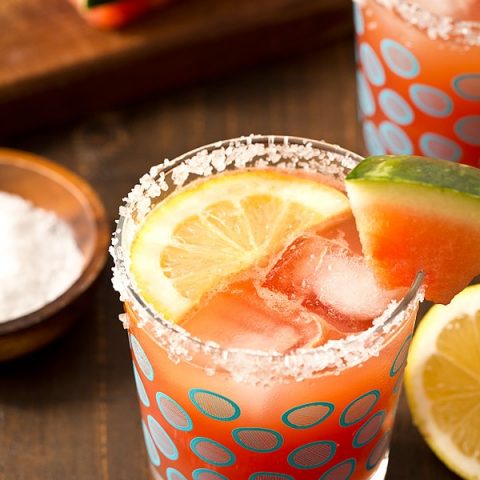 Watermelon Lemonade Margaritas
Yield: 4 drinks
Prep Time: 25 minutes
Total Time: 25 minutes
Ingredients
3 cups cubed watermelon
1/4 cup sugar
1 teaspoon lemon zest
1/4 cup lemon juice
1/4 cup tequila
2 tablespoons triple sec
Lemon slices, sea salt, and ice cubes, for serving
Instructions
In a blender, blend together the watermelon, sugar, lemon zest, lemon juice, tequila, and triple sec until smooth, 1-2 minutes. Pour through a fine mesh strainer into a large bowl, discarding any solids and seeds left behind.
Pour some sea salt onto a plate. Run a lemon slice around the rim of one glass then roll the rim in the salt. Fill the glass with ice then add the watermelon mixture. Repeat for each drink you're serving.
This post may contain affiliate links. As an Amazon Associate and member of other affiliate programs, I earn from qualifying purchase.