Orange Vanilla Margaritas (Small Batch)
Reminiscent of a creamsicle, these small batch Orange Vanilla Margaritas are made with fresh orange juice, lime juice, and vanilla bean. Recipe makes two drinks, ideal for Cinco de Mayo and for cocktail night in general.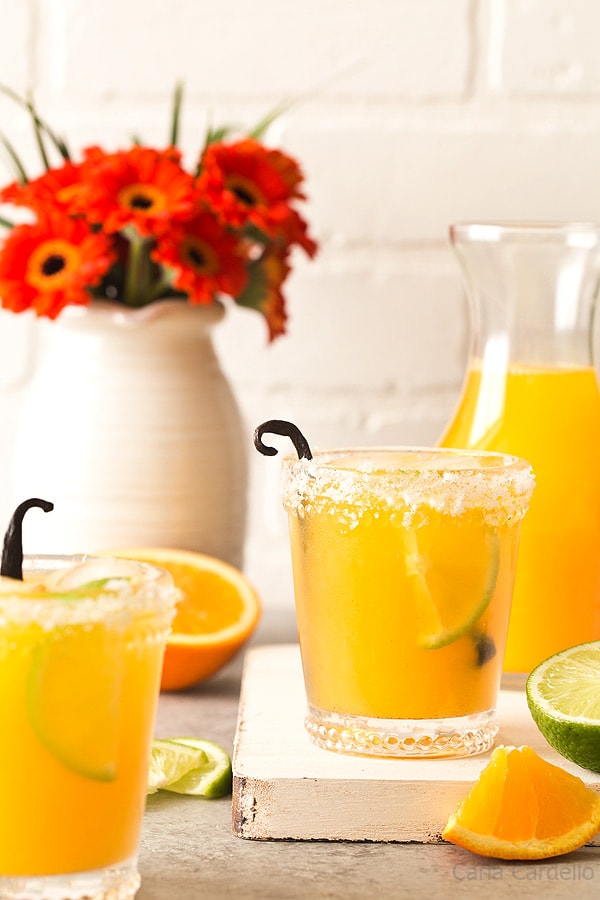 It's that time of year –
Cinco de Mayo
time!
A time where we eat chicken enchiladas, nacho cheese dip, and sip frozen mango margaritas until our pants no longer fit.
Nevermind the fact it's not even Mexico's Independence Day. Do Mexicans even celebrate Cinco de Mayo or is it another excuse for us to eat tacos?
I'm pretty sure where there's a will, there's a way for us to incorporate food in whatever celebration we deem necessary.
The best way to celebrate this fun food holiday is with margaritas. I've made both watermelon margaritas and margarita popsicles.
This time I wanted to do a play on creamsicles with Orange Vanilla Margaritas made with freshly squeezed orange juice, a little bit of lime juice, and vanilla bean.
It's refreshing for any day of the week, especially if it's a warm evening.
This recipe makes enough for two drinks so you don't have to worry about leftovers.
Of course if you're inviting several friends over, you can easily double or triple the recipe.
The first time I ordered a margarita was during my senior year in college when I was finally 21.
After my morning classes, I was hanging out on my department's floor waiting for lunchtime when one of the guys I worked with suggested a group of us drive to the next town over and grab Mexican food for lunch.
One person ordered a small margarita, which was almost as big as her head! Several others got a pitcher to pass around, so I drank what I would consider a true small margarita.
Traditionally margaritas have tequila and triple sec (orange flavored liqueur).
However, I thought I'd be a little playful and use Nielsen-Massey's Orange Blossom Water instead of triple sec. It's a natural extract made from the distillation of orange blossoms. Think orange extract but with floral notes.
For the vanilla I used vanilla bean paste, but you can also use vanilla beans or vanilla extract.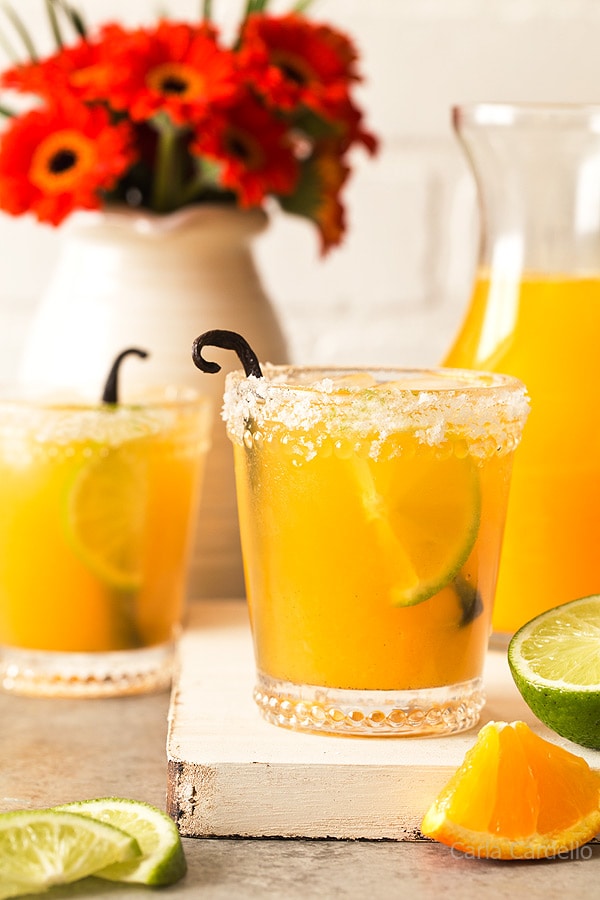 Although I made these margaritas in honor of Cinco de Mayo, they can easily be a brunch cocktail for Mother's Day. It's like sipping mimosas but with tequila.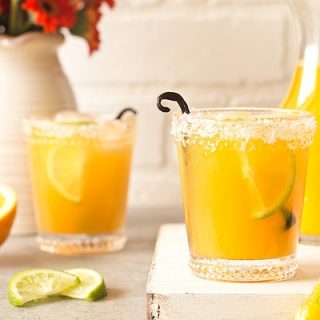 Orange Vanilla Margaritas (Small Batch)
Yield: 2 drinks
Prep Time: 30 minutes
Total Time: 30 minutes
Ingredients
1 cup freshly squeezed orange juice (roughly 4 large oranges)
1/4 cup freshly squeezed lime juice (roughly 2-4 limes)
1/4 cup tequila
1/4 cup granulated sugar
1 teaspoon Nielsen-Massey Orange Blossom Water
1 teaspoon Nielsen-Massey vanilla bean paste
Lime slices, vanilla beans, sea salt, and ice cubes, for serving
Instructions
Whisk together the orange juice, lime juice, tequila, sugar, orange blossom water, and vanilla bean paste until the sugar has dissolved.
Pour some sea salt onto a plate. Run a lime slice around the rim of one glass then roll the rim in the salt. Fill the glass with ice then add half the orange juice mixture. Garnish with a vanilla bean and lime slice. Repeat with a second glass.
Disclosure: This post is sponsored by Nielsen-Massey Vanillas. As always, thank you for reading and supporting brands I work with, which helps keep this website running.
This post may contain affiliate links. As an Amazon Associate and member of other affiliate programs, I earn from qualifying purchase.