This small batch Homemade Queso (Nacho Cheese Dip) with roasted jalapeno is made with evaporated milk to help keep it smooth, even after it cools. Made without Velveeta.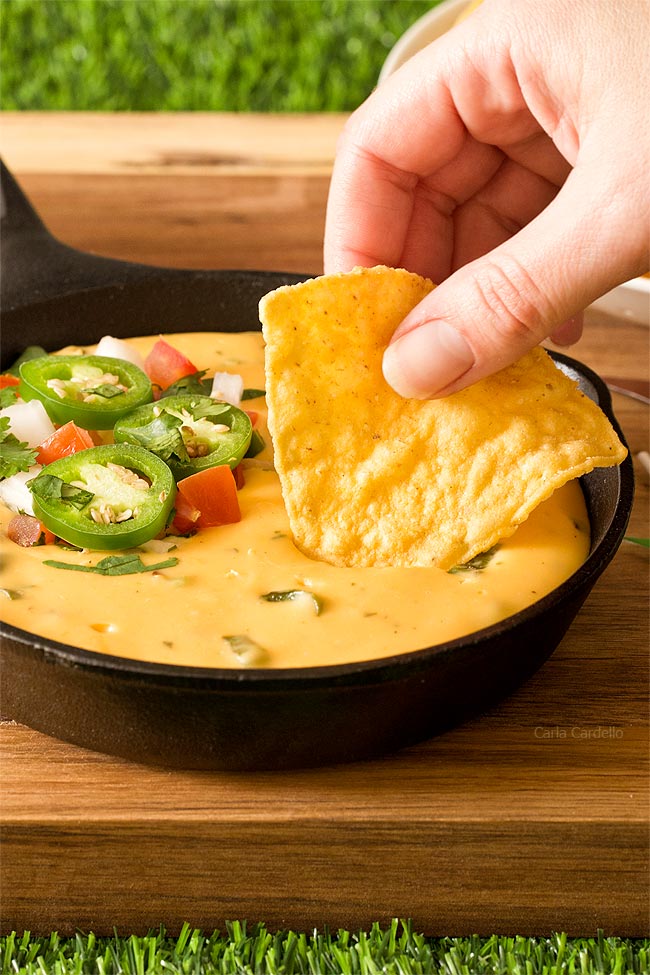 I'm pretty sure I say this all the time, but I love to snack.
If I could eat snacks for dinner, I totally would. I'll eat snacks straight from the bag or with dip.
My favorite snack? Homemade Queso. AKA Nacho Cheese Dip.
It's one of my weaknesses. There's a place in Pittsburgh whose queso is nicknamed "liquid gold" but it also costs $12. Although I dream daily about that queso, my wallet dies a little inside.
That's usually why I opt to make this small batch Homemade Queso recipe from scratch. One – it's more affordable. Two – I can control the portion size.
Not to say I'm on a diet or anything, but I probably shouldn't be eating a bucket of this nacho cheese dip recipe either.
Although you can eat small batch queso 365 days a year, I often think of making it on two occasions:
The Big Game I can't officially name due to the NFL possibly suing me (or tailgating in general)
Cinco de Mayo (even though it's Tex Mex and not Mexican)
Both occasions involve parties, but I never have large gatherings. Hence the small batch.
Or if you're staying in on a Saturday night watching Netflix (exciting, I know), you can whip up this nacho cheese dip recipe.
Ready to get started?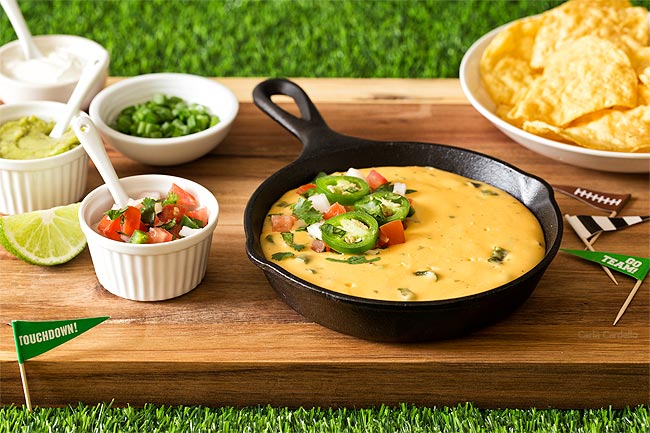 What is queso?
Queso is a hot cheese dip served with nachos. The name is Spanish for cheese.
Traditionally it's white queso made with queso blanco. Other times it's yellow made with cheddar cheese (or Velveeta).
My particular recipe is homemade queso without Velveeta. I added roasted jalapeno so you get some spice in every bite.
You can also add meat to it, like with my Chorizo Cheese Dip.
The toppings will vary. Sometimes you'll get salsa con queso, which is nacho cheese dip with fresh garden salsa mixed together. Other times you may get jalapenos and pico de gallo on top.
Although it acts as a homemade cheese dip, it's pourable, making it the best nacho cheese sauce.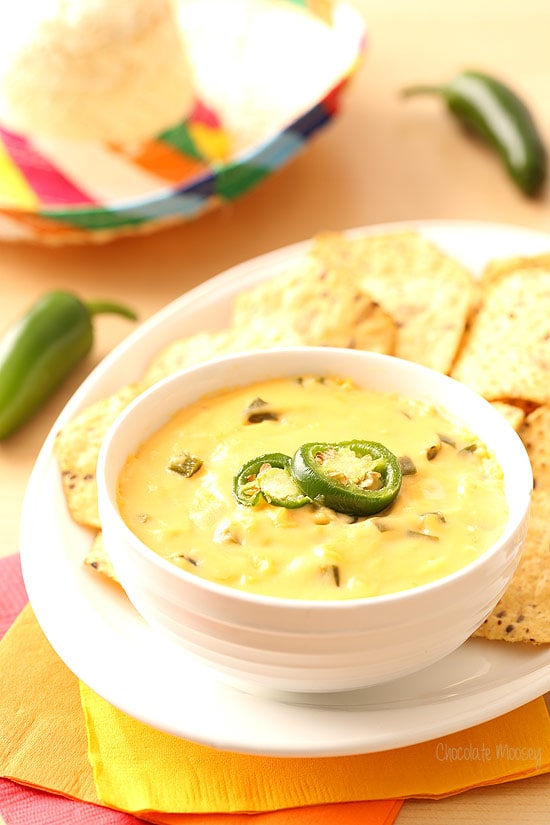 How To Make Homemade Queso
To make queso without velveeta, first roast the jalapenos.
I've made small batch queso with both oven roasted and pan fried jalapeno peppers. Although both methods are delicious, oven roasted develops a more flavorful queso.
However, if you want to roast them, you can sauté chopped jalapenos right in the saucepan before adding the milk.
Fair warning – if you cook jalapenos on the stovetop, open a window and turn on your oven fan. Sometimes the "fumes" from the jalapeno make you tear up, almost like pepper spray.
Once the jalapenos are ready, whisk together 1 tablespoon evaporated milk and the cornstarch to make a slurry. This allows you to make a gluten free nacho cheese dip without flour.
In a large Dutch oven, heat the rest of the evaporated milk until hot but not boiling. Whisk in the cheese, cornstarch mixture, and salt until smooth then cook until thickened.
Stir in the jalapeno then serve immediately with nachos.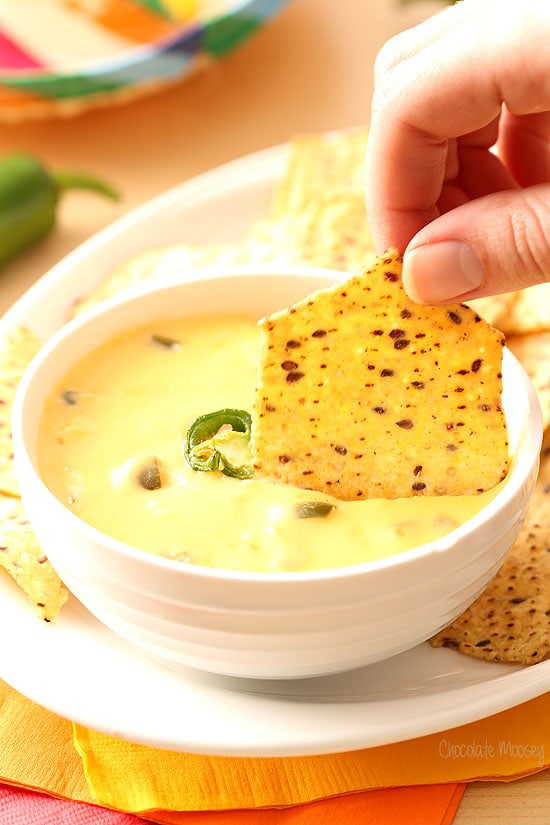 How do you keep homemade queso from hardening?
There is no true way to keep your homemade queso recipe from hardening after it cools; that's how homemade cheese dip works.
However, there is a secret ingredient to keep it from congealing and separating – canned evaporated milk. When the dip cools, it stays smooth instead of a thick gloppy mess.
The top will still firm up after cooling, but it won't be congealed when you reheat and stir it.
I first discovered this trick when I posted about my Italian Nachos with a mozzarella cheese sauce.
If you don't want the queso to firm up at all, one solution is to keep it constantly warm in a small slow cooker. This method would be ideal if you're serving queso at a party.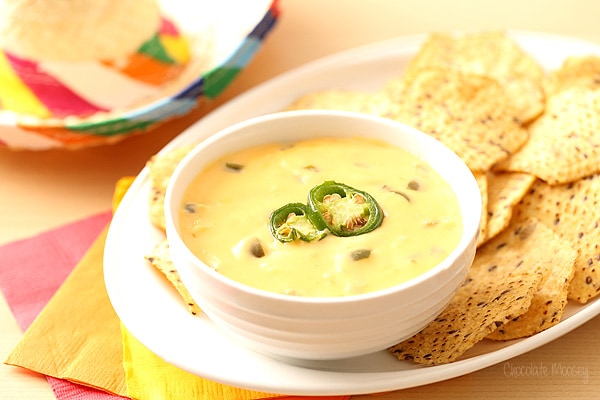 How do you thin out queso?
The one downfall to making any homemade cheese dip is it will thicken greatly as it cools. Luckily it's easy to thin out!
The best way to thin out small batch queso is to stir in extra milk while reheating.
Although this recipe calls for evaporated milk, it seems a little silly to open up a new can to use a small amount. You can use dairy milk in a pinch when reheating.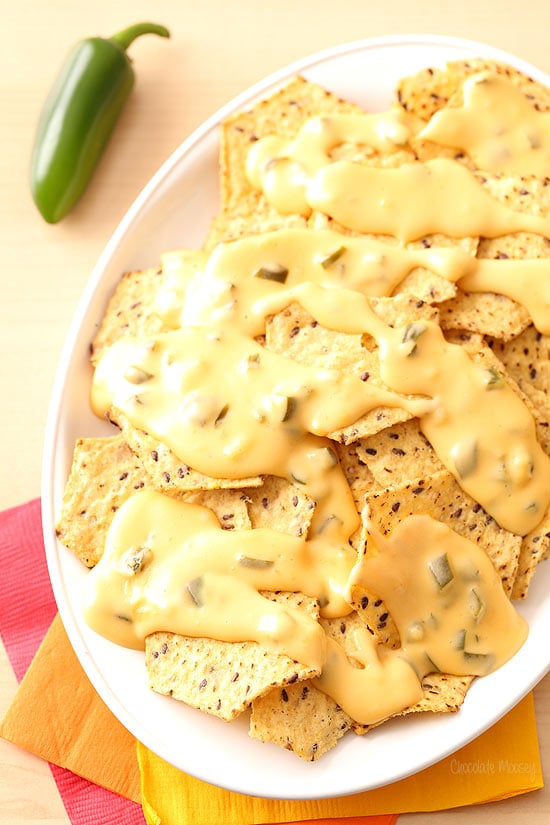 Why is my queso grainy?
If your queso is grainy, chances are your cheese got too hot, causing it to separate. You want to stir the cheese in at the end and let the heat melt it rather than continuing to cook it.
Sometimes it's the cheese itself. Some pre-shredded cheeses have a waxy coating that doesn't melt down well. It's best to buy a block of cheese then shredding it by hand.
To fix grainy queso, put it in a blender until smooth again.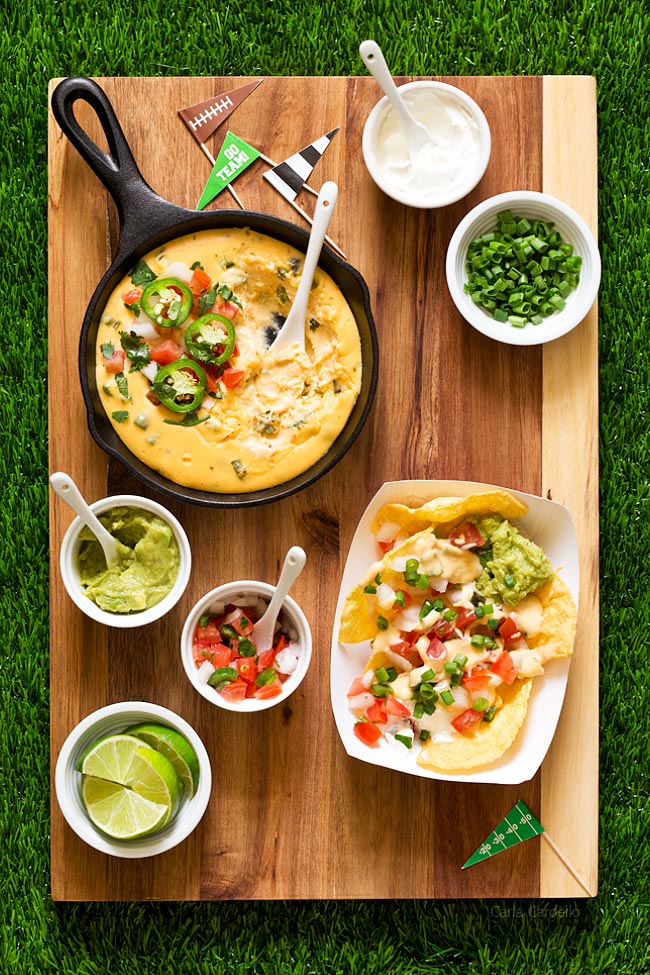 How To Serve Homemade Queso
When I think of queso, I often think of tailgating. Why? I don't know, but if there's an opportunity to eat melted cheese, I'm there.
To make nacho cheese dip even more football friendly, set up a nacho bar with salsa, guacamole, and sour cream.
I also think about cinco de mayo. Serve it as an appetizer for Crockpot Beef Enchiladas, Steak Fajitas, or Chicken Fajita Salad.
Wash it all down with some Frozen Mango Margaritas.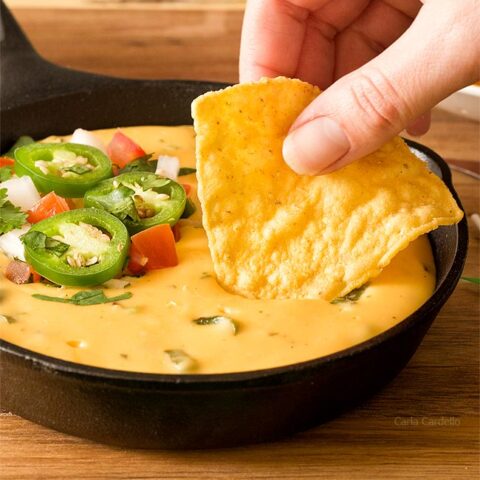 Homemade Queso (Nacho Cheese Dip)
Small batch Homemade Queso (Nacho Cheese Dip) is made with evaporated milk to keep it smooth, even after cooling. Made without Velveeta.
Ingredients
2 medium jalapeno peppers, halved and seeds removed
One 12-ounce can evaporated milk*
2 teaspoons cornstarch
2 cups shredded cheddar cheese
Up to 1 teaspoon salt
Nachos, for serving
Instructions
Preheat oven to 400F. Have a baking sheet ready.
Place jalapeno cut side down onto baking sheet. Bake for 15-20 minutes or until soft and slightly darkened. When cool enough to handle, dice into small pieces.

Alternatively, cook them on the stovetop. Dice the jalapeno halves then heat 1 tablespoon olive oil in a large saucepan. Once hot, add jalapeno and cook until softened, about 5 minutes. You may want to open a window as sauteing may make your eyes water.
In a small bowl, whisk together 1 tablespoon evaporated milk and cornstarch to make a slurry. Set aside.
In a large Dutch oven or wide saucepan, heat the remaining evaporated milk until hot but not boiling.
Whisk in the cheese, cornstarch mixture, and 1/2 teaspoon salt until smooth. Cook for 3-5 minutes or until thickened, stirring often. Taste and add remaining 1/2 teaspoon salt if needed.
Stir in the chopped jalapeno. Serve immediately with nachos.
Notes
Evaporated milk helps keep the dip from congealing and separating, even after cooling. Although it's highly recommended, you can substitute dairy whole milk.
Enjoyed this recipe? Check out my Chorizo Cheese Dip and Italian Nachos with mozzarella cheese sauce.
Recommended Products
As an Amazon Associate and member of other affiliate programs, I earn from qualifying purchases.