Fajita Shrimp Tacos With Dragon Fruit Salsa
A fast and healthy dinner of Fajita Shrimp Tacos topped with Dragon Fruit Salsa can be ready in under 30 minutes. Never tried dragon fruit before? These tacos are a great way to try your first dragon fruit.
I consider myself pretty adventurous when trying new foods.
While I was in college, there was a local farmer's market set up in the bank parking lot right off of campus every Saturday morning.
It was roughly a 45 minute walk round trip from my apartment, but it was a walk I looked forward to on the weekends when time permitted.
Although the market was quite small, I discovered new-to-me produce: butternut, acorn, and spaghetti squash; habanero peppers; fresh beets; Swiss chard, the list goes on.
Over the years as I shop at various farmer's markets and stores, I've tried rhubarb, cactus pear, tamarinds, blood oranges, fingerling potatoes, kale, kumquats, tomatillos, all produce that I never had as a kid.
Recently I was given the chance to try dragon fruit, a fruit that isn't found anywhere near me in good ol' south central PA. One of my goals for 2014 is to eat more vegetables, but let's pretend I said fruits too.
So what does one do with dragon fruit for the first time?
After some recipe research, I noticed salsa was quite popular.
Considering I made shrimp tacos with mango salsa last year, why not branch off of that and make Fajita-Spiced Shrimp Tacos with Dragon Fruit Salsa?
There's no need to marinade anything, so you can have these tacos on the table in under 30 minutes.
Dragon fruit is a cactus family fruit that has this beautiful magenta tone with green on the outside and white with black edible seeds on the inside.
First impression – I was thinking it was tropical like a mango, so I expected it to be much sweeter. However, dragon fruit by nature is juicy and mild, much like a kiwi or pear.
If you are hesitant in trying new foods, the flavor isn't very assertive and won't overpower your taste buds.
To read more about this tropical fruit, you can check out this dragon fruit demystified article from Eating Richly.

You can eat dragon fruit as is, but personally I'm not a huge plain fruit fan; I'd much rather make something with it than snack on it.
As I said earlier, salsa came to mind. I didn't want to add other fruit for the fear of overshadowing the dragon fruit, so I went very basic – dragon fruit, lime juice, green onion, and cilantro.
The cubed fruit reminded me of dice, so if you ever have a casino-themed party, definitely add this salsa to your menu.
Although you can stop there and eat the salsa as is with chips, I wanted to make a meal out of it and knew tacos would be the perfect vessel.
I wanted the shrimp to have a spicy kick without much effort, so I tossed them with homemade fajita seasoning then cooked in some olive oil.
Because shrimp cooks so fast and the salsa takes maybe 15 minutes to chop and toss, you can easily have dinner on the table in under 30 minutes. How's that for fast and healthy?
Not in the mood for shrimp? Check out my Steak Fajitas!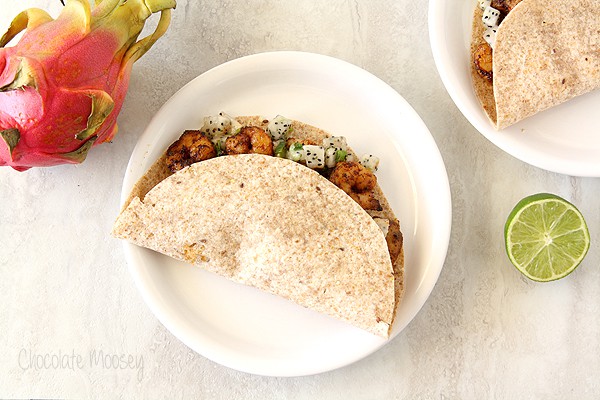 Fajita-Spiced Shrimp Tacos With Dragon Fruit Salsa
Yield: 2 servings
Prep Time: 15 minutes
Cook Time: 10 minutes
Total Time: 25 minutes
A fast and healthy dinner of Fajita Shrimp Tacos topped with Dragon Fruit Salsa can be ready in under 30 minutes. Never tried dragon fruit before? These tacos are a great way to try your first dragon fruit.
Ingredients
1 cup cubed dragon fruit (roughly 1 dragon fruit)
1/2 cup chopped green onion (roughly 1 green onion)
1 tablespoon chopped cilantro or cilantro paste
1 tablespoon lime juice
Half a pound raw shrimp, peeled, deveined, and patted dry
1 tablespoon fajita seasoning (homemade or store bought)
1 tablespoon olive oil
2 flour tortillas
Instructions
In a medium bowl, mix together the dragon fruit, green onion, cilantro, and lime juice. Chill in the refrigerator while you cook the shrimp.
Toss the shrimp in fajita seasoning. In a large skillet, heat the olive oil until hot. Add the shrimp and cook for 3 minutes. Flip the shrimp over and cook for another 3-5 minutes or until the shrimp are pink and completely cooked through. Remove from the heat. Fill each tortilla with the shrimp then top with the salsa.
This post may contain affiliate links. As an Amazon Associate and member of other affiliate programs, I earn from qualifying purchase.