Polish Hill Pierogy Sandwich
If you're wondering what Pittsburgh would taste like, this would be it! The Polish Hill Sandwich is Pittsburgh in a bite with kielbasa, pierogies, slaw, and beer mustard.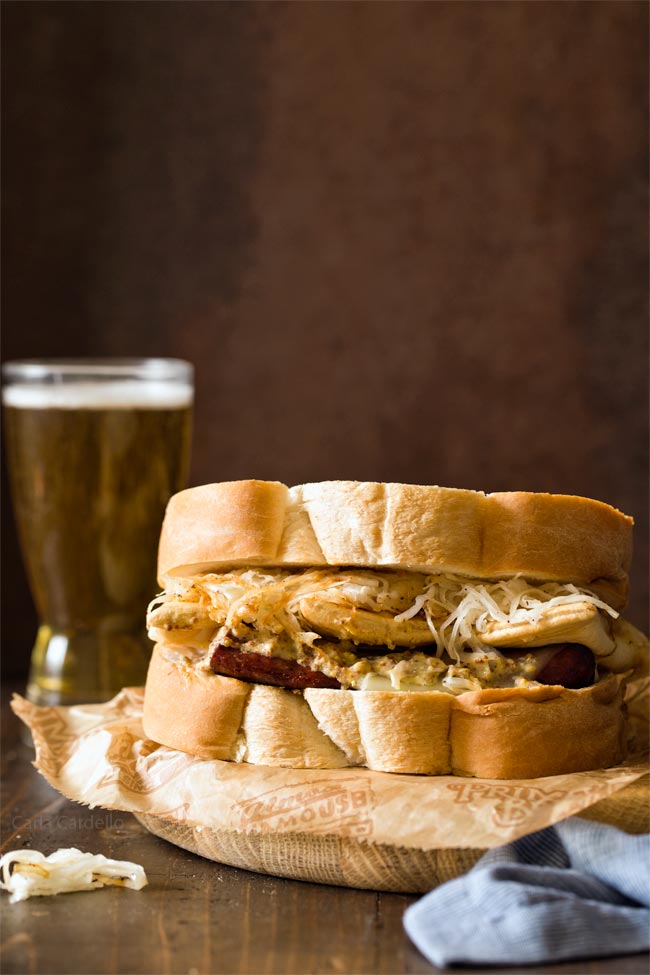 Confession: Even though I cook for a living, I probably eat more frozen foods and take out than you'd expect.
Believe it or not, food bloggers don't actually eat like royalty every day.
Truth is unless I'm shooting a dinner recipe, I'm always struggling to make dinner. Like you, I work all day so when dinnertime finally arrives, I either don't know what to make or don't have the energy.
For example, if I'm baking and shooting a dessert all day, not only did I clean up with about 2-3 rounds of dishes, now it's time to cook dinner and wash even more dishes.
That's when I wish it was acceptable to eat cake for dinner so I wouldn't have to cook anymore that day.
As you can imagine, some days I need a break in the kitchen. And now since it doesn't get dark until 9 PM, I walk around downtown Pittsburgh a lot.
I have an Instagram account called @citylifeadventures where I explore whichever city I'm in (95% Pittsburgh).
I often meet up with friends downtown for photo walks (our most recent one was inspired by Mr. Rogers), and sometimes we go grab something to eat together.
One of the restaurants downtown which Pittsburgh is well known for is Primanti Brothers.
If you're not familiar with Primanti Brothers, they put fries and a vinegar-based slaw on their sandwiches. I posted a Pittsburger recipe inspired by them a few years ago.
For a limited time this summer, they've partnered with Mrs. T's Pierogies to bring you the Polish Hill Sandwich where they replace the fries with pierogies. And I've partnered with both of them to tell you more about it.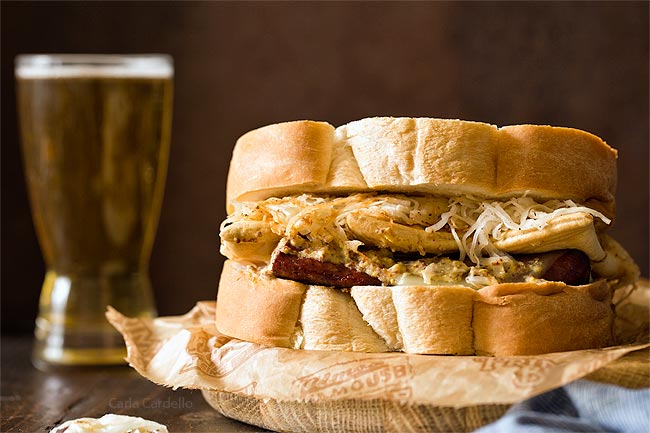 The Polish Hill sandwich is filled with the following ingredients:
Kielbasa
Provolone cheese
Mrs. T's Classic Onion Pierogies
Slaw (which reminds me of sauerkraut)
Beer mustard
As I mentioned in my Pittsburgh Pierogy Nachos post, these are all ingredients to make a killer Pittsburgh dish.
You can even serve your sandwiches with a side of haluski for the full Pittsburgh experience.
It gets its name from a Pittsburgh neighborhood called Polish Hill where – you guessed it – people with Polish heritage live on a hill.
I'm about a 10 minute drive from the area and have a clear view of it from across the river.
There's the famous Immaculate Heart of Mary Church you can see for miles around the city. Even if you don't know its name, you've probably seen it at some point because it's high on a hill.
The original Primanti Brothers location is in the Strip District, my favorite Pittsburgh neighborhood because of all the local markets and shops.
Fun fact: You can see it from above at Frank Curto Park on Polish Hill.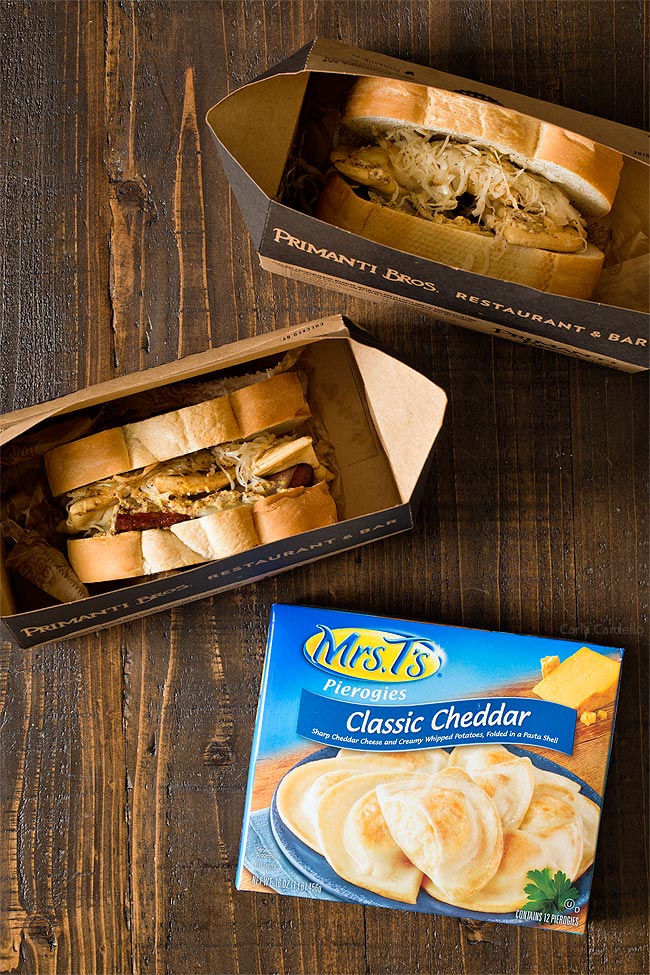 Sometimes the downtown location can be packed, especially if there's an event going on nearby. In those cases, you can get your Polish Hill sandwiches to go in cute carry out boxes.
Planning a fun friends night in with board games or your favorite tv show? Grab a bunch of sandwiches to go so dinner is already made for you!
When you're ready to cook at home again, Mrs. T's has a large variety of recipes on their website, including Buffalo Mini Pierogies and Grilled Pierogies. I'm looking forward to cooking both this summer. You can also follow them on Facebook, Twitter, and Instagram for more recipe ideas.
If you're ready to try the sandwich yourself, visit a local Primanti Brothers location from now until mid-August.
Disclosure: This post is sponsored by Mrs. T's Pierogies. As always, thank you for reading and supporting brands I work with, which helps keep this website running.
This post may contain affiliate links. As an Amazon Associate and member of other affiliate programs, I earn from qualifying purchase.