Roasted Banana Cupcakes with Peanut Butter Ganache Frosting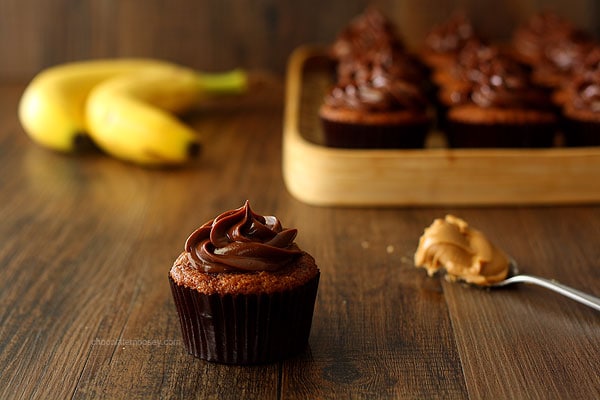 Sometimes no matter how good you are, you just can't win them all.
Do you remember the cupcake contest I won last year? I entered it again this year. Except I didn't win.
As bummed as I am for not being able to keep the title, I'm still proud of these Roasted Banana Cupcakes with Peanut Butter Ganache Frosting.
Bananas, chocolate, and peanut butter – a classic trio that combines to make a simply creative dessert.
I wanted to go simple this year.
I thought about doing a filling, but let's be honest – when you make cupcakes for a group or when you order a cupcake from a bakery, most of them don't have a filling.
I wanted the cupcake and the frosting to shine without the filling masking the flavors.
Plus the recipe would have been printed in the newspaper for home bakers to make. If there's one thing I learned about recipe development – the simpler, the better.
Just because these banana cupcakes are simple to create doesn't mean they are simple in flavor.
Roasting the bananas caramelizes them and brings out a deeper banana flavor. Adding cinnamon and clove spices up the flavor factor too.
And the frosting? Oh man, that frosting! I'm pretty sure my frosting deserves to win its own category.
The peanut butter ganache frosting is silky, smooth, and rich – everything that a frosting should be.
Because the frosting based on ganache, the frosting will harden as it chills.
If it becomes to warm, just chill in the fridge for a bit.
Maybe going simple wasn't the best strategy for winning a contest, but I have no regrets.
Sure, I think about what if I added a filling or what if I added a drizzle or garnish on top? But that wasn't my goal for this recipe.
And if the judges don't appreciate a simply creative cupcake, I know my readers will.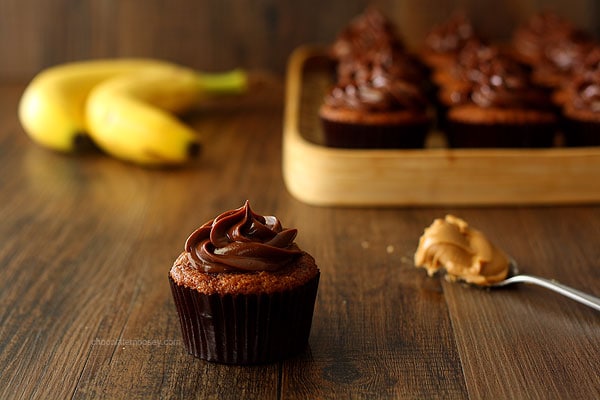 Roasted Banana Cupcakes with Peanut Butter Ganache Frosting
Yield: 18 cupcakes
Prep Time: 20 minutes
Cook Time: 20 minutes
Total Time: 40 minutes
Roasted Banana Cupcakes with Peanut Butter Ganache Frosting
Ingredients
2 medium bananas, ripened (but not overripen)
1 1/4 cups all-purpose flour
1 teaspoon baking soda
1 teaspoon ground cinnamon
1/2 teaspoon ground cloves
1/4 teaspoon salt
1 cup granulated sugar
1/2 cup vegetable oil
2 eggs, room temperature
1 teaspoon vanilla extract
Frosting
4 ounces semisweet chocolate, chopped
1/4 cup creamy peanut butter
1/3 cup heavy whipping cream
1 tablespoon corn syrup
6 tablespoons unsalted butter, cut into tablespoons
Instructions
Preheat oven to 350F. When hot, place both bananas on a cookie sheet and roast for 15 minutes or until the skins turn black. Let cool before handling. Peel the bananas then mash.
Leave the oven on at 350F. Line two cupcake pans with 18 paper liners. Set aside.
In a medium bowl, mix together the flour, baking soda, cinnamon, clove, and salt.
In a large bowl, beat together the sugar and oil until smooth.
Beat in the eggs, one at a time, until smooth.
Beat in the vanilla and banana. Gradually beat in the flour mixture.
Fill the cupcake liners about halfway full with the batter. Bake 18-20 minutes or until the cupcakes are brown on top and a toothpick comes out clean when inserted in the middle. Let cool completely.
For the frosting:
In a large mixing bowl, add the chocolate pieces and peanut butter. Set aside.
In a medium saucepan, heat up the cream and corn syrup until just boiling. Turn off the heat and pour on top of the chocolate. Let sit a few minutes then whisk the chocolate mixture until smooth. Let cool completely.
Once cool, gradually beat the butter into the chocolate mixture, a tablespoon at a time, until smooth and shiny. Pipe on top of cupcakes.*
Notes
*If the frosting is too warm, chill in the refrigerator until firm enough. Ganache is designed to harden as it cools.
Source: Adapted from
125 Best Cupcake Recipes
If you liked these Roasted Banana Cupcakes with Peanut Butter Ganache Frosting, then you may also like these recipes:
From me:
From other bloggers:
This post may contain affiliate links. As an Amazon Associate and member of other affiliate programs, I earn from qualifying purchase.