Fried Ice Cream Sundaes
Don't have time to make dessert? With a few easy ingredients, these Fried Ice Cream Sundaes made with cinnamon toast crunch cereal can be ready in minutes for an impromptu ice cream sundae party.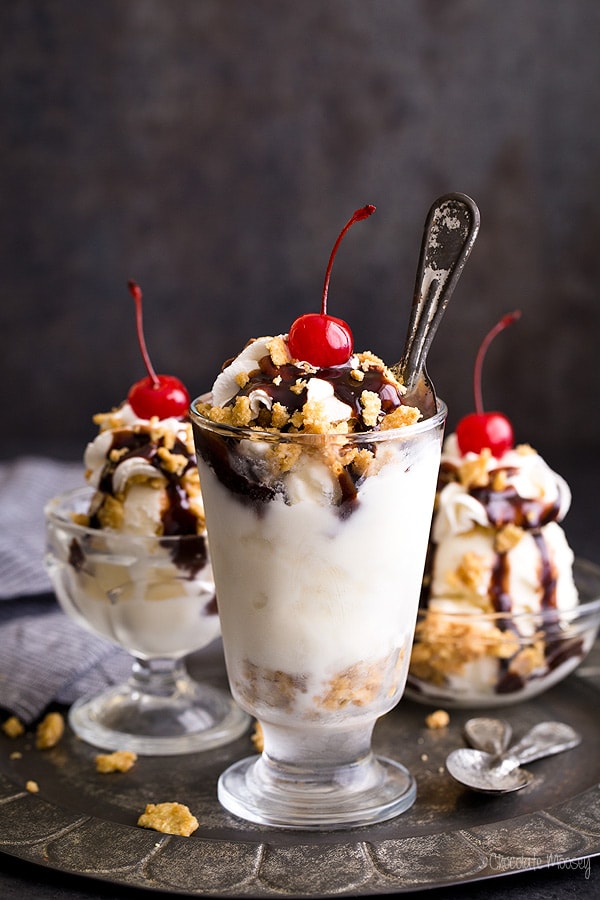 Do you ever sit there and wonder how someone invented a dish for the first time?
Take fried ice cream, for example. Who decided frying ice cream would be a great idea? Did someone have a few beers to drink and decided why not?
Maybe someone accidentally knocked some ice cream into the fryer. Or maybe someone was a scientist in a previous job and decided to experiment.
The first (and last?) time I had fried ice cream was probably about 10-15 years ago in one of my Spanish classes growing up.
We occasionally took evening field trips to a local Mexican restaurant for dinner. Usually by dessert, I'm pretty stuffed from chips and enchiladas, but then they served us fried ice cream.
Such an intriguing concept – you take something that melts easily, cover it in a cornflake coating, then deep fry it, resulting in contrasting textures of crunchy and hot with creamy and cold.
I love Baked Alaska for this very reason, so as you can imagine fried ice cream was right up my alley.
Sadly as I type up that memory, I don't think I've had fried ice cream since.
Dealing with scoops of ice cream melting as I roll them into cornflakes then attempting to fry them as they fall apart isn't my idea of fun, so I decided to take the easy route and make Fried Ice Cream Sundaes ("fried" technically).
I swapped out the cornflakes for cinnamon toast crunch cereal because cornflakes are boring plus I was going to add cinnamon to the cereal anyway.
In the bottom of the parfait glass I added a layer of the cinnamon toast mixture for a surprise crunch at the end.
Topped with homemade whipped cream, hot fudge sauce, and a maraschino cherry, it's the perfect way to end (or start!) your fiesta.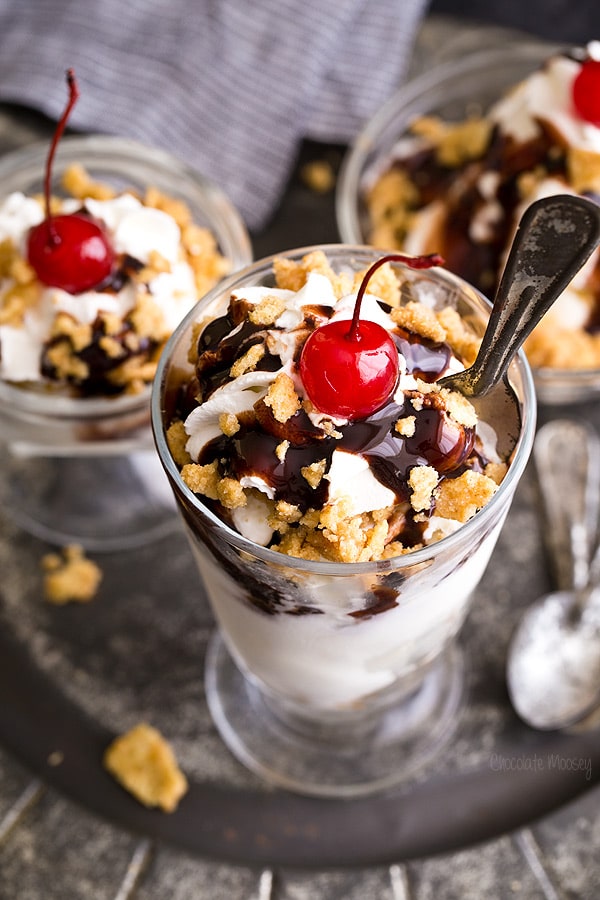 I feel almost silly for sharing such an easy recipe, but I've had the idea for fried ice cream sundaes on my list for the past few years.
With Cinco de Mayo coming up in two weeks, I knew it was time to share.
If anything, I got to practice my time management skills as I styled not one but three ice cream sundaes for photos.
You have to capture the shot within the first 5 minutes of plating the first sundae before everything starts melting.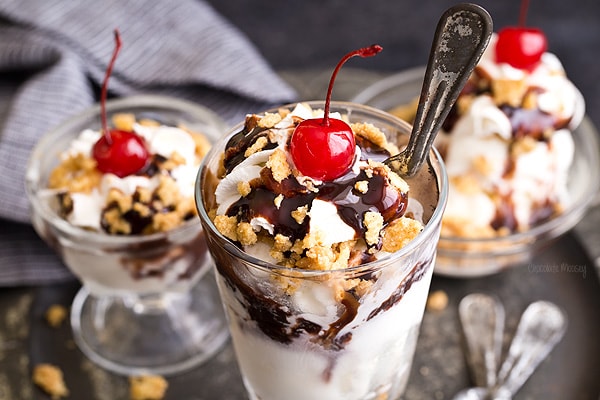 Luckily you don't have to worry about styling and can eat as soon as you scoop. Grab your spoon and dig in!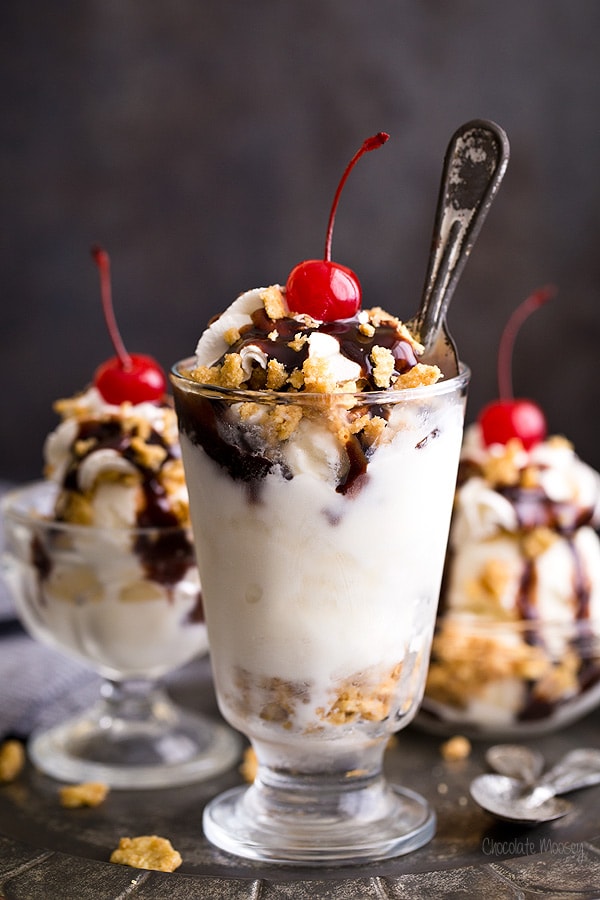 Fried Ice Cream Sundaes
Ingredients
Instructions
In a medium bowl, mix together the crushed cereal and melted butter.
Place roughly 1 tablespoon cereal mixture into the bottom of one serving glass or bowl. Top with several scoops of ice cream. Sprinkle another tablespoon of the cereal mixture then garnish with whipped cream, hot fudge sauce, and cherry. Repeat until the cereal mixture is gone.
This post may contain affiliate links. As an Amazon Associate and member of other affiliate programs, I earn from qualifying purchase.