Chocolate Chip Cookie Brownie Pie
When is two better than one? When you combine two classic desserts into one bite with this Chocolate Chip Cookie Brownie Pie! A fudgy brownie layer topped with a chewy chocolate chip cookie layer for one simple pie recipe.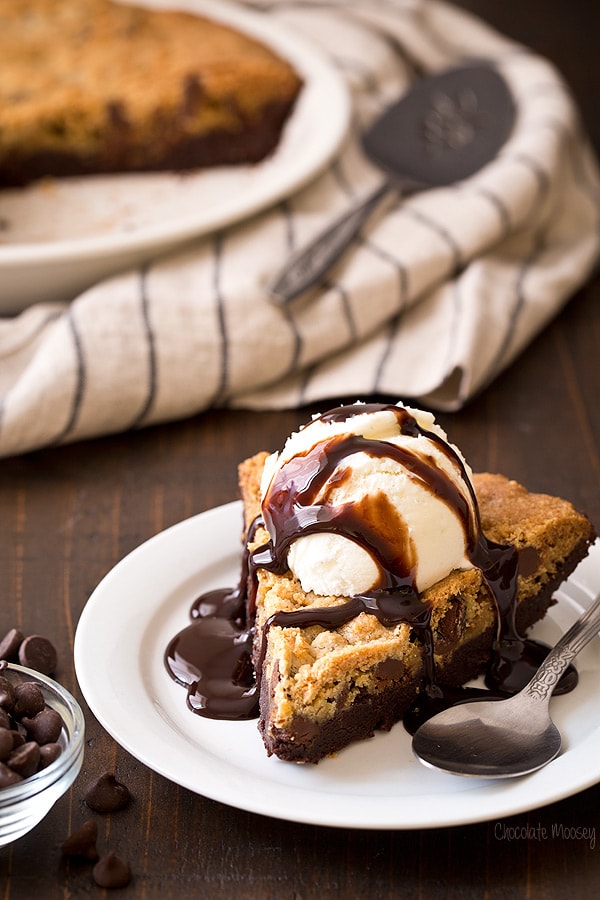 Last week it was much colder than usual, so I was only able to go walking during one semi-warm evening.
There are two places I walk – either at the nearby park or on the river walk trail alongside one of Pittsburgh's three rivers.
As I was walking along the river, I passed a pedestrian bridge I often pass without knowing where it went.
I decided that was the night I was going to explore it (and hope I don't stray too far from the main trail).
Turns out it led to a residential area with a pretty Japanese-inspired garden with a river view of the city skyline.
Not everything was in bloom yet, so I bet it'll even be more beautiful once summer arrives.
The neighborhood seemed peaceful too, although they had a random dinosaur statue at the end of the one cul-de-sac. It was so random yet so cool.
Hey like our nice posh neighborhood? Cool, check out our awesome dinosaur statue. I want a dinosaur statue in my neighborhood.
Speaking of things that don't seemingly go together (and my lame attempt at transitioning to my recipe), I enjoy mashing up my desserts but mashing up recipe names, not so much. Pizookie? Cronut? Doughsant?
I suppose I should refer to this Chocolate Chip Cookie Brownie Pie as a brookie pie, but then I also have to take an extra 5 minutes to explain the name every time someone asks about this recipe. "What did you make? A brookie pie? What's that?"
If you're asking yourself that question right now, it's when you combine a cookie, usually chocolate chip, and a brownie together in one recipe.
My Chocolate Chip Cookie Brownie Bites are always a huge hit no matter the occasion, so I thought I'd go bigger and turn it into a pie.
The brownie layer is made on the stovetop while the cookie layer is made in a mixing bowl. No need to wash out the bowl in between recipes.
As the name states, the bottom half of the pie is a fudgy brownie layer while the top half is a chewy chocolate chip cookie layer, like my
small batch chocolate chip cookies
.
If you're not in the mood for cookies, you can make blondie brownies from Entirely Elizabeth.
Serve it as is for a casual dessert or dress it up with some vanilla bean ice cream and hot fudge sauce for a decadent sundae pie.
Chocolate Chip Cookie Brownie Pie
Yield: 8-10 servings
Prep Time: 30 minutes
Cook Time: 45 minutes
Total Time: 1 hour 15 minutes
When is two better than one? When you combine two classic desserts into one bite with this Chocolate Chip Cookie Brownie Pie! A fudgy brownie layer topped with a chewy chocolate chip cookie layer for one simple pie recipe.
Ingredients
Brownie Layer
1/2 cup (1 stick or 4 ounces) unsalted butter, cut into 8 tablespoons
2 ounces unsweetened chocolate, chopped
1/2 cup unsweetened cocoa powder
1 1/4 cups granulated sugar
1/4 teaspoon sea salt
1 teaspoon vanilla extract
1 egg
3/4 cup all purpose flour
Cookie Layer
1 1/2 cups all purpose flour
1/4 teaspoon baking soda
1/8 teaspoon baking powder
1/4 teaspoon salt
6 tablespoons unsalted butter, softened
1/4 cup brown sugar
1/4 cup granulated sugar
1 egg
1/2 teaspoon vanilla extract
3/4 cup semisweet chocolate chips
Instructions
Preheat oven to 350F. Lightly grease a 9-inch pie plate.
For the brownie layer: In a large saucepan, melt together the butter and chocolate.
Once melted, remove from the heat and whisk in the cocoa, sugar, and salt. Whisk in the vanilla and egg until fully combined then whisk in the flour just until incorporated.
Spread the brownie batter evenly in the pie plate.
For the cookie layer: In a medium bowl, whisk together the flour, baking soda, baking powder, and salt.
In a large mixing bowl, beat together the butter and both sugars until creamy, about 2-3 minutes. Beat in the egg and vanilla. Gradually beat in the flour mixture then add the chocolate chips.
Cover the brownie layer with the cookie dough by piecing together the dough on top (if you try spreading it with a rubber spatula, it'll tear up the brownie layer). Smooth out the dough so it completely covers the top.
Bake 40-45 minutes or until the top is golden and a toothpick comes out with very few crumbs. Cool completely before serving.
More Pie Recipes

Peanut Butter Cup Brownie Pie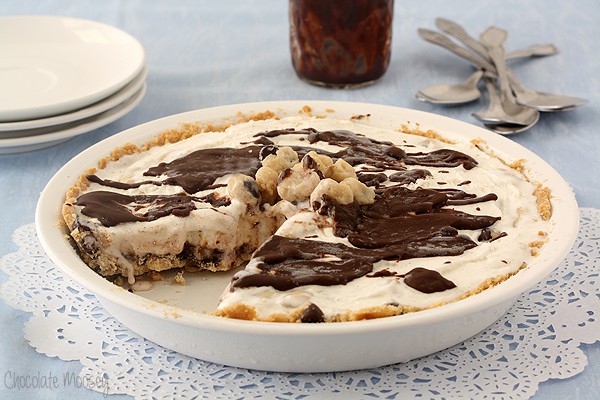 Chocolate Chip Cookie Dough Ice Cream Pie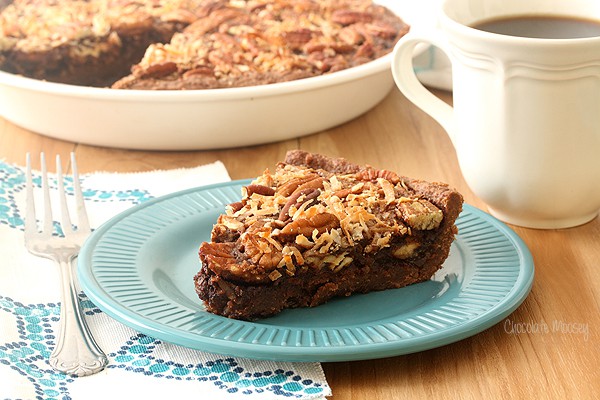 German Chocolate Pecan Pie
This post may contain affiliate links. As an Amazon Associate and member of other affiliate programs, I earn from qualifying purchase.