Chocolate Covered Strawberry Linzer Cookies
Instead of giving someone you love a box of chocolate covered strawberries, give a dozen of these Chocolate Covered Strawberry Linzer Cookies. Made with hazelnut flour to pair with the strawberry jam and chocolate coating.

As soon as I hear the words "chocolate covered strawberries," I'm hooked. Growing up, my dad would buy my mom those professionally dipped chocolate covered strawberries from a local gourmet candy shop for their anniversary and Valentine's Day (which are about two weeks apart). Since my mom loves me so much, she would share one with me (she would always try to give me more, but I felt bad since they weren't meant for me). A few weeks ago when I bought strawberries for my
French Toast Sticks
, afterwards I didn't want them to go to waste. They weren't very juicy to snack on, so I decided to make some
small batch strawberry jam
for sandwich cookies. The question then became what kind should I make? Since it's now February and chocolate is everywhere, Chocolate Covered Strawberry Linzer Cookies seemed like a natural fit. The sweetness of the jam is a great complement to the not-so-sweet chocolate hazelnut cookies (and of course you can use store-bought jam – I just didn't want to waste my strawberries). The chocolate covered part comes from dipping each linzer cookie into melted chocolate. So messy yet so, so good. If you're looking to impress somebody you love, skip the candy shops and whip up these cookies at home instead.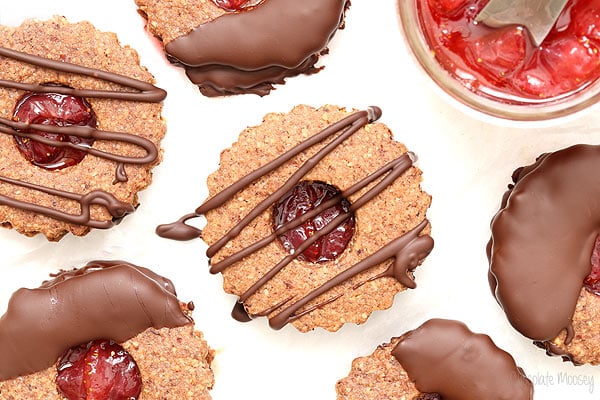 Linzer cookies are sandwich cookies that usually have a little window cut out in the top cookie. The dough is typically made with ground nuts, usually almonds or hazelnuts. Since I had some hazelnut flour in the pantry, I decided to go the chocolate hazelnut route. If you're looking for hazelnut flour at the store,
Bob's Red Mill
is the one I see the most (which is what I used in these cookies).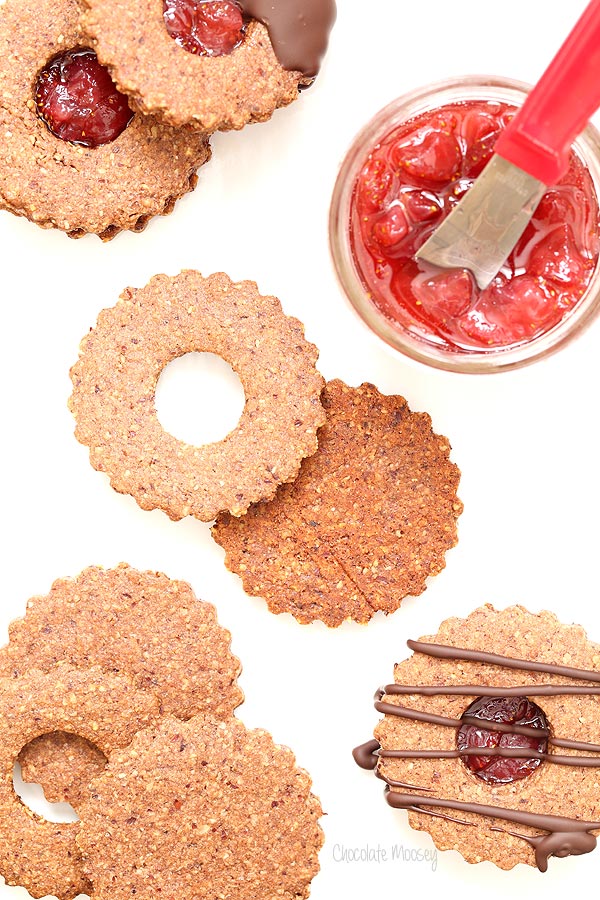 The chocolate cookies themselves are not very sweet as they rely on unsweetened cocoa powder for their chocolate flavor. That makes them the perfect vessel for the sweet strawberry jam and of course the sweet chocolate coating. I used regular circle cookie cutters, but feel free to make them any shape you want, including flowers and hearts. Edible bouquet of flower cookies? I'd rather get that than roses.
Items you may need (affiliate links):

Chocolate Covered Strawberry Linzer Cookies
Yield: 18 cookies
Prep Time: 2 hours
Cook Time: 13 minutes
Total Time: 2 hours 13 minutes
Instead of giving someone you love a box of chocolate covered strawberries, give a dozen of these Chocolate Covered Strawberry Linzer Cookies. Made with hazelnut flour to pair with the strawberry jam and chocolate coating.
Ingredients
1 3/4 cups hazelnut flour
1 1/3 cup all-purpose flour
3 tablespoons unsweetened cocoa powder
1 teaspoon ground cinnamon
1/4 teaspoon ground cloves
1/2 teaspoon salt
1/2 cup (4 ounces) unsalted butter, softened
2/3 cup granulated sugar
1 egg, room temperature
1/2 teaspoon vanilla extract
6 tablespoons strawberry jam (store-bought or homemade)
2-4 ounces semisweet chocolate, chopped
Instructions
In a large bowl, whisk together both flours, cocoa powder, cinnamon, cloves, and salt.
In a large mixing bowl, beat together the butter and sugar until light and creamy, 2-3 minutes. Beat in the egg and vanilla for another minute. Gradually beat in the flour mixture until it comes together as a dough.
Turn the dough onto a lightly floured surface and knead a few times to bring it all together. Divide the dough in half. Roll each piece out between two sheets of parchment paper or plastic wrap to an 1/8-inch thickness. Slide each dough onto a large plate or baking sheet and refrigerate at least 1 hour.
Preheat oven to 350F. Line two baking sheets with parchment paper.
Working with one dough piece at a time, use a 2-1/2 inch round cookie cutter to cut out dough. Place each circle onto the baking sheets. As you start to pair up cookies, use the back of a 1/2-inch piping tip and cut out little circles in the center of half of the cookies. Gather up the scraps, reroll, and cut again. If the dough starts to get too warm, place it back in the refrigerator to chill again. Repeat with the other dough half.
Bake for 11-13 minutes or until they feel firm to the touch. Cool on the baking sheets for 5 minutes then remove to a cooling rack.
Once completely cool, turn the whole cookies (without the cut outs) bottom side up and add roughly 1 teaspoon jam to the center of each. Top with the cut cookies, bottom side down. Refrigerate for 15 minutes to help set the jam and keep the cookies "glued" together.
Melt 2 ounces chocolate in a narrow yet deep enough bowl or mug to dip cookies (if your container isn't heat-proof, you may need to melt the chocolate in a heat-proof container then transfer it to the dipping container). Dip half of each cookie into the chocolate and place on a cooling rack or baking sheet lined with parchment paper until the chocolate hardens. If needed, melt the remaining 2 ounces chocolate. Store in an airtight container for up to 1 week (refrigerate if chocolate and jam get too warm).
Source: Recipe adapted from
Baking Chez Moi
More Chocolate Recipes For You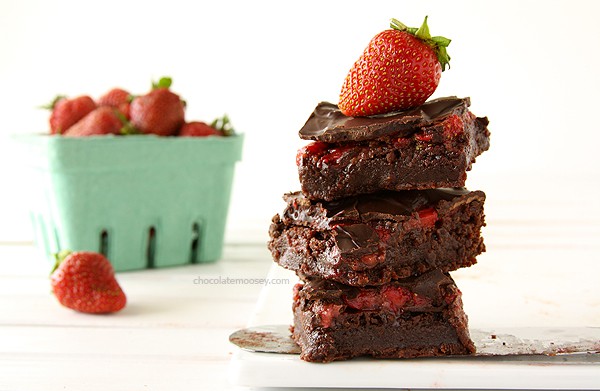 Chocolate Covered Strawberry Brownies
This post may contain affiliate links. As an Amazon Associate and member of other affiliate programs, I earn from qualifying purchase.