Chocolate Peanut Butter Fudgesicles
Cool down when the weather gets hot with these Chocolate Peanut Butter Fudgesicles, which taste like you're eating a peanut butter cup on a stick! Fudgy, decadent, and a little messy – everything you want in a summer dessert.

One of my favorite activities I love to do on the weekends is go thrift shopping.
I've been shopping at thrift stores ever since I can remember, way before Macklemore's Thrift Shop song became popular.
I have no shame in wearing gently used clothes. In fact, some of my favorite shirts are from a secondhand store.
For some reason, I have better luck finding shirts from a thrift store than from the mall plus I'm only spending $5 on a shirt rather than $50 (pants are a different story though – why are pants so freaking difficult to find??).
Lately though I haven't been shopping for clothes but rather food props for my photography; the first section I always hit is the kitchen section.
One time the cashier asked what I was doing with all of these plates since they were mismatching plates and not a whole dining set. If only she knew!
I also look at antique shops, but wow are they expensive. Several plates that I loved have been $20-$30. No thanks.
Are these plates really that valuable or are they charging more because it's an "antique"? I love the antique look but not the antique prices.
However, once in a while I find a great gem for a decent price, like the oval plate you see in these photos. It was even on sale! I didn't know antique stores did sales, but it was 30 percent off. Win.
As I was figuring out how to style these Chocolate Peanut Butter Fudgesicles, I kept staring at that plate; I just knew I wanted to use it for this recipe.
But enough about my plate – let's talk about these fudgesicles! I've made homemade fudgesicles last year, but this year I got the idea to make them even better by adding peanut butter and then layering them so you can see a peanut butter stripe.
It's like a peanut butter cup on a stick! Very fudgy, very decadent, and very uh messy.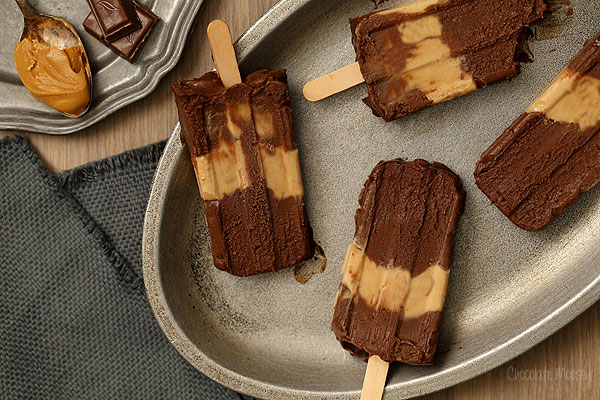 There's something nostalgic about eating fudgesicles, probably because I've eaten at least one each summer ever since I can remember.
Actually I've probably eaten more as an adult than as a child now that I figured out how to make them at home.
I have several fudgesicle variations I want to make this summer, and these peanut butter ones are just the first idea on the list.
I used this
popsicle mold
so they would look just like the fudgesicles you buy from the store.
Rather than making a traditional ice cream custard, you pretty much make a really quick pudding.
That also means the mixture will be a little thick, so you may need to spoon it rather than pour it into the molds.
I wanted to do layers with the peanut butter so you knew they were peanut butter fudgesicles and not just regular fudgesicles.
Items you may need (Amazon affiliate links):
Chocolate Peanut Butter Fudgesicles
Yield: 5-6 servings
Prep Time: 45 minutes
Total Time: 45 minutes
Cool down when the weather gets hot with these Chocolate Peanut Butter Fudgesicles, which taste like you're eating a peanut butter cup on a stick! Fudgy, decadent, and a little messy – everything you want in a summer dessert.
Ingredients
1/2 cup creamy peanut butter
1/4 cup granulated sugar
1 teaspoon cornstarch
1/8 teaspoon salt
1 cup whole milk, room temperature
1/2 teaspoon vanilla extract
1/2 tablespoon unsalted butter
2 ounces semisweet chocolate, chopped
1 1/2 teaspoons cocoa powder
Instructions
In a large saucepan, add the peanut butter, sugar, cornstarch, salt, and milk. Heat over medium heat until the peanut butter melts and the mixture starts to boil, whisking often (it may look a little curdled but that's ok - keep whisking as the mixture gets hotter and the peanut butter will smooth out).
Once boiling, cook it another 1-3 minutes or until the mixture thickens. Remove from the heat and whisk in the vanilla and butter until smooth.
Pour 1/3 of the peanut butter mixture into a heatproof bowl. Reserve.
In the remaining mixture, whisk in the chocolate and cocoa powder until melted and completely smooth.
Fill your popsicle mold with half of the chocolate mixture. Freeze for 5 minutes. Add the peanut butter mixture then freeze for another 5 minutes. Top with the remaining chocolate mixture and then add popsicle sticks. Freeze until firm, roughly 4-6 hours (preferably overnight).
More Popsicle recipes

Homemade Fudgesicles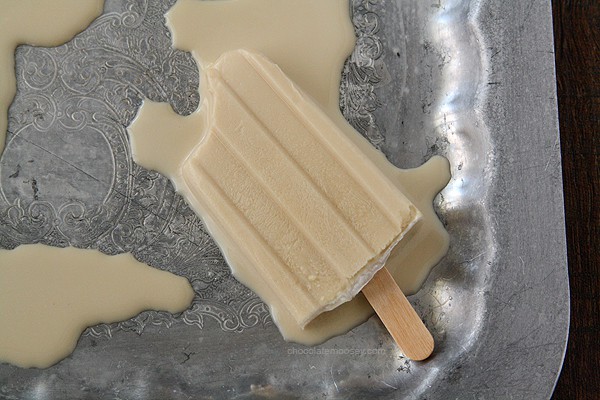 Root Beer Float Ice Cream Pops

Passion Fruit and Coconut Milk Pops
This post may contain affiliate links. As an Amazon Associate and member of other affiliate programs, I earn from qualifying purchase.