Caramel Popcorn
Are you a big fan of popcorn? Classic caramel popcorn is easier to make than you think and not only does it make a great snack, you can package it in holiday treat bags and give to family and friends.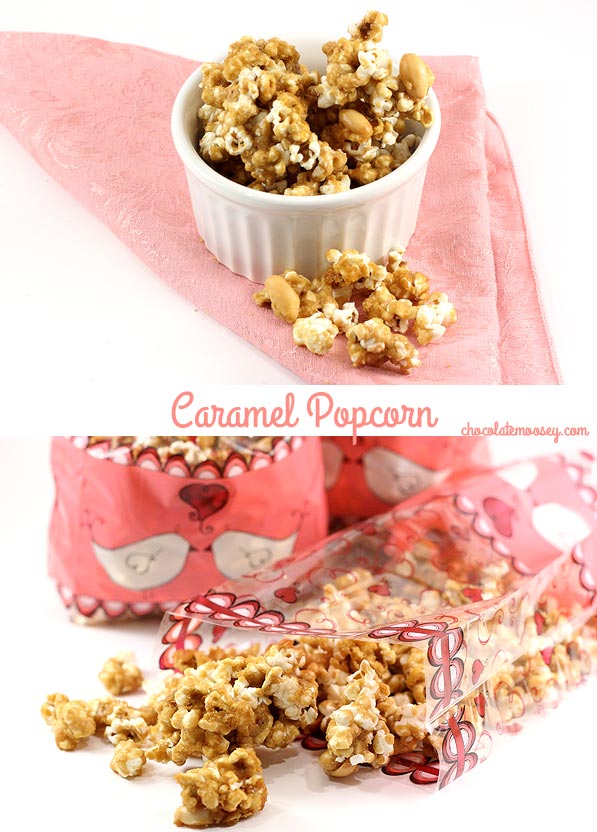 Ever get one of those giant tins that are filled with popcorn, usually butter, cheese, and caramel? How about a box of Cracker Jacks or Fiddle Faddle? Does anybody else find them a little…blah? If you are not a fan of caramel popcorn, I promise this will change your mind. I already made this recipe twice plus a coworker made some for me. One of my obsessions lately is buying treat boxes and bags to give to people. Look at these cute love bird bags. Wouldn't you be excited if you received one of these? I wanted to make a few lucky coworkers something special for Valentine's Day, but what to make? Obviously not a cupcake. I saw a recipe on Pinterest where you coat popcorn in chocolate and sprinkles then throw in some marshmallows and M&Ms. Problem is one coworker is not a huge fan of chocolate. Then as I was browsing my
Baked Explorations cookbook
, I saw a recipe for Caramel Popcorn. My coworkers love caramel and you can leave out the chocolate, so here was my answer.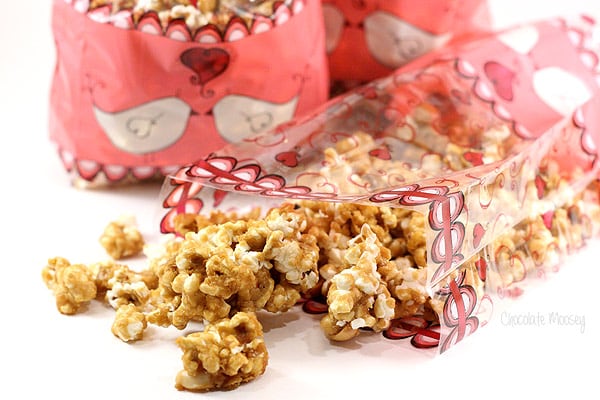 I don't eat caramel popcorn, or at least I thought I didn't, but a good baker always tastes, right? I snuck in a bite. And another. And another. Uh oh, I hope I have enough! When did caramel popcorn taste so good? The original recipe has chocolate drizzled on it as well. As tempting as this is, I was too tired to temper chocolate for the first time. Although it would make a good addition, you wouldn't miss it either.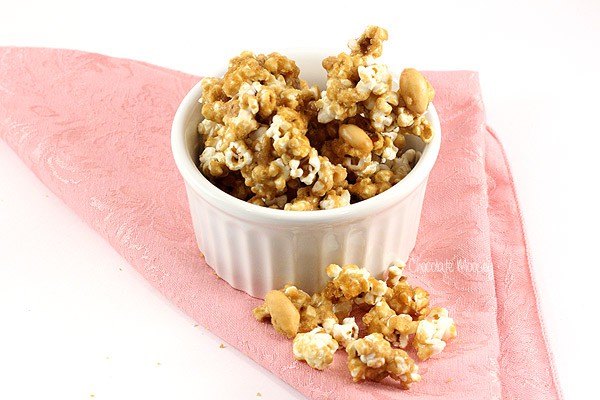 If you use microwave popcorn, make sure it is plain and not buttered. I found hulless popcorn kernels but didn't realize how tiny they would be. Dad made fun of it and said to use bigger popcorn next time. Well at least you aren't choking on a kernel for the next hour, right?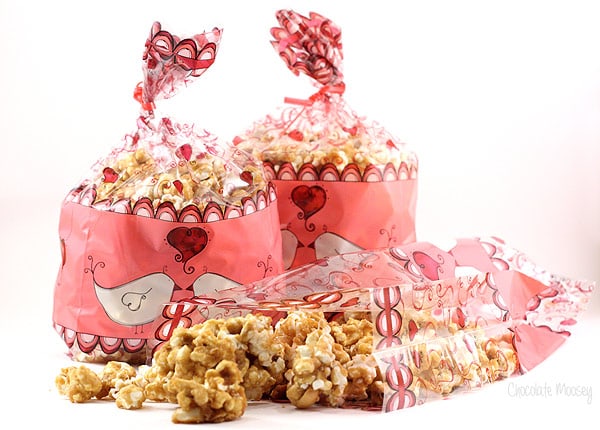 Equipment you may need:
Caramel Popcorn
Yield: 12 cups
Prep Time: 15 minutes
Cook Time: 45 minutes
Total Time: 1 hour
Are you a big fan of popcorn? Classic caramel popcorn is easier to make than you think and not only does it make a great snack, you can package it in holiday treat bags and give to family and friends.
Ingredients
12 cups popped corn*
3/4 cup shelled salted peanuts
1/2 cup (4 ounces) unsalted butter, cut into 8 tablespoons
1 cup packed brown sugar
1/4 cup corn syrup
1 tablespoon molasses
1/4 teaspoon salt
1/4 teaspoon baking soda
1 teaspoon vanilla extract
Instructions
Preheat oven to 250F. Lightly grease a 13x9 pan (or similar) with cooking spray. Add the popcorn and peanuts then evenly spread it out.
In a medium saucepan, melt butter over low heat. Add sugar, corn syrup, and molasses. Stir occasionally until it starts to boil. Continue boiling until the mixture reaches 240F. Remove from the heat then stir in salt, baking soda, and vanilla (the baking soda may cause it to foam a little). Pour over the popcorn and fold until all of the popcorn is coated.
Bake for 15 minutes. Stir the popcorn then bake for another 20 minutes or until the coating is mostly dry. Cool completely then break into pieces. Store in an airtight container for up to 1 week.
Notes
*12 cups of popped popcorn is roughly equal to 1/2 cup unpopped kernels plus 3-4 tablespoons vegetable oil. To make popcorn on the stove: Find a pot with a wide bottom and a lid. Add the oil and stir to coat the bottom. Add the kernels and shake the pan until coated. Turn on the heat. Shake the pan every so often so the kernels move around a bit. After what seems like forever, a kernel should pop. Once that happens, add your lid. Once the popping stops, remove the pan from the heat. Pour into a giant bowl and let cool for a bit. Sift through popcorn to remove any unpopped kernels and possible burnt pieces.
Source: Slightly adapted from
Baked Explorations
Related Popcorn Recipes You May Also Enjoy

Gingerbread Popcorn Snack Mix

S'mores Caramel Popcorn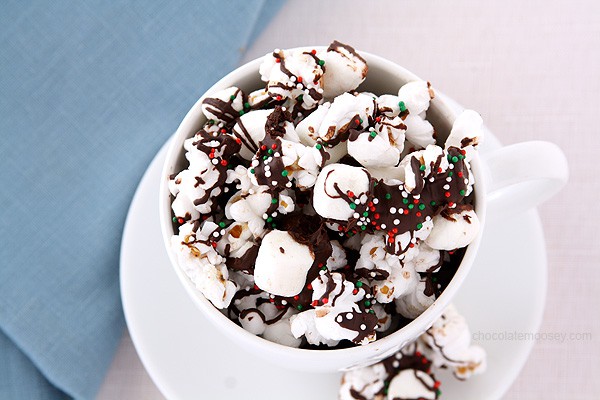 Hot Chocolate Popcorn
Disclosure: This post contains Amazon affiliate links, which means I earn a small portion of your sale then use that money to continue buying groceries. Thank you for your never-ending support!
This post may contain affiliate links. As an Amazon Associate and member of other affiliate programs, I earn from qualifying purchase.