Halloween Popcorn
Now that it's October, I can finally accept that Halloween is around the corner.
Sorry but I refuse to look at black and orange until October 1 (despite stores everywhere shoving Halloween AND Christmas in your face mid-summer).
As with every holiday, there are all kinds of festive treats to brighten the holiday, like this Halloween Popcorn I threw together on a whim.
Imagine salty popcorn covered in melted chocolate and tossed with candy corn, marshmallows, and sprinkles. No need to roll it into popcorn balls. Just toss together and eat in only a few minutes.
Halloween Popcorn is very easy to throw together for a last-minute festive treat, whether you need a quick snack at your party or to fill up treat bags for the kids.
The popcorn balances all the sweetness with salt.
I opted for microwave butter popcorn that was already salted, but if you pop kernels on the stove top, just be sure to throw in salt.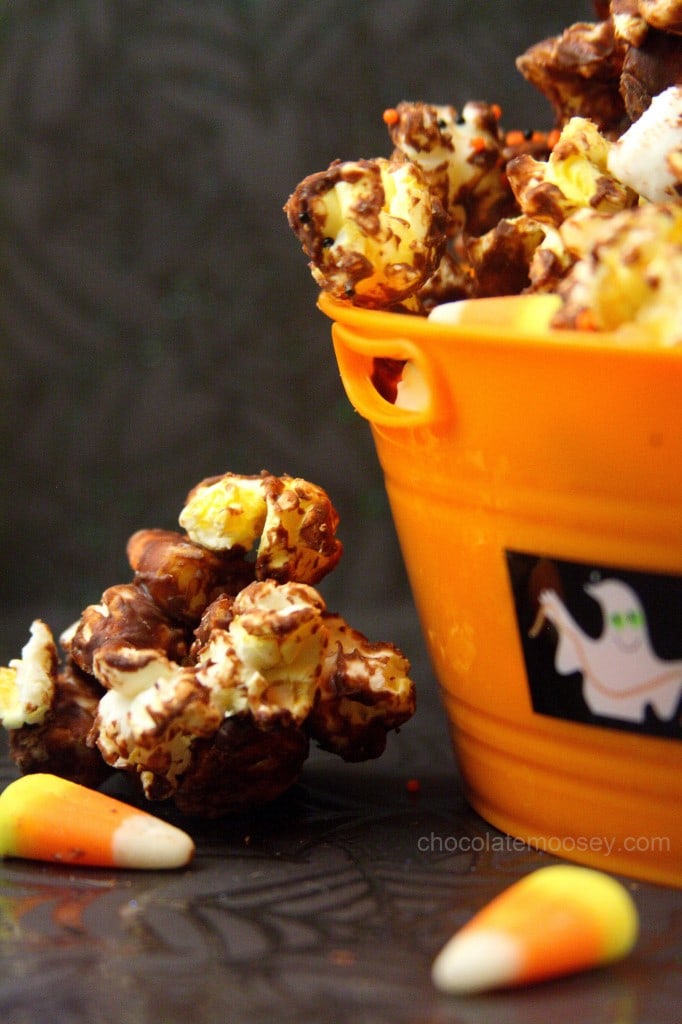 Not going to lie – making this popcorn was a mess with all that chocolate. If you don't like candy corn, you can always substitute M&Ms.
They have white chocolate candy corn if you want to keep the idea of candy corn or you can use the plain fall colored ones.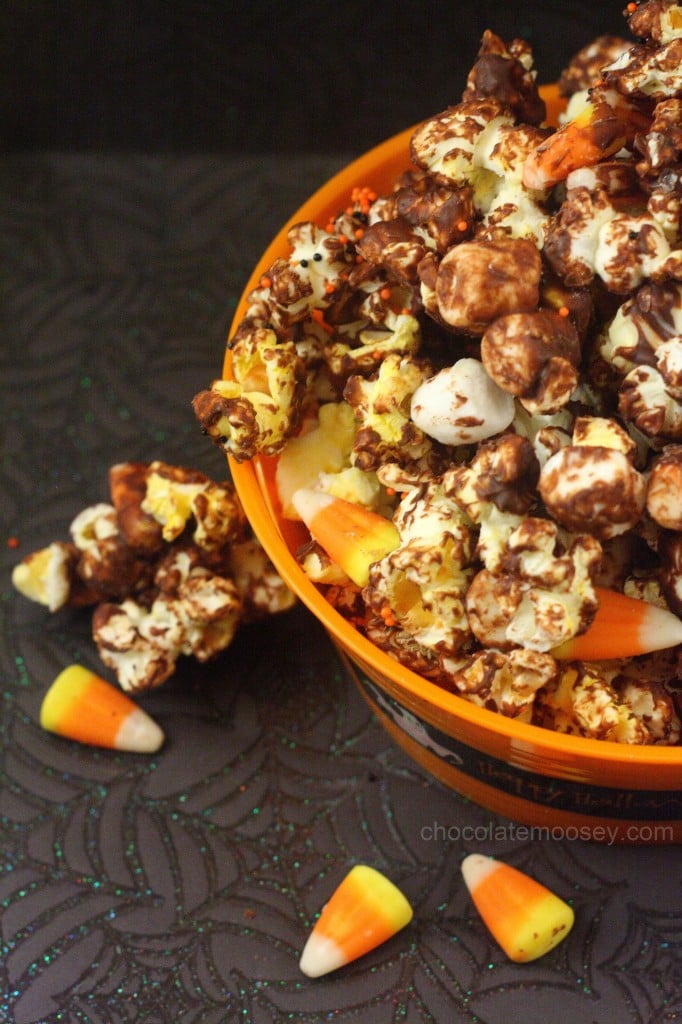 This Halloween Candy Corn Chocolate Popcorn is best eaten the same day, although you can get away with eating it the next day.
Good thing this only takes a few minutes to throw together. Now you don't have an excuse for not fresh popcorn ;)
Looking for more cute Halloween treats? Check out my Rice Krispie Pumpkins.
Halloween Candy Corn Chocolate Popcorn
Halloween Popcorn with candy corn and chocolate
Ingredients
6 cups popped popcorn (if plain, add some salt)
1 1/2 cups candy corn
1 cup mini marshmallows
1 cup semisweet chocolate chips
Sprinkles
Instructions
In a large bowl, toss together the popcorn, candy corn, and marshmallows. Set aside.
Put the chocolate chips into a microwavable measuring cup or bowl. Microwave until melted. Pour over the popcorn and toss until everything is coated. Add sprinkles. Let the chocolate harden before serving.
This post may contain affiliate links. As an Amazon Associate and member of other affiliate programs, I earn from qualifying purchase.