This easy chocolate chip cookie recipe for one cookie means eating a single serving, warm chocolate chip cookie baked in a ramekin without being tempted by a whole dozen. Egg free.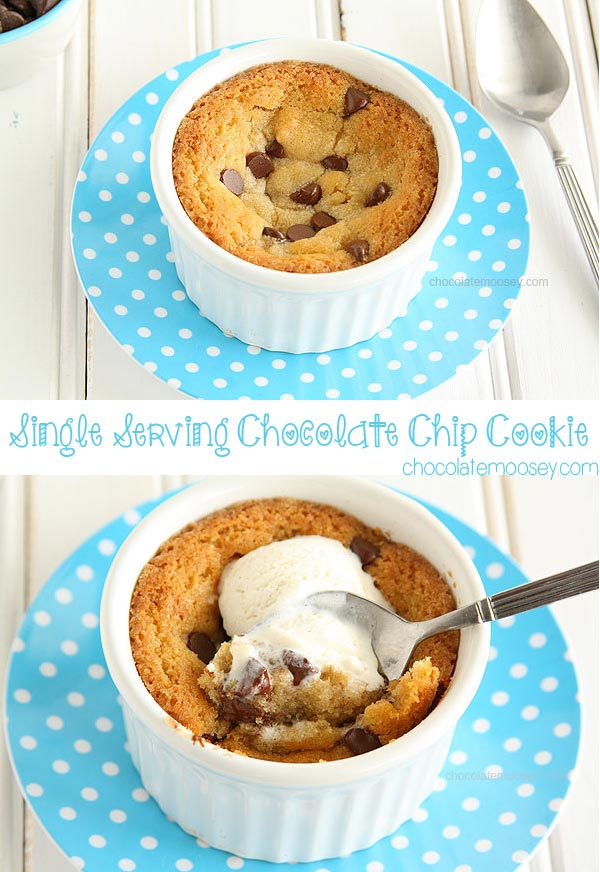 Single Serving Deep Dish Chocolate Chip Cookie – because not everyone has a Valentine today. I can't remember if I've ever had a Valentine before. Sure, you had the other kids in elementary school passing out cards or your parents giving you a box of chocolates (they still do), but I've never had a Valentine date where it didn't end in kitty kisses and cuddles. I used to let it bother me, but really it's just another day where couples freak out on what to buy and where to eat. So while there is a mad rush for cards and flowers today, I'm going to sit back and eat this Deep Dish Chocolate Chip Cookie. And yes, the recipe only makes one cookie.
I love chocolate chip cookies. Warm, fresh from the oven, melted chocolate all over. I could eat a whole dozen if I'm not careful. And as much as I'd love to eat every last crumb, I really don't need every last calorie. Wouldn't it be great if you could have just one cookie without being tempted by the others? Ignore the fact that this is a deep dish cookie. It's just one cookie, right?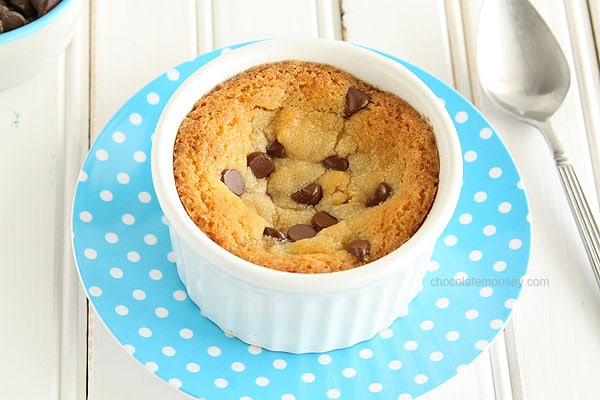 How did I scale it down to one serving? Math. I took a recipe that made 5 dozen cookies and divided the ingredients by 60 so I could see how much was in each cookie. Then I multiplied it by 4 because I figured 4 cookies would make 1 deep dish. Then I did some rounding and got some answers. However, they weren't very good answers because the first one failed. I increased the flour and sugars then tried again. Success!
If you're feeling sad about Valentine's Day, it's ok to be single. People all the time try to fix that, whether rushing into the next relationship or trying to meddle in my social life, but there's nothing broken. My coworkers think it's uncanny that I'm a single, independent woman. One even told me about this singles dating service he heard on the radio and wanted me to sign up. Truth is, I don't mind it. Don't get me wrong – I think about being in a relationship a lot, but right now, I can say that I got where I am today because of me. Because of my decisions. Because of my hard work. Because of my talent and skill. Me. Not you, not my best friend, not my parents, not a boyfriend or husband. Me.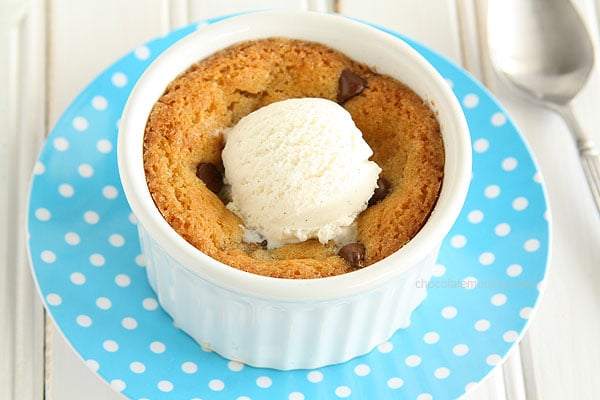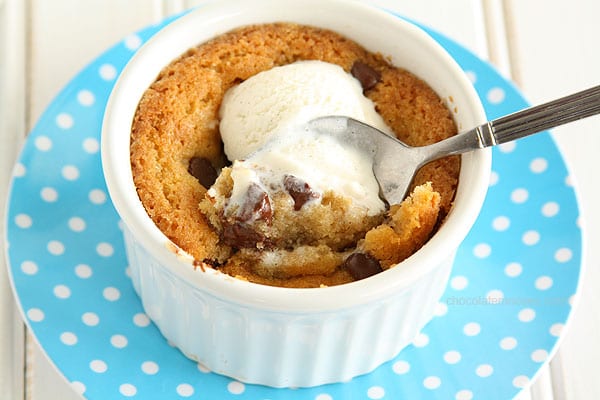 So go ahead, you single ladies and guys.
Treat Yo Self
and have one cookie that takes only a few minutes to whisk together. Not single? Double the recipe and now you have an awesome date night dessert that you won't be fighting over (unless you're dating me. I fight over chocolate chip cookies).
Update 04/24/13: Just to clarify – the texture may not exactly like a chocolate chip cookie. There is no egg; therefore, you are not going to get the same texture as if you used an egg. It is slightly on the cakey side. Make sure you whisk in the sugar really well or it may be a little grainy after baking.
Items You May Need (Amazon affiliate links):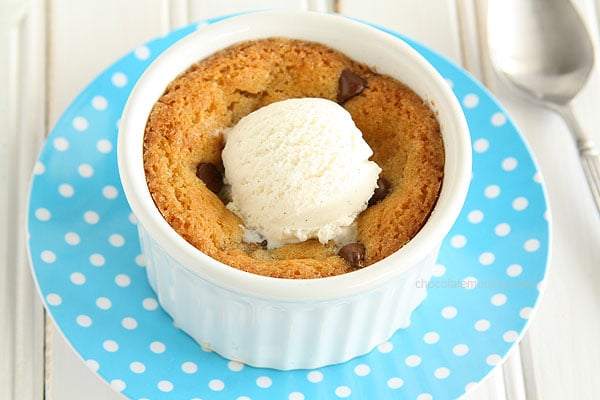 Ingredients
2 Tablespoons unsalted butter
1 Tablespoon granulated sugar
1 Tablespoon brown sugar
Drop or two of vanilla extract
Pinch of salt
1/8 teaspoon baking soda
1/4 cup flour
2 Tablespoons semisweet chocolate chips
Vanilla ice cream, for serving
Instructions
Preheat oven to 375F degrees. Have one 6-ounce ceramic ramekin ready*.
In a medium microwavable bowl, melt the butter. Whisk in both sugars and vanilla for at least 1 minute (you must really whisk in the sugars or it will be grainy after baking). Whisk in salt, baking soda, and flour, Whisk in the chocolate chips. Scrape the batter into the ramekin. Bake 15-18 minutes or until the top is firm and brown. Let cool for a few minutes before serving with ice cream.
Notes
*Using a different size and/or type of ramekin may affect intended texture of the cookie. © Chocolate Moosey. All images and content are copyright protected. Please do not use my images without prior permission. If you want to republish a recipe, please rewrite it in your own words or link back to the post for the recipe.
7.6.3
3035
https://www.chocolatemoosey.com/2013/02/14/single-serving-deep-dish-chocolate-chip-cookie/
More 1-2 Serving Recipes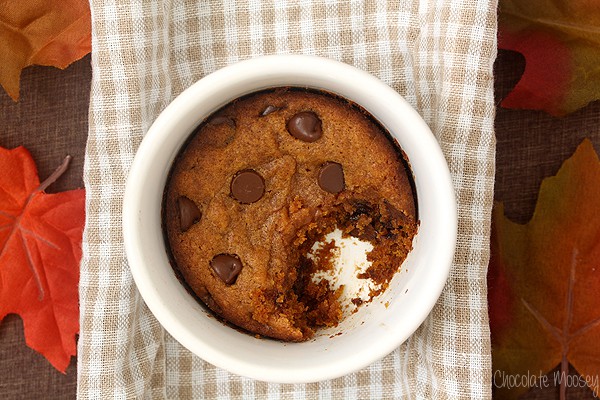 Single Serving Pumpkin Chocolate Chip Cookie