Peanut Butter Oatmeal Chocolate Chip Cookies
If you're in the mood to bake easy peanut butter cookies, you're in luck! These Peanut Butter Oatmeal Chocolate Chip Cookies have a super soft texture plus some nuttiness from the oats.
What a rainy two weeks it's been in Pittsburgh.
I'm all for the warmer weather, but dreary skies and periods of downpour puts me in a not-so-productive mood (on the plus side, my car does need a car wash as somebody drove by and splashed it with mud the other day).
In fact as I'm typing this, a thunderstorm knocked out my internet, so I cleaned my apartment for about 30 minutes (the horror!).
And sometimes those days are just calling out for cookies to be baked.
There's something so comforting about freshly baked cookies being pulled from the oven and taking that first bite into a warm, half melted cookie.
Especially if the cookie is so warm that it falls apart when you pick it up, leaving you with no choice but to "clean up" the broken pieces.
That's mainly why my small batch chocolate chip cookies are my favorite; I'm a sucker for those patches of melted chocolate.
You know what else I'm a sucker for? Small Batch Peanut Butter Cookies.
I've had this recipe for Peanut Butter Oatmeal Chocolate Cookies on my list for quite awhile and finally decided to make them once the storm clouds started rolling in.
These peanut butter cookies are super soft while the oatmeal adds some nuttiness and texture to the dough. Then of course you can't forget the chocolate chips (never enough chocolate chips, IMO).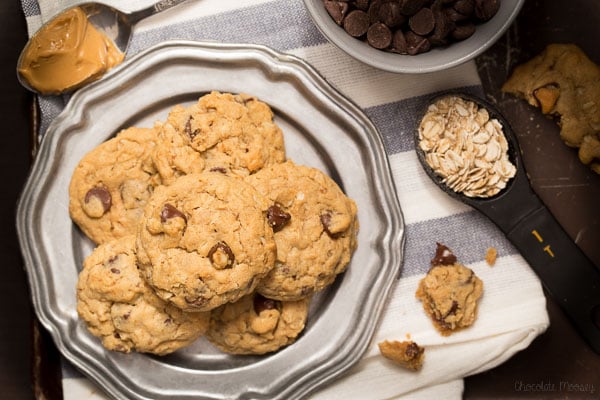 When I first baked these cookies, I couldn't believe how good they were.
Usually it takes me another try to get a cookie recipe just right, but I nailed it the first time around (don't worry – it didn't take me long to find another excuse to test a second batch).
The dough will appear to be slightly sticky, but with my trusty cookie scoop, I had no problems scooping out the dough.
If you don't have a cookie scoop, you can measure out 1 1/2 tablespoons per dough ball and flour your hands before rolling into balls (don't add extra flour to the dough).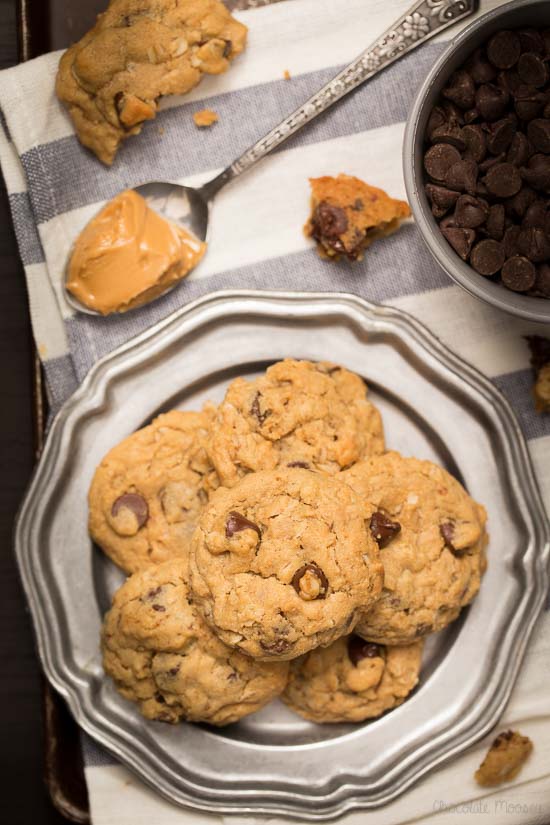 I must say listening to the rain as I type, especially thunderstorms, is quite soothing.
During college I used to enjoy walking around campus in the rain as it was refreshing at times (plus I didn't have a choice most of the time if I had to be somewhere).
Think I'm going to cuddle on the couch with some tea and more cookies.
Peanut Butter Oatmeal Chocolate Chip Cookies
Yield: 2 dozen
Prep Time: 20 minutes
Cook Time: 10 minutes
Total Time: 30 minutes
Ingredients
1 cup all-purpose flour
1/2 teaspoon baking soda
1/2 teaspoon salt
1/2 cup (4 ounces or 8 tablespoons) unsalted butter, softened
1/2 cup creamy peanut butter
1/2 cup packed brown sugar
1/4 cup granulated sugar
1 egg, room temperature
1 teaspoon vanilla extract
3/4 cup rolled oats
1 cup semisweet chocolate chip cookies
Instructions
Preheat oven to 350F. Line two baking trays with parchment paper or silicone mats.
In a medium bowl, whisk together the flour, baking soda, and salt.
In a large mixing bowl, beat together the butter, peanut butter, sugar, and brown sugar until smooth and creamy, about 2-3 minutes. Beat in the egg and vanilla for 1 minute. Gradually beat in the flour mixture then add the oats and chocolate chips (dough will be slightly sticky).
Using a #40 cookie scoop (roughly 1 1/2 tablespoons) or by hand, shape the dough into balls and divide between the two baking sheets. Bake for 10 minutes or until puffed and edges are set (they may look underbaked but will set some more after cooling). Cool on the sheets for 5 minutes then carefully remove the cookies to cooling racks. Cool completely. Store in an airtight container for up to 5 days.
More Chocolate Chip Cookie Recipes
This post may contain affiliate links. As an Amazon Associate and member of other affiliate programs, I earn from qualifying purchase.