Chocolate Almond Joy Bread
Chocolate Almond Joy Bread is a chocolate quick bread with almonds and coconut, named after a famous candy bar.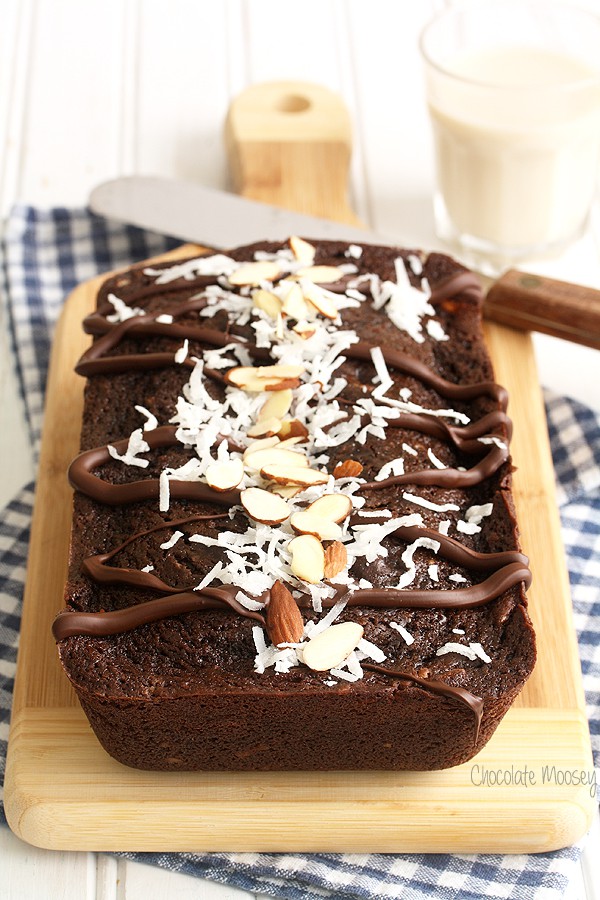 Quick breads and I go way back to middle school, if not before that. I learned how to bake mainly from my home economics class in 8th grade (do schools even offer home economics anymore? I've heard so many nightmares about today's curriculum). Our class was divided into four parts: cooking, sewing, wood shop, and metal shop. Of course we learned how to bake the classics like chocolate chip and peanut butter cookies, but we also learned how to bake quick breads. Banana bread, apple bread, strawberry bread. Heck, I still have those recipes in my binder and already shared the
banana bread
. Quick breads are great for beginner bakers as there is nothing complicated about the batter. No yeast, no waiting time. Just good ol' beating ingredients together. Even advanced bakers find pleasure in baking them not only for its smell and warmth as it fills the kitchen, there's very little thinking when throwing everything together.
Earlier this month, I posted Double Chocolate Coconut Cookies using almond milk. Since I still had a good bit of milk left, I wanted to make this Chocolate Almond Joy Bread, which has been on my mind since July after making my Cherry Almond Coconut Ice Cream. Almond Joy is a chocolate candy bar with a coconut and almond filling. Most Almond Joy breads are a vanilla-based quick bread, but I wanted mine to be a chocolate-based bread. After all, we are talking about a chocolate candy bar. To bring out the coconut, I added some coconut extract. Then of course, you can't have Almond Joy Bread without the almonds.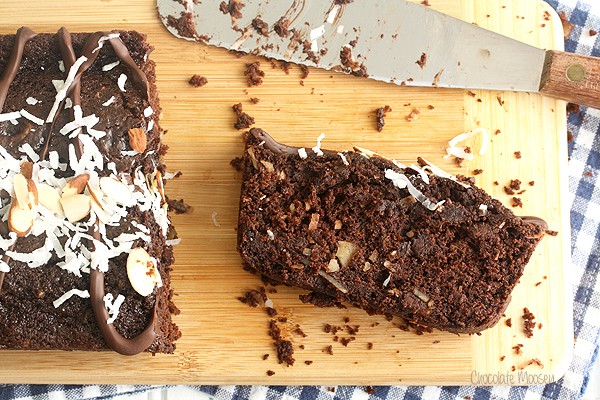 Sometimes I wonder why I don't make quick breads more often. Not only can you have a slice for breakfast (ahem), the loaves make awesome gifts when wrapped and decorated. Instead of cookie exchanges, we should totally do quick bread exchanges. I've even seen fancy packaging at the craft store to wrap quick breads for Christmas gifts.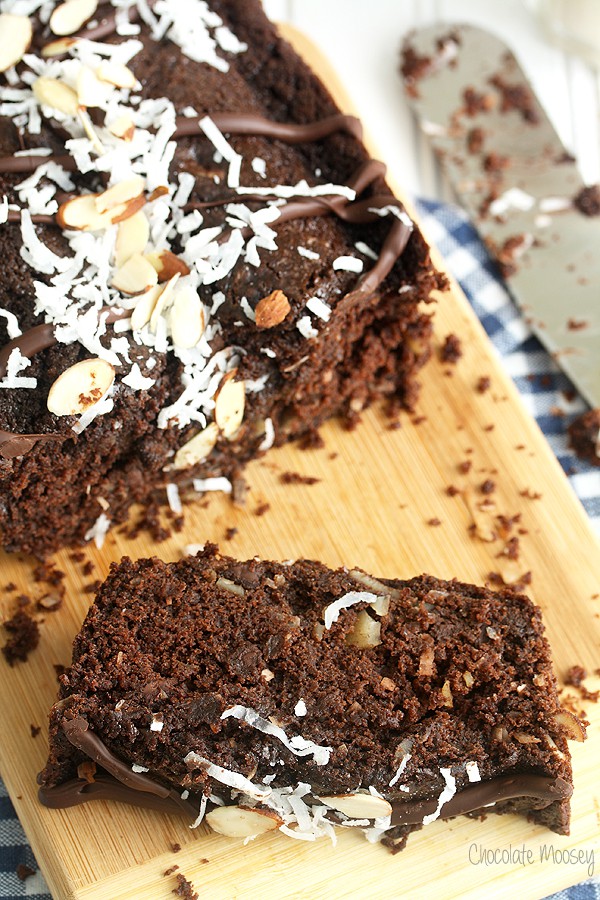 Even if you don't give this bread as a gift, quick breads are meant to be shared. Ok so you probably *could* eat the whole loaf yourself, but it's one of those desserts where you slice it up and share it with friends and/or family over a cup of coffee or tea. My coworker would bring in loaves of bread, usually cranberry or zucchini, to share with us. That's one of the downfalls of working from home, not having that interaction. On that note, who wants to come over for a slice?
Chocolate Almond Joy Bread
Yield: 1 loaf
Prep Time: 15 minutes
Cook Time: 1 hour
Total Time: 1 hour 15 minutes
Chocolate Almond Joy Bread is a chocolate quick bread with almonds and coconut, named after a famous candy bar.
Ingredients
1 1/2 cups all purpose flour
1/2 cup unsweetened cocoa powder
1/2 teaspoon salt
1/2 teaspoon baking powder
1/2 teaspoon baking soda
1/2 cup (1 stick or 4 ounces) unsalted butter, softened
1 cup granulated sugar
2 eggs
1/2 teaspoon almond extract
1/4 teaspoon coconut extract
3/4 cup almond milk (or dairy milk)
1/4 cup chopped almonds (plus more for garnish)
1/2 cup sweetened shredded coconut (plus more for garnish)
3/4 cup semisweet chocolate chips
Instructions
Preheat oven to 350F. Lightly grease a 9x5 loaf pan.
In a large bowl, whisk together the flour, cocoa, salt, baking powder, and baking soda.
In a large mixing bowl, beat together the butter and sugar until smooth and creamy, about 2-3 minutes.
Beat in the eggs, one at a time, until fully incorporated. Beat in the almond and coconut extracts.
Gradually beat in the flour mixture alternately with the milk, starting and ending with the flour. Fold in the almonds, coconut, and 1/2 cup chocolate chips.
Bake 50-60 minutes or until a toothpick inserted in the center comes out clean. Cool in the pan for 15 minutes then invert onto a cooling rack. Cool completely.
In a small sandwich bag, add the remaining 1/4 cup chocolate chips. Microwave for 30 seconds. Massage the chocolate in the bag. Continue microwaving in 15 second increments until the chocolate is completely melted. Cut a corner off the bag and pipe on top of the bread. Garnish with almonds and coconut. Let the chocolate harden before serving.
More Baking Recipes For You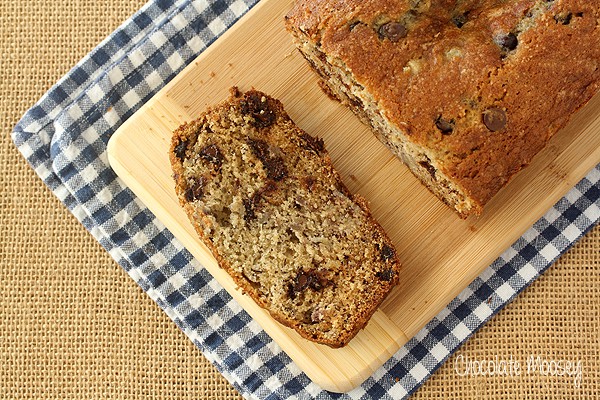 Banana Chocolate Chip Bread
This post may contain affiliate links. As an Amazon Associate and member of other affiliate programs, I earn from qualifying purchase.