Chicken Parmesan Meatball Subs
If you're looking for something new and exciting to eat for dinner, you have to try these Chicken Parmesan Meatball Subs with a quick homemade tomato sauce. Packed with plenty of flavor and topped with lots of melted cheese.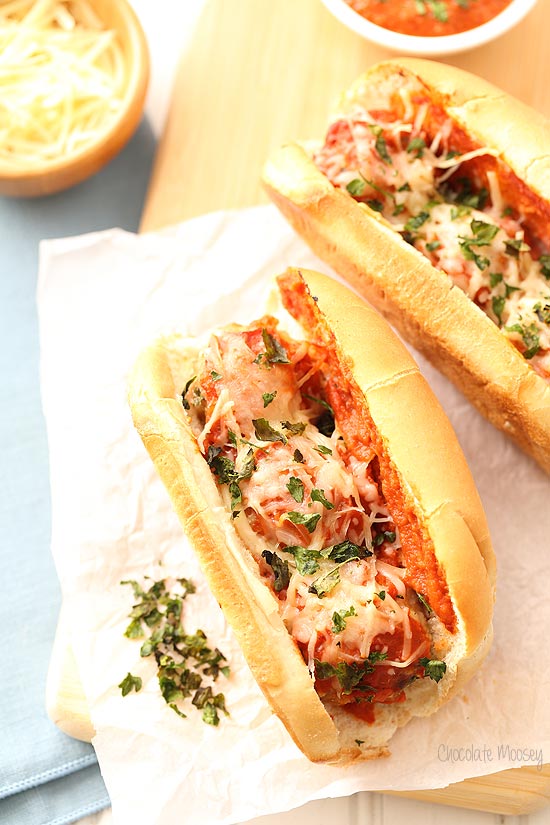 I've been in a menu planning slump lately. Each week, I struggle to figure out what I want to eat for the week and end up resorting to the same meals over and over, which usually involves too much pasta. I'm not very good at buying groceries on a whim and hoping that I can come up with something; I'm a planner who needs to make a list. I also tend to buy the same proteins over and over: bone-in chicken breasts, chicken quarters, shrimp, ground beef. Sometimes when I don't know what I want to make, I'll pick a protein for inspiration and roll with it. I haven't had ground chicken in a long time, so I thought about what I could make. Meatballs immediately came to mind. Rather than making spaghetti and meatballs, I opted for Chicken Parmesan Meatball Subs, the cousin to traditional beef meatball subs with a quick homemade tomato sauce and of course topped with lots of cheese. No need to pound out or bread chicken breast – just mix everything together and go. This recipe can easily be made in an hour, especially if you cook the sauce while the meatballs are baking. You can even make the sauce ahead of time. The meatballs make great leftovers too as I usually have a sub or two for lunch or dinner again the next day. Take that, menu planning slump.
Meatballs need a ton of flavor as they can get pretty bland pretty quickly, so I made sure to use plenty of onion, garlic, Parmesan cheese, basil, and parsley. When it comes to cooking with herbs, I have a bad habit of buying fresh herbs then throwing them out because they wilted too quickly. A few summers ago, I was introduced to the company
Gourmet Garden
as they were demonstrating their products at an event I attended. They make stir in pastes and lightly dried herbs that taste like you are cooking with fresh herbs but last much longer, which you can find in the produce section. They also make garlic and ginger pastes, which I use the most because you don't have to peel or chop anything (their next product should be onion paste. That would be amazing). I was impressed with their lightly dried herbs because you can tell they are dried just enough to still feel fresh, unlike the completely dried herbs you find in most spice aisles.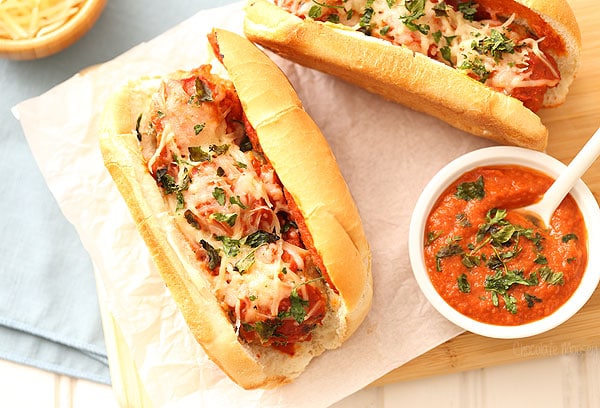 I prefer to bake my meatballs rather than frying, not only because it's healthier but mainly because the cooking process becomes hands off. You can use that 25-30 minutes to make the sauce or work on some side dishes. Even though the meatballs may not be perfectly round, I find that baking them on a rack inside a baking pan helps keep them as round as possible while also letting the fat drip down into the pan. Besides, the slightly flat sides helps keep them from rolling off of the buns, right?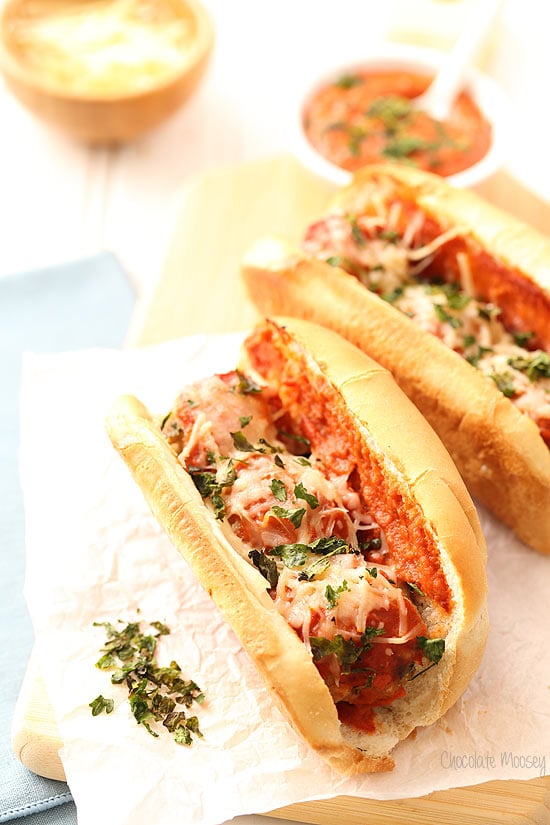 Chicken Parmesan Meatball Subs
Yield: 4-6 servings
Prep Time: 30 minutes
Cook Time: 40 minutes
Total Time: 1 hour 10 minutes
If you're looking for something new and exciting to eat for dinner, you have to try these Chicken Parmesan Meatball Subs with a quick homemade tomato sauce. Packed with plenty of flavor and topped with lots of melted cheese.
Ingredients
1 pound ground chicken, thawed
1/2 cup Panko breadcrumbs
1/4 cup finely shredded fresh Parmesan cheese
2 tablespoons finely chopped onion
1 tablespoon garlic paste
1 tablespoon dried basil
1 tablespoon dried parsley
1 teaspoon salt
1 egg
Sauce
1 tablespoon olive oil
1/4 cup chopped onion
14 ounces canned diced tomatoes with juices
2 teaspoons garlic paste
2 teaspoons dried basil
2 teaspoons dried parsley
1/2 teaspoon sugar
1/2 teaspoon salt
Instructions
Preheat oven to 400F. Line a rimmed baking sheet or roasting pan with foil and set a wire rack on top.
In a large bowl, mix together the chicken, breadcrumbs, cheese, onion, garlic paste, basil, parsley, salt, and egg. Roll the meat mixture into 1-1/4 to 1-1/2 inch meatballs (roughly 16-18 meatballs) and place on the wire rack. Bake 25-30 minutes or until brown and the internal temperature reaches 165F. If serving right away, leave the oven on.
While the meatballs are baking, make the sauce. In a large saucepan, heat the oil until hot. Add the onion and cook for 3-5 minutes or until softened. Add the tomatoes with juices, garlic paste, basil, parsley, sugar, and salt. Cook over medium-low heat for 20 minutes, stirring often.
Carefully add the tomato mixture to a blender and puree until smooth. Pour the sauce back into the saucepan.
Toss the cooked meatballs in the sauce and place 3-4 meatballs onto each sub roll. Top with Parmesan and mozzarella cheeses. Bake on a cookie sheet for 10 minutes or until the buns are toasted and cheese has melted. Serve immediately.
Disclosure: This post is sponsored by Gourmet Garden. For more recipes, you can follow them on Facebook, Twitter, Pinterest, and Instagram. As always, thank you for reading and supporting brands I work with, which helps keep Chocolate Moosey running.
This post may contain affiliate links. As an Amazon Associate and member of other affiliate programs, I earn from qualifying purchase.