Buffalo Chicken Meatball Subs
I think buffalo chicken is one of those trends that will never die. I remember the first time I tried
buffalo chicken dip
. I was hooked. Soon I made
mac and cheese
and
quesadillas
. Of course there is your traditional buffalo chicken wings and buffalo chicken salad. I think if you can add hot sauce to chicken, it will be done. Now I'm making Buffalo Chicken Meatball Subs with Garlic Blue Cheese Sauce. It's another easy weeknight dinner that can be ready in 30 minutes.
These buffalo chicken meatballs are easy to whip up. Just mix a few things with ground chicken, shape, bake, and eat! The first time I made these baked meatballs, I forgot the egg and used ranch dressing, making the mixture very creamy. Although they baked just fine, they spread a bit and had flat bottoms for meatballs. The second time I made them, I remembered the egg and used dry ranch seasoning mix. Much better! The mixture is still a bit on the wet side, but you can guarantee they won't be dry after baking!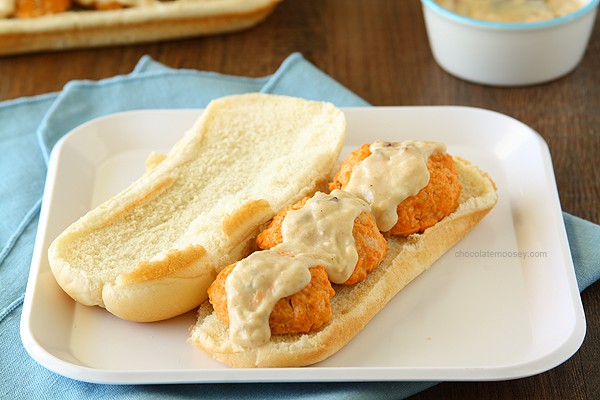 Instead of marinara sauce for traditional meatball subs, I topped mine with garlic blue cheese sauce. If you are not a fan of blue cheese, feel free to use ranch dressing instead. For those of you who don't know what buffalo chicken is, the idea originated in Buffalo, NY where chicken wings were tossed in hot sauce. There is no actual buffalo involved.
Buffalo Chicken Meatball Subs with Garlic Blue Cheese Sauce
Yield: 4 servings
Prep Time: 10 minutes
Cook Time: 20 minutes
Total Time: 30 minutes
A quick weeknight dinner of buffalo chicken meatball subs topped with garlic blue cheese sauce
Ingredients
1/2 pound ground chicken, thawed and patted dry
1/4 cup Panko breadcrumbs
2 tablespoons dry ranch mix
1/4 cup onion, chopped
1 garlic clove, minced
2 tablespoons hot sauce
1 egg, room temperature
4 hoagie buns, toasted if desired
Garlic Blue Cheese Sauce
1 tablespoon unsalted butter
2 garlic cloves, minced
1 tablespoon flour
1 cup whole milk
2 tablespoons crumbled blue cheese
1/2 teaspoon salt
Instructions
Preheat the oven to 400F. Line a baking tray with foil or parchment paper.
In a medium bowl, combine the chicken, breadcrumbs, ranch mix, onion, garlic, hot sauce and egg until well mixed. Roll into 12 meatballs and place on the tray. Bake 20 minutes or until cooked all the way through.
While the meatballs are baking, make the sauce: In a medium saucepan, melt the butter. Add the garlic and cook until the garlic starts to brown.
Whisk in the flour until a paste forms. Slowly whisk in the milk until everything is smooth
Bring to a boil and cook for a few minutes or until thickened. Add the blue cheese and salt then whisk until melted. Taste and adjust for cheese and salt. Remove from the heat.
Depending on the size of the sandwich rolls, add about 3 or 4 meatballs per sandwich. Top with blue cheese sauce.
—-
If you enjoyed these Buffalo Chicken Meatball Subs with Garlic Blue Cheese Sauce, you may also enjoy these recipes:
From me:
This post may contain affiliate links. As an Amazon Associate and member of other affiliate programs, I earn from qualifying purchase.