Stuffed Mallo Cup Bars
I don't understand how some candy isn't more popular. Take the
Mallo Cup
for example. They are just like a peanut butter cup but with marshmallow cream. Um hello? Marshmallows! And chocolate! Can you imagine the smores you could make using these? Unfortunately, the candy industry is a tough business, which is why most of your childhood favorites have disappeared (I read the book
Candyfreak
that describes what a dog-eat-dog the candy world is for companies to get stock on the shelf). Fortunately, Mallo Cups are still around. A little harder to find, yes, but not impossible. I debated on posting these Stuffed Mallo Cup Bars, simply because of accessibility to the candy, but after asking awhile back on Facebook, you wanted it.
Fun fact – I live about 90 minutes away from the Mallo Cup factory. I've never actually been there before. I know they don't do tours, but they do have a factory store. I can only imagine how dangerous that would be. Especially if they have bite-size Mallo Cups. I want to make peanut butter cookie cups but with mini Mallo Cups.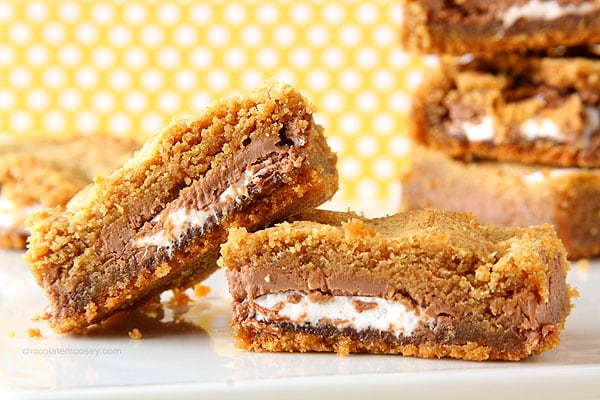 Don't you hate it when you have to go to the store several days in a row because you keep forgetting something? Especially when the same cashier waits on you and you're buying all junk. Hopefully she got the hint that I am a baker after buying several boxes of butter, cream cheese, and candy bars. To be fair, I did have some fruit to make my
Mango Salsa
. I say this because I had to go back to the store to buy more Mallo Cups after my first batch failed. I was already at the store twice that week, and of course the same cashier waited on me (again) for the third night that week (I swear I eat real food).
Also, as I was writing this post, I realized it is Mallo Cups, not Mallow Cups. I've been spelling it wrong all of my life.
Stuffed Mallow Cup Bars
Ingredients
16 (0.5 ounce) Mallo Cups
1 cup flour
1/2 teaspoon baking soda
1/8 teaspoon salt
3/4 cup cookie butter (can substitute peanut butter)
1/4 cup unsalted butter, softened
1/2 cup brown sugar
1/4 cup sugar
1 egg
2 tablespoons milk
1 teaspoon vanilla
Instructions
Freeze the Mallo Cups for at least 30 minutes.
Meanwhile, preheat the oven to 350F. Have an 8x8 pan ready.
In a medium bowl, whisk together the flour, baking soda, and salt. Set aside.
In a large bowl, beat together the cookie butter, butter, brown sugar, and sugar until light and fluffy. Beat in the egg, milk, and vanilla. Gradually add the flour mixture.
Remove the Mallo Cups from the freezer and unwrap. Spread about half of the batter into the pan. Place the Mallo Cups on top in rows (4x4). Cover each Mallo Cup with the remaining batter (you may not have enough batter to cover the entire layer. Just make sure each cup is covered). Bake 20-25 minutes or until the bars are set and toothpick comes out clean (avoid sticking it into a Mallo Cup). Let cool completely before cutting.
Source: Adapted from (can't remember – forgot to write it down!)
—-
If you liked these Stuffed Mallo Cup Bars, you may also like these recipes:
From me: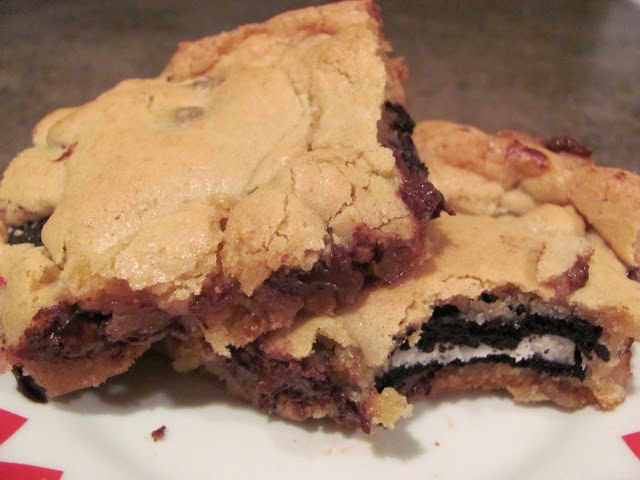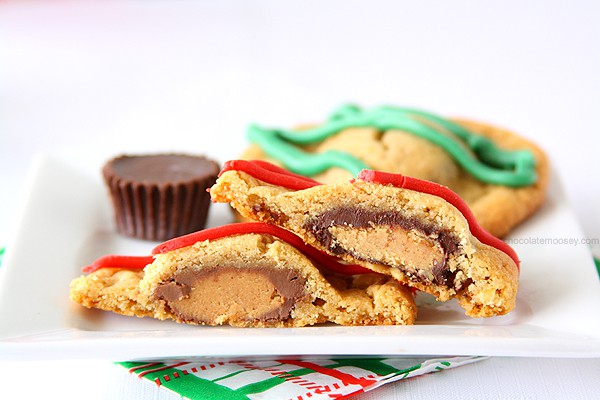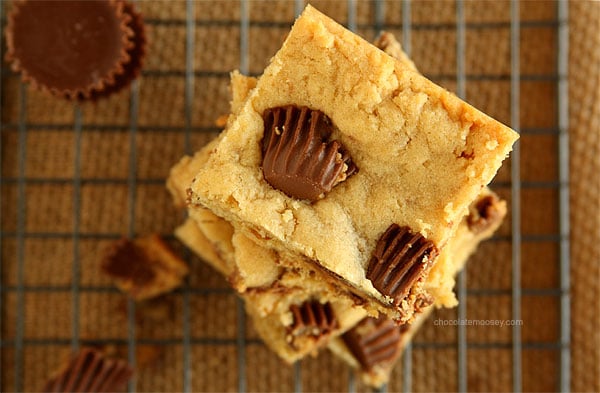 From other bloggers:
This post may contain affiliate links. As an Amazon Associate and member of other affiliate programs, I earn from qualifying purchase.