Buffalo Chicken Hummus Taco Cups
What happens when you combine your love of buffalo chicken, tacos, and football food into one recipe? You get these Buffalo Chicken Hummus Taco Cups, which will be an instant hit for Game Day.

Man the football playoffs have been intense, mainly because the Steelers played last night. Since I write my posts a few days ahead of time, I don't even know if the Steelers still have a shot at the Super Bowl. Win or lose, Pittsburgh is having some very strong reactions this morning. I guarantee my newsfeed is full of either ecstatic fans still celebrating the win or ragey, whining fans stomping around shouting "it isn't fair!" Regardless of who makes it to the Super Bowl, I have to admit – the reason I love it so much is the food. Wings, chips, dip, even an occasional beer or two. Sometimes if I'm lucky, Dad will buy hoagies and breaded mushrooms from a local sub shop. Every time there's a football party of some sort, whether it's tailgating for a regular game or everyone gathering to watch the Super Bowl, there HAS to be buffalo chicken. It doesn't matter if it's
buffalo chicken dip
,
buffalo chicken wings
, or even
buffalo chicken chili
. There needs to be one element of chicken, hot sauce, and ranch dressing or the party is null and void.
I love chips and dip, but sometimes when I'm piling my plate high, food gets mixed together: my cookies fall into my dip, two dips merge into one, there's not enough room for chips, there's ranch dressing on my brownie (and I do not recommend it). How did I solve this problem? With Buffalo Chicken Hummus Taco Cups! By merging buffalo chicken and taco dip into one then giving it its own vessel, you don't need to worry about whether your chip to dip ratio is off (I never seem to grab enough chips) or that there are mini cocktail wieners sitting in your chicken dip on your plate. You grab one (or five) of these portable dip cups then munch. The crunchy wonton cup acts like the chips in this situation. No more eating dip with your finger er I mean spoon because you ran out of chips.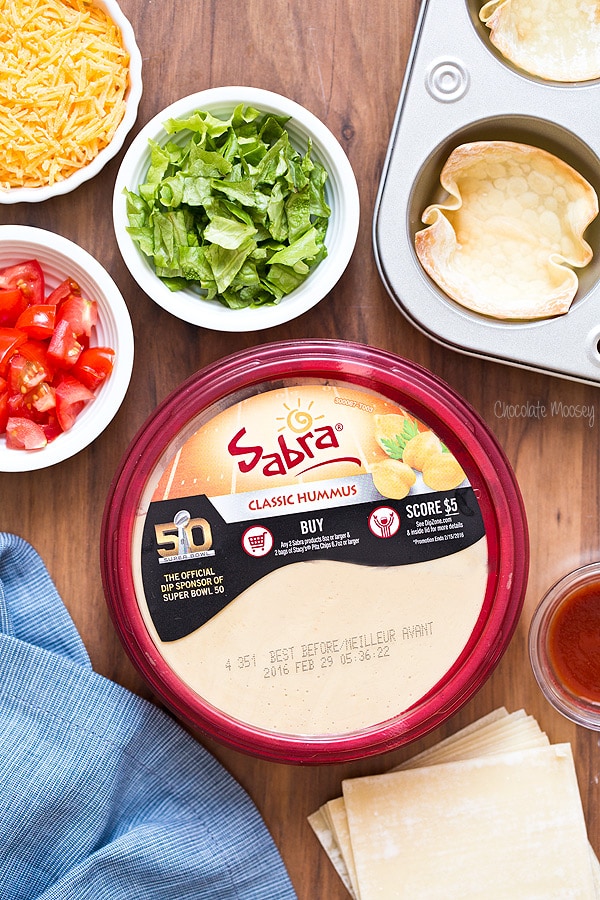 What is hummus? I talked about hummus with my
Barbecue Chicken and Corn Tostadas
, but since I get this question every time I mention hummus, it's worth repeating. Hummus is a Middle Eastern spread made from ground chickpeas blended with tahini (sesame paste), olive oil, lemon juice, and a few other ingredients. To bring you this recipe, I teamed up with
Sabra
, who is the official dip sponsor for Super Bowl 50 this year and is running a promotion called Buy, Snap, Score. Buy Sabra and Stacy's Pita Chips together before 2/15/16 and receive a $5 gift card. Check out their
Dip Zone website
for the details.
If you're new to eating hummus, these Buffalo Chicken Hummus Taco Cups are a great introductory recipe because it combines a new-to-you ingredient with buffalo chicken and tacos, two flavors I'm guessing you already love. If you're not new to hummus and you love eating it like me, then you'll love these taco cups even more because now you have three favorite things all rolled into one bite.
To make the cups I used wonton wrappers. I still remember the first time I bought wonton wrappers years and years ago as I couldn't find them. At all. Finally after asking the store manager, they are located in the produce section by the mushrooms. Who knew!
Buffalo Chicken Hummus Taco Cups
Yield: 1 dozen
Prep Time: 20 minutes
Cook Time: 12 minutes
Total Time: 32 minutes
What happens when you combine your love of buffalo chicken, tacos, and football food into one recipe? You get these Buffalo Chicken Hummus Taco Cups, which will be an instant hit for Game Day.
Ingredients
12 wonton wrappers
1 tablespoon vegetable oil
1 large boneless skinless chicken breast, cut into 1/2-inch pieces
1/2 cup chopped white onion
1 garlic clove, peeled and minced
1 cup Sabra Classic Hummus
2 tablespoons hot sauce
2 tablespoons ranch dressing
Chopped lettuce, tomato, and shredded cheese, for garnish
Instructions
Preheat oven to 350F. Lightly grease a muffin pan with cooking spray. Place one wrapper in each muffin cup, pressing down to fill the bottom and sides then lightly spray wrappers with cooking spray. Bake for 10-12 minutes or until golden brown and crisp. Remove cups to a cooling rack and cool completely before filling.
Meanwhile, in a large skillet over medium heat, heat the oil. Add the chicken and onion. Cook for 3 minutes then flip the chicken and cook for another 3-5 minutes or until the chicken is fully cooked. Add the garlic and cook 30 seconds. Stir in the hummus, hot sauce, and ranch dressing and cook another 1-2 minutes or until everything is heated through.
Right before serving, fill each wonton cup with the hummus filling then top with lettuce, tomato, and cheese.
More Buffalo Chicken Recipes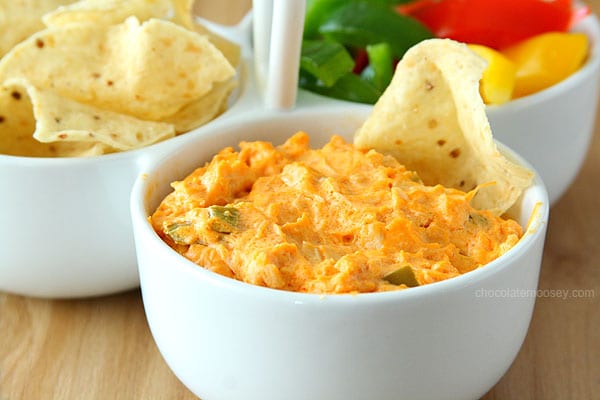 Buffalo Chicken Dip
Disclosure: This post is sponsored by Sabra. Thank you for supporting me and the companies I work with as sponsored posts help pay for the costs of running Chocolate Moosey, including website hosting and groceries for recipe development.
This post may contain affiliate links. As an Amazon Associate and member of other affiliate programs, I earn from qualifying purchase.