Blood Orange Mimosas
Start your morning off with a cocktail – Blood Orange Mimosas made with freshly squeezed orange juice and dry prosecco.

It's here! One of my favorite citrus seasons is finally here – blood orange season! My first memory of eating a blood orange was down in San Salvador in the Bahamas during a college class trip. The university's geology group was spending a week in San Salvador for research, and because I signed up for a basic oceanology course, I qualified to go down as well. The island was very remote with roughly 1,000 locals total. We stayed at a military base that was converted into a research center, set up like a dorm with a shared bathroom and no tvs or computers. There was a library with internet access, but it was so slow, it literally took 10 minutes to email my parents I made it safely, so I went the whole week without internet (shocking, I know!). The island was so remote, if you had to go to the bathroom, you either had to wait until we got back to the research center (which was usually 1-2 hours away from where we were for the day) or went in the woods. The cafeteria that served us all week had to use powdered milk because by the time they imported fresh milk, it would spoil the next day. I had the best tasting canned food dinners of my life because those cooks made the best of everything and knew how flavors worked regardless of being in a can. I learned how to snorkel for the first time even though I'm not a good swimmer (don't worry – they gave me an obnoxiously bright life jacket to wear so I wouldn't drown). I saw the most incredible star-lit sky because there were no city lights drowning them out. I sat on the beach at night just listening to the waves crashing. I went caving for the first time and didn't realize the water was 5 feet deep, so I had to doggy paddle with my flashlight in one hand until we were back on the ground. I experienced total darkness in a cave as everyone turned off their lights for 1 minute and managed to scrape up my entire right arm as I was trying to climb down from a rock. I ate my first fresh-from-the-tree coconut and learned what tamarinds were. I learned how to play dominoes from the locals and played countless games of Uno because I was smart enough to bring a deck when there was nothing else to do in the evening. I witnessed the
smallest airport I've ever been in
where the snack bar was across the street from the airport and security was in a trailer attached to the building. You were sitting right by the plane in the "waiting room". It's definitely an experience I'll never forget and think about all the time.
The first time I ate a blood orange was when we were in the woods one day. There were fresh blood orange trees everywhere, and a few of the guys climbed around and brought back some snacks. At first I thought they were regular oranges, but one of the professors accompanying us explained they were blood oranges. As the name suggests, the inside is ruby red and the juice is so vibrant, it looks like a murder scene when you work with them in the kitchen. Their taste is often described as tart-sweet with some berry undertones. When I got back to the U.S., I learned that I could buy blood oranges from the store. However, their season can be rather short, ranging from December to March, sometimes until May. It wasn't until earlier this month that I finally spotted the first blood oranges of the season for sale. After stocking up, I was flipping through one of my cookbooks and noticed a recipe for mimosas, and that's when I got the idea to use blood orange juice and make these Blood Orange Mimosas. How can you go wrong with a cocktail that's acceptable for breakfast?
Typically mimosas are two ingredients – freshly squeezed orange juice and champagne. Depending on the sweetness of your blood oranges, you may need to add a teaspoon or two of sugar to the juice. Since champagne can be rather pricey, you can easily substitute a dry prosecco (not sweet), which is what I did. Fun fact – this was my first time ever opening a bottle a prosecco and didn't realize it had a cage on it to secure the cork. Not wanting to screw this up, I found this video on YouTube that demonstrates
how to open a bottle of prosecco
. You turn the handle six times to the left, remove the cage, cover the top with a towel, and while pointing away from yourself and other people in the room, twist the bottle (not the cork) until the cork pops. It was actually kinda fun.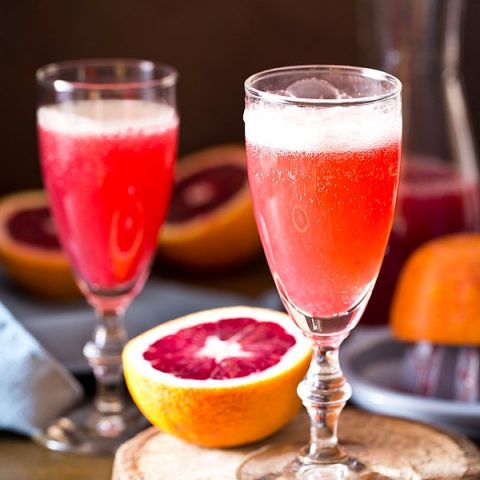 Blood Orange Mimosas
Yield: 4 servings
Prep Time: 15 minutes
Total Time: 15 minutes
Start your morning off with a cocktail – Blood Orange Mimosas made with freshly squeezed orange juice and dry prosecco.
Ingredients
3/4 cup freshly-squeezed blood orange juice (roughly 3-4 oranges)
1-3 teaspoons sugar (optional)
Half a 750-milliliter bottle of dry prosecco or champagne, chilled
Instructions
Taste the juice and if not sweet enough stir in the sugar. Fill champagne glasses halfway with juice. Add prosecco and serve immediately.
More Blood Orange Recipes

Blood Orange Curd

Blood Orange Pie Bites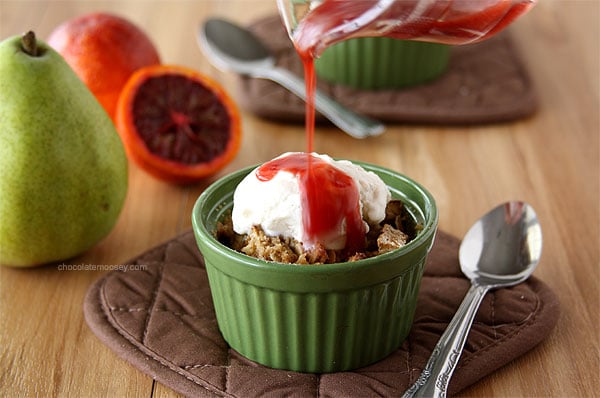 Blood Orange Caramel Sauce
This post may contain affiliate links. As an Amazon Associate and member of other affiliate programs, I earn from qualifying purchase.