Salsa Chicken Grilled Cheese
Kick dinner up a notch with Salsa Chicken Grilled Cheese Sandwiches with french-fried onions (plus it's a great way to use up leftover chicken).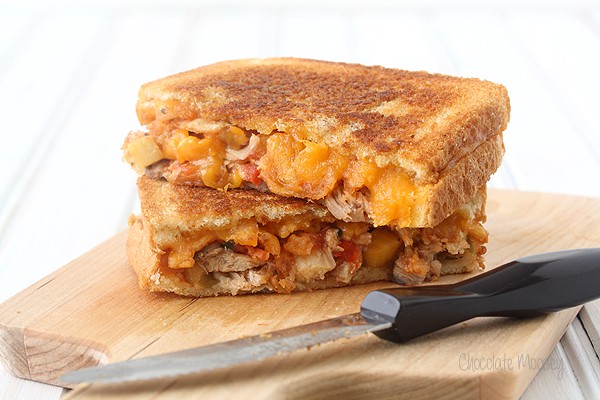 I have a secret to share with you, and it's been eating me up inside not to share.
You know how I'm always talking about making my cakes and cookies from scratch?
Truth is I kinda cheat on dinner.
I mean, it happens right? You are too tired to cook. You don't have time to cook. You forgot to thaw the meat. You don't even know what you're eating today.
Can we still be friends? Because friends share their super delicious, super quick, and super easy grilled cheese sandwich recipes with each other, like this Salsa Chicken Grilled Cheese with french-fried onions.
The name may sound very basic, but oh it is far from it.
One of my favorite dinner shortcut ingredients is salsa.
A long, long time ago (I don't think I even graduated high school yet!), I saw a recipe in a magazine where you toss salsa with tortellini for a quick dinner. That is genius and a lifesaver right there.
In fact, I still make it today (although my choice of pasta may change).
I did go through a little stage where almost *everything* had to be made from scratch, but then reality set in. I'm (slowly) learning that it's ok to use store-bought ingredients if time is a factor.
Like the other day, I bought a fresh loaf of bread from an Italian grocery store because I knew I couldn't bake fresh bread for dinner that night (and it was the best fresh loaf of bread I had in a long time).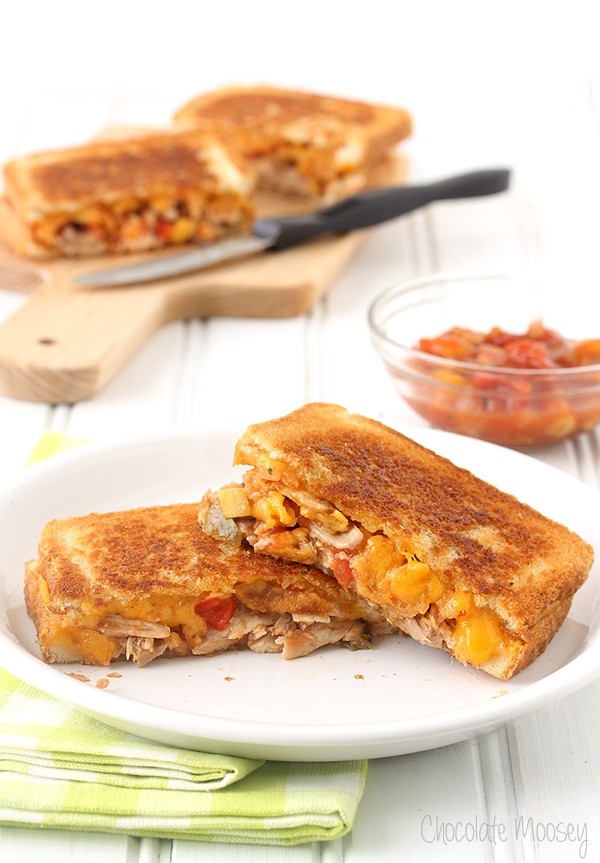 Grilled cheese is a staple I've been making since forever.
During my junior and senior years in college where I had apartment with a real kitchen, I made grilled cheese *all* the time for lunch.
Although your usual cheese between two pieces of bread is good enough for lunch, I wanted to make grilled cheese more of a meal for dinner.
That's when I decided to add some chicken tossed with salsa to bulk it up.
The french-fried onions give it a nice crunch.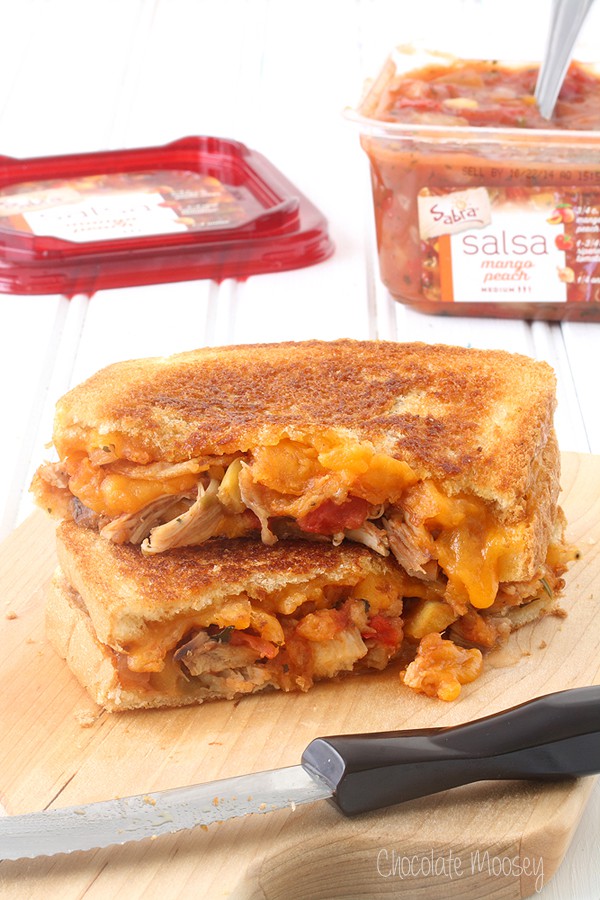 I used a mango peach salsa for this post because that's my favorite salsa; however, any flavor will work, including my
fresh garden salsa recipe
.
Some other quick dinner ideas to make with salsa – toss it with spaghetti for a kicked-up pasta sauce, use as a topping for burgers instead of ketchup, or spoon over chicken breast and bake until cooked completely.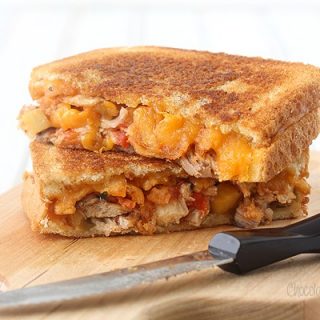 Salsa Chicken Grilled Cheese
Yield: 4 servings
Prep Time: 10 minutes
Cook Time: 20 minutes
Total Time: 30 minutes
Kick dinner up a notch with Salsa Chicken Grilled Cheese Sandwiches with french-fried onions (plus it's a great way to use up leftover chicken).
Ingredients
1 cup cooked shredded or chopped chicken
1 cup salsa, any flavor
1 cup french-fried onions
8 slices of bread
4 slices of American cheese
Butter, for spreading
Instructions
In a medium bowl, mix together the chicken and salsa.
Heat up a dry skillet over medium-high heat. Once hot, turn the heat down to medium-low.
Butter one side of one slice of bread, place it buttered side down in the skillet, add one slice of cheese then top with some of the onions and chicken mixture (don't pile it too high). Top with another slice of bread, buttered side up. Cook until the cheese has melted and the bottom is golden brown** then flip. Cook until golden brown then transfer to a plate.
Repeat with the remaining ingredients.
Notes
*The key to melting the cheese without burning the bread is cooking on low heat. If the cheese is a bit thick, cover with a lid to help speed up the process.
Looking for more quick, easy dinners?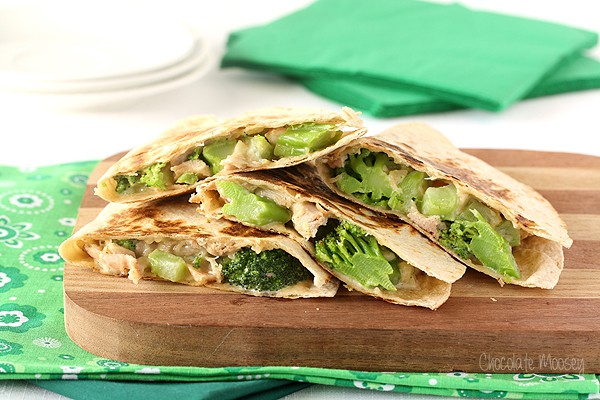 Chicken and Broccoli Alfredo Quesadillas

Buffalo Chicken Salad Sandwiches

Buffalo Chicken Dip Quesadillas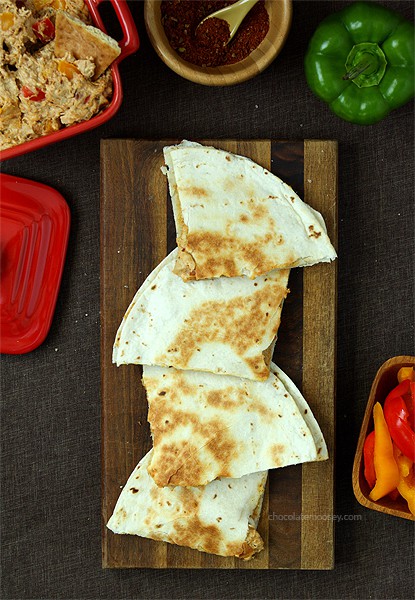 Chicken Fajita Dip Quesadillas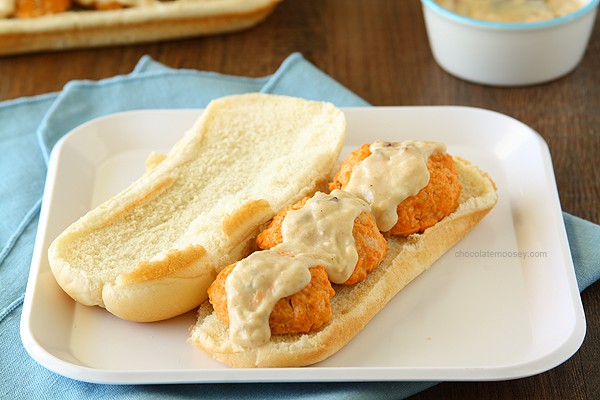 Buffalo Chicken Meatball Subs

Greek Portobello Mushroom Burgers
This post may contain affiliate links. As an Amazon Associate and member of other affiliate programs, I earn from qualifying purchase.