Don't want to roast a whole turkey this year for Thanksgiving? Keep it small by roasting a Cornish Hen with Homemade Classic Stuffing plus a menu for hosting Thanksgiving For Two.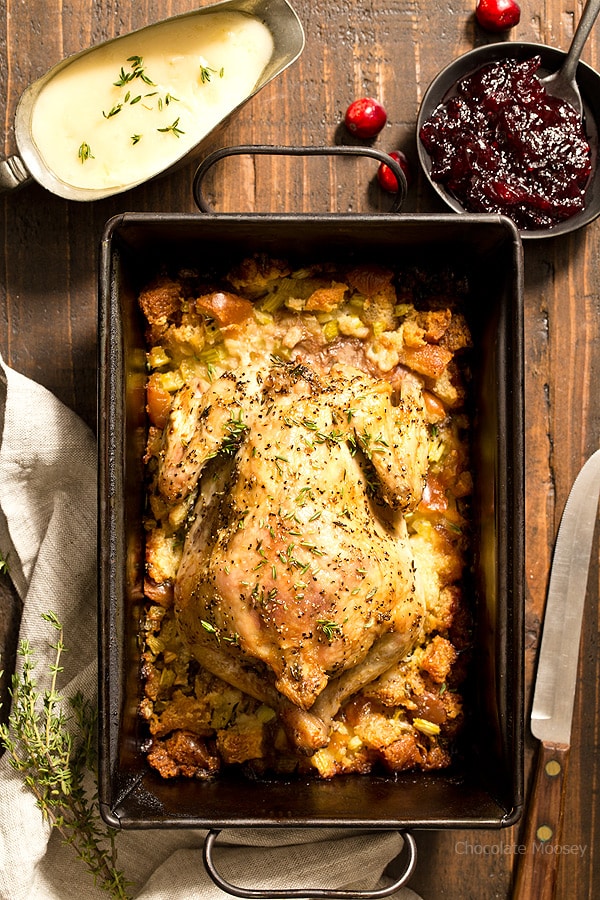 How many people are you hosting for Thanksgiving? One feedback I hear often is how you appreciate my scaled-down recipes since you often only need 2-4 servings. That got me thinking about you for Thanksgiving. Do you host a giant Thanksgiving? Or are you like me where you still only need 2-4 servings?
A few years ago, Food Network hosted their Thanksgiving Live. As it was playing in the background, I heard one couple ask how they could make a Thanksgiving meal since it'd only be the two of them. Even though it's common to host large families, sometimes you simply don't have a large family. Or everyone's schedules make it difficult to get together on one day. Or it's not even November yet you're craving Thanksgiving in June. With my family, there's only four of us – me, my parents, and my brother. I'm technically not hosting since my apartment isn't big enough, but I do most of the cooking at my parent's house. We never do a whole roasted turkey as we'd have leftover for literally months. Sometimes we may make stuffed turkey breasts or turkey legs, but 90 percent of the time, we make Cornish Hen with Homemade Classic Stuffing. We make two hens so everyone gets one leg and wing plus have some chicken leftover for chicken salad. Today I'm sharing my traditional recipe with you because I know I'm not the only one who doesn't need to cook a 20 pound turkey for the biggest food holiday of the year. I'm also including a list of my favorite Thanksgiving side dishes and desserts for two.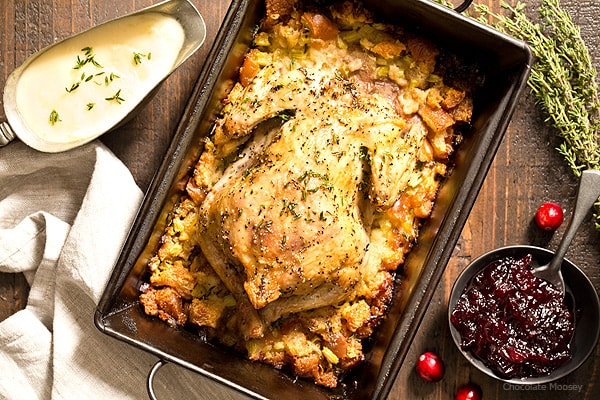 Cornish game hens can be purchased all year round, usually in the frozen chicken section. That means you can still enjoy a small Thanksgiving dinner all year round. I brush the outside with olive oil then rub it with salt, black pepper, and thyme. You can use your favorite herb on hand or substitute your favorite seasonings. Don't cover the pan with foil or you'll lose the crispiness of the skin.
The classic stuffing recipe is actually my mom's recipe, including the celery. I'm not a fan of celery, but this is the one time I make an exception. Instead of using boxed stuffing this year, all you need to do is cut up a few ingredients and toss them together. Easy peasy. After stuffing the bird, you can lay the extra in the bottom of the roasting pan. It'll soak up the juices from the meat plus get crispy on the edges from the oven.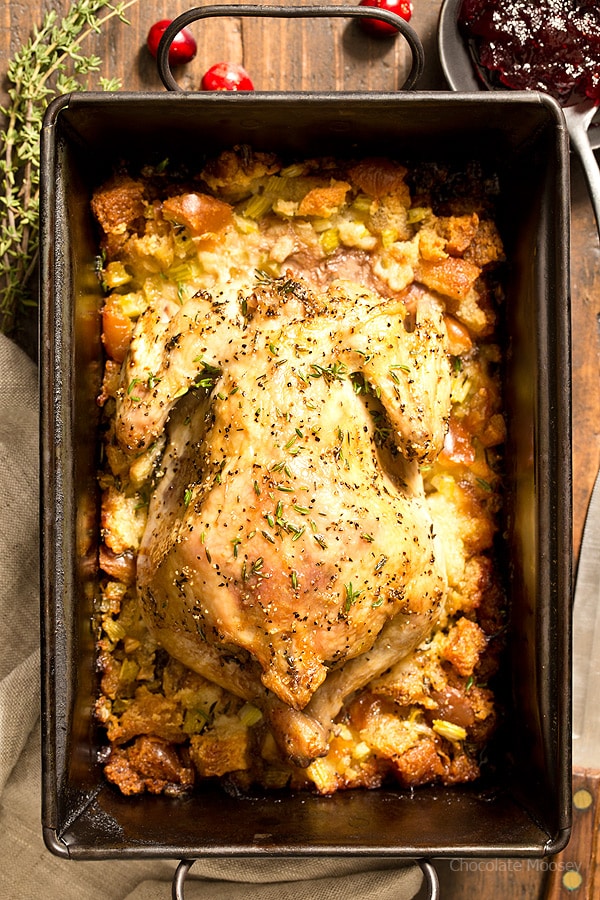 As you'll notice, this recipe only makes one hen for a true Thanksgiving For Two recipe. If you're like me who makes two hens, simply double the recipe. And since the likelihood of you reading this while planning your Thanksgiving menu is very high, here are links to my favorite accompanying dishes, either already-scaled down or with advice on how to turn it into 2-4 servings.
Thanksgiving For Two Menu
Drinks
Red Apple Cider Sangria – Sangria lasts up to 4-5 days, which means you can keep this in your fridge and enjoy a glass or two each night. If you don't think you'll drink that much, cut the recipe in half and use the rest of the wine for cooking.
Side Dishes
Desserts
Yields 1 Cornish hen
Cornish Hen with Homemade Classic Stuffing
30 minPrep Time
60 minCook Time
1 hr, 30 Total Time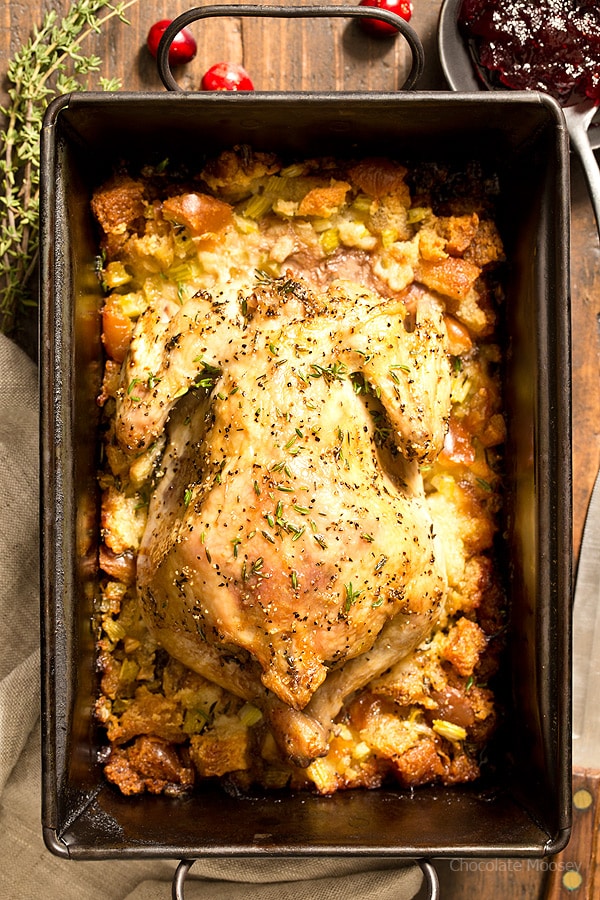 Ingredients
1 Cornish game hen, thawed and giblets removed
1 teaspoon chopped fresh thyme (or herb of choice)
1 teaspoon salt
1/2 teaspoon black pepper
Olive oil, for brushing

Homemade Classic Stuffing

4 slices white bread, cut into 1/2-inch pieces
1/2 cup butter, unsalted
1/2 cup chopped onion
1 celery stalk, chopped
1/4 teaspoon salt
Instructions
For the stuffing: In a large skillet, melt the butter. Once hot, cook the onion and celery until soft, about 5-8 minutes. Transfer to a large bowl then stir in the bread cubes and salt. Mix thoroughly.
Preheat oven to 400F. Have a roasting pan ready.
In a small bowl, mix together thyme, salt, and pepper.
Fill the hen with stuffing. If there is stuffing leftover, add it to the bottom of the pan. If there is no stuffing leftover, add a roasting rack to the pan.
Tie the hen's legs together with oven-safe twine (optional but keeps the legs in place) then place on top of the stuffing or roasting rack.
Brush the hen with olive oil then rub the thyme mixture all over, getting underneath the wings, legs, and skin whenever possible.
Bake for 50-60 minutes or until juices run clear when thickest part of chicken is pierced and internal temperature reaches 180°F.
7.6.3
3569
https://www.chocolatemoosey.com/2016/11/03/cornish-hen-with-homemade-classic-stuffing/