A fulfilling dinner for two, Maple Roasted Chicken Quarters with roasted vegetables underneath is simple yet packed with flavor. Ready in 75 minutes.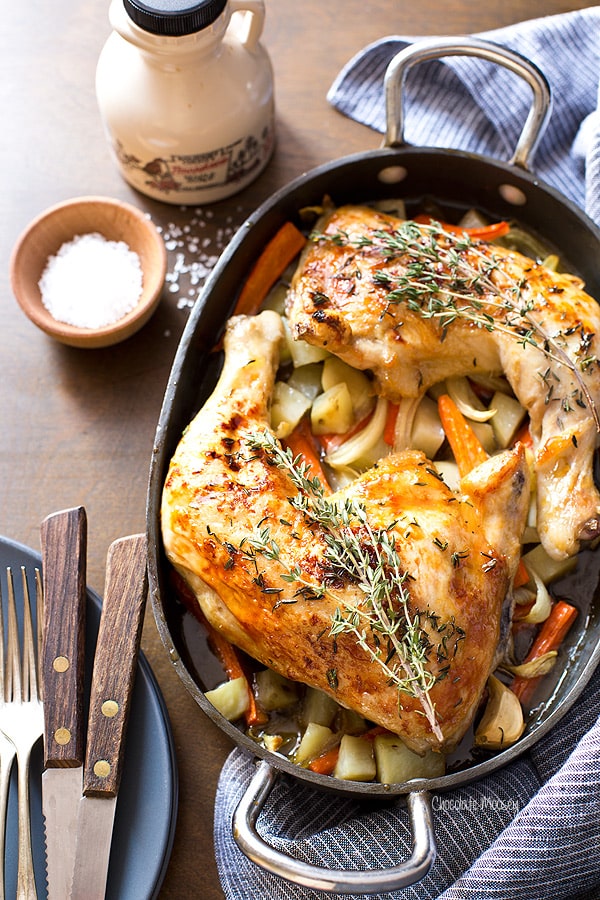 For the longest time when someone asked what my favorite food was, I didn't have an answer. Sure, I love some foods more than others, but nothing stood out as number one. Was it ice cream? Chocolate chip cookies? Shrimp? Clams? Then I started thinking about what I would eat as my last supper and still didn't have an answer. It wasn't until I was eating this Maple Roasted Chicken Quarter recipe for the third time in one month when I finally realized what my last supper would be – crispy chicken skin with roasted vegetables underneath. I've always jokingly said that someone should just serve up a plate of crispy chicken skin at a restaurant for my entree. The chicken meat itself I can take it or leave it, but since I wouldn't want to waste the meat, it must be dark meat; I don't like eating roasted chicken breast. The roasted vegetables underneath – carrot, potato, onion, and garlic – tie everything together with a built-in side dish for a fulfilling dinner for two. I don't have a date for this upcoming Valentine's Day, but if I did, I would tell him let's stay home and make this roasted maple chicken dinner together.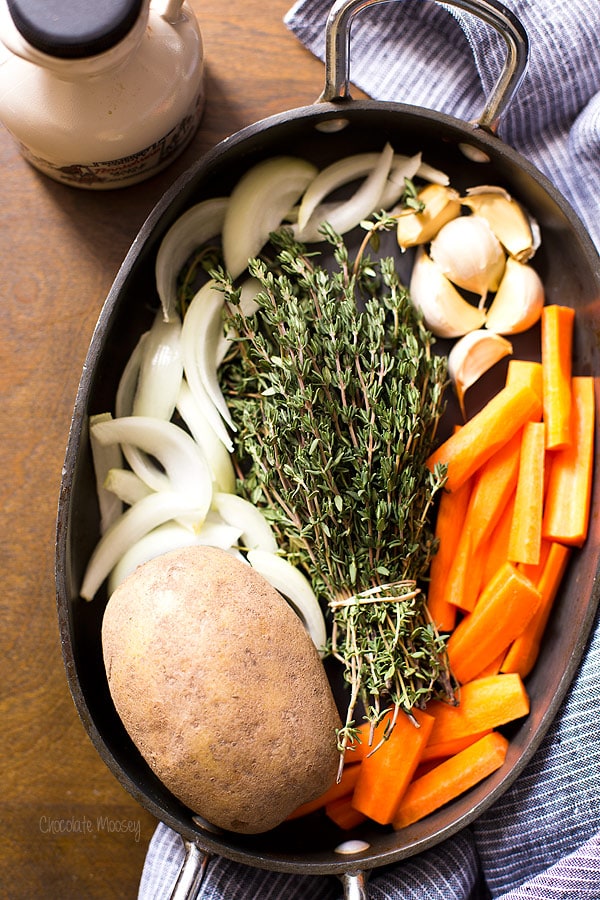 My original plan for this
chicken recipe
was to use chicken thighs, but the butcher didn't have any. Instead I bought two fat chicken quarters, which is pretty much equivalent to four small chicken thighs. I even made this recipe using one chicken breast since I only had one chicken quarter left, but since I'm not a fan of light meat, I ended up using the cooked breast meat in
pasta
the next day. Pretty much any type of chicken will work as long as you know your preference between dark and light meat.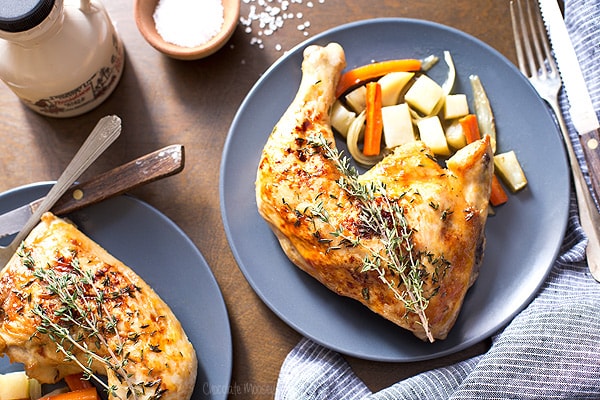 The ingredient list may seem too simple with only maple and fresh thyme flavoring the chicken skin, but sometimes simple is best. It's also why it's very important to buy pure
maple syrup
. Be careful if you buy maple syrup from the grocery store as a lot of them are pancake syrups with artificial maple flavoring. I bought my latest bottle from a local farm via a diner in Somerset County, one of the top counties in PA that produces pure maple syrup.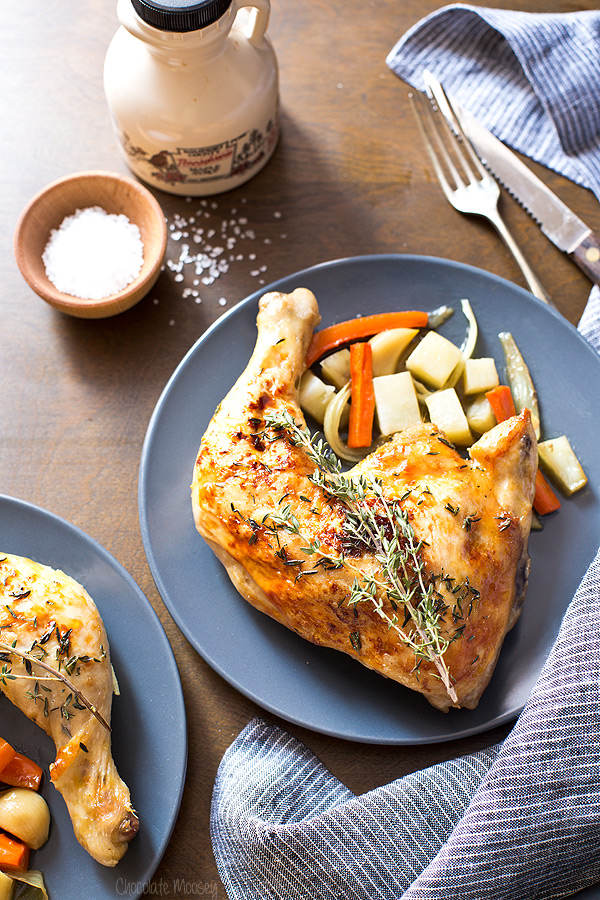 Don't let the roasted vegetables underneath fool you because they are anything but ordinary. Between the maple syrup and the chicken juices, the vegetables are packed with so much flavor, I like them even better than the meat, especially the roasted garlic. I bet I could eat a whole head of roasted garlic. I'll just have to make sure I don't have any social plans afterwards.
What would you eat for your last supper?
Maple Roasted Chicken Quarters (Dinner For Two)
Total Time:
1 hour
15 minutes
Ingredients
2 tablespoons olive oil
2 large chicken quarters, sprinkled with a few pinches of salt
2 carrots, peeled and cut into quarters
1 large potato, peeled and cut into cubes
1 small onion, sliced
6 cloves garlic, unpeeled
1 teaspoon sea salt
2 tablespoons pure maple syrup
1 tablespoon fresh thyme leaves
Instructions
Preheat oven to 425F. Have a small casserole dish or an 8x8 pan ready.
In a large skillet over medium heat, heat 1 tablespoon oil. Once hot, add the chicken quarters, skin side down, and brown for 5 minutes. Flip and brown the other side for 5 minutes.
Meanwhile, add the carrots, potatoes, onion, and garlic to a large bowl and toss with the remaining 1 tablespoon oil and sea salt. Spread into the bottom of the prepared pan.
Once the chicken has finished browning, place chicken on top of the vegetables, skin side up. Brush evenly with maple syrup and sprinkle with thyme. Bake for 45 minutes or until internal temperature reaches 165F. Serve immediately, removing garlic peels while eating.