Chocolate Chip Cookie Dough Cheese Ball means eating chocolate chip cookies in spreadable form for parties. Serve with graham crackers and cookies.

Here we are, one week before Thanksgiving. Are you ready? Is your menu all planned out or do you usually scramble at the last minute? My family practically has the same menu each year, so no scrambling for us (and if you are scrambling, check out my
Thanksgiving menu post
). I also like to think Thanksgiving kicks off the season for get togethers and holiday parties, and as with any time you have more than two people in a room, you need some good party food (which almost always includes cheese). Now I've made some savory cheese balls before (like
bacon cheddar
and
mini jalapeno popper
) but haven't shared a dessert cheese ball. Which is funny because this recipe actually comes from my childhood (with one slight change) – Chocolate Chip Cookie Dough Cheese Ball. That's right – chocolate chip cookie in a spreadable form for graham crackers and cookies. Brown sugar, cream cheese, chocolate chips. Those three ingredients need to be at your party asap.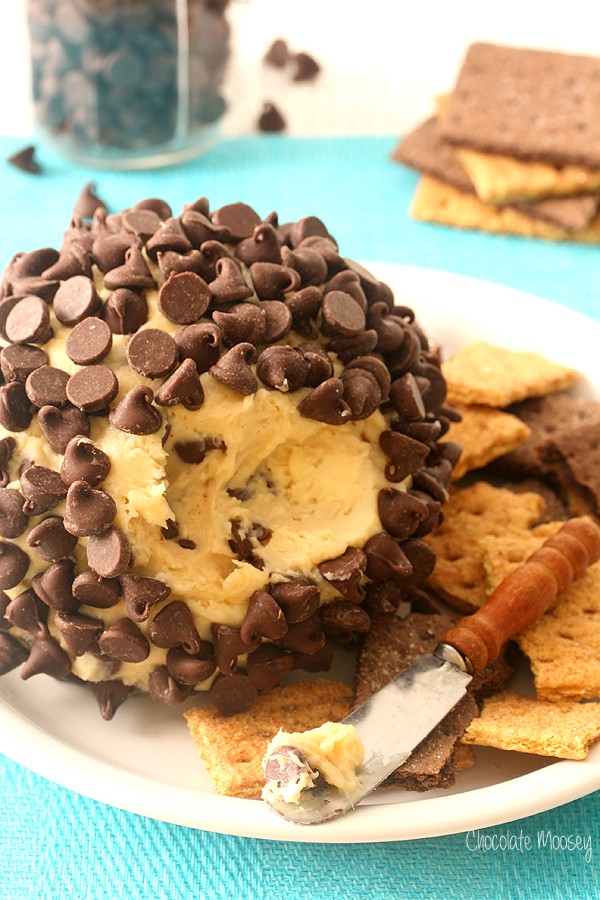 My childhood best friend introduced me to chocolate chip cheese ball after she made it herself one day, probably for a family gathering of some sort. She knew I would love it and could probably polish the whole thing off in one sitting (and several times we did while watching some nighttime tv). I remember her saying I had to make it with butter and not margarine as she could tell the difference (growing up, my parents only used margarine. They still do while I transitioned to butter). I changed the recipe slightly by adding more brown sugar to make it more on the cookie dough side.
I prefer serving this cookie dough cheese ball with chocolate graham crackers, but cinnamon ones work too. Funny story about chocolate graham crackers. During the summer when I made my
Peppermint Patty Cookie Dough Dip
, I originally wanted to serve it with chocolate graham crackers. Since it was before I moved to Pittsburgh, I stopped at Walmart right before I jumped on the Turnpike after visiting my parents. Except they didn't have any. Not even chocolate teddy bear crackers. I drove across the street to the other grocery store. Still no chocolate graham crackers. Did they stop making them?! Fast forward a few months after I moved back to Pittsburgh, and guess what I found without even looking?
Chocolate Chip Cookie Dough Cheese Ball
Ingredients
8 ounces cream cheese, softened
1/2 cup butter, softened (add 1/4 teaspoon salt if unsalted)
3/4 cup powdered sugar
1/2 cup packed brown sugar
1/4 teaspoon vanilla extract
2 cups semisweet chocolate chips
Instructions
In a large mixing bowl, beat together cream and butter until smooth and creamy. Beat in salt if using, powdered sugar, brown sugar, and vanilla. Add 1 cup chocolate chips. Scrape the mixture onto some plastic wrap and form the mixture into a ball. Refrigerate at least 4 hours or overnight.
In a small shallow bowl or plate, add the remaining 1 cup chocolate chips. Unwrap the cheese ball and roll into the chocolate chips until completely covered. Refrigerate until ready to serve. For easier spreading, remove from the refrigerator 30 minutes before serving.
More Party Recipes For You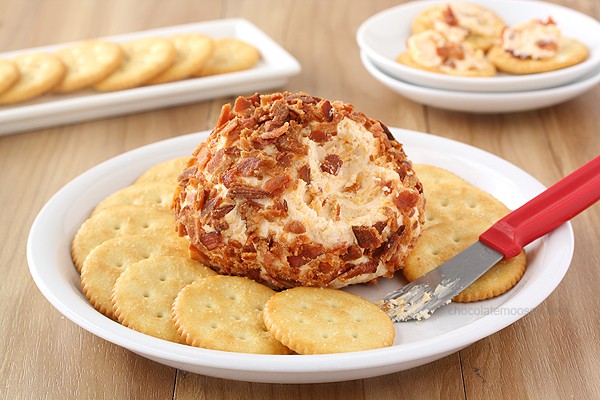 Bacon Cheddar Cheese Ball