Mini Jalapeno Popper Cheese Ball Bites
What party isn't complete without cheese, bacon, and spice? Mini Jalapeno Popper Cheese Ball Bites are spicy little appetizers perfect for entertaining.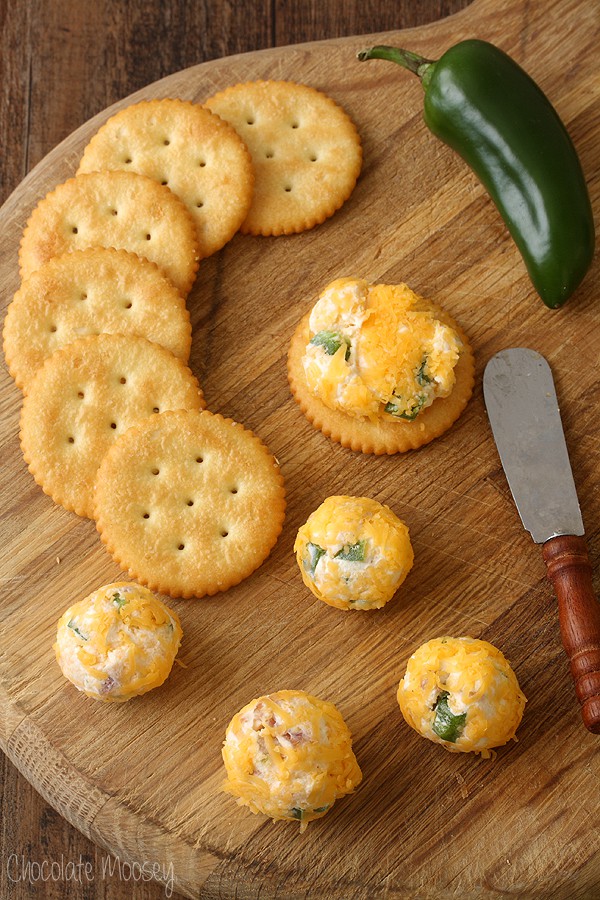 It's not often that I entertain people at my place. It's not that I don't enjoy having people over; it's usually because someone else is hosting. Being the good invitee that I am, I rarely show up empty-handed. Sometimes it's planned that everyone brings food. Other times I just want to make something to share. Although I'm usually the dessert queen, there are times I bring something savory. Most of the time it's
buffalo chicken dip
, but that recipe is so popular, everybody else brings it too. Not that there's anything wrong with that (and there are never, ever any leftovers no matter how much you bring), but sometimes you just want to add a little more variety to the table.
When I think of entertaining appetizers, I think of jalapeno poppers. And although I don't like to eat actual stuffed jalapenos (bad experience – did you know some jalapenos are much spicier than others?), I do love to take chopped jalapenos, bacon, cream cheese, and cheddar cheese and turn them into other recipes – Jalapeno Popper Dip. Jalapeno Popper Fettuccine Alfredo. Jalapeno Popper Corn Chowder. The idea for these Mini Jalapeno Popper Cheese Ball Bites happened when I started thinking of cheesy appetizer ideas. My family loves to eat cheese ball on crackers and thought, why not do a jalapeno popper version? It's almost like an inside out jalapeno popper if you think about it. Instead of the peppers holding the cheese, the cheese holds the peppers. I thought about doing a big cheese ball, but when you have one hand holding a plate full of food, it's a little clunky to grab a knife and spread it onto crackers. Mini cheese balls make it much easier to serve. Not only are they portioned out into cracker-sized bites, you aren't holding up the line fighting with the spreader. And nobody likes to wait in line for food while you are fighting with the spreader. Just trust me on that.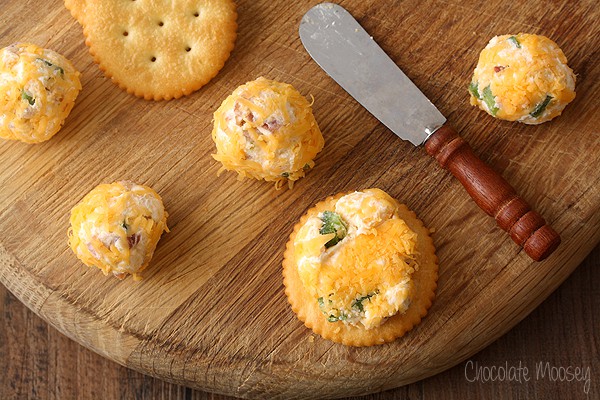 I was quite excited to make these Jalapeno Popper Cheese Ball Bites for the first time. I don't know about you, but I always make an extra slice of bacon to snack on while I crumble up the remaining for the recipe. Otherwise I tend to never have enough. I was a little hesitant on adding the seeds from the jalapeno. Like I mentioned earlier, I had a bad experience with super ridiculously hot peppers. My advice is you can always add the seeds but can't really take them out. Make the mixture, taste test, then add more heat if necessary.
If there's one thing I'm certain of, it's that no party is complete without cheese. Can you honestly think of a time where a party didn't have cheese (unless it was a vegan party)? In this recipe I used Boar's Head Vermont Cheddar Cheese as it was a natural pairing for jalapeno poppers. What makes Boar's Head a great cheese to use is that their premium products contain no fillers, no by-products, no artificial colors or flavors, no gluten, and zero grams of trans fat per serving. They have been around for more than 100 years and have been unwilling to compromise on quality and on profits before excellence.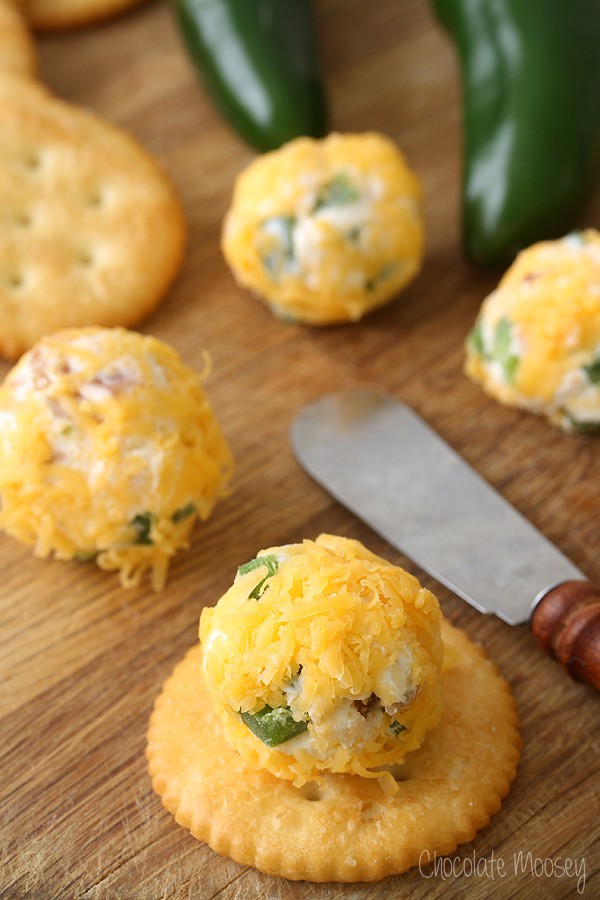 The best way to serve these mini cheese balls is with crackers. Put one ball on top of a cracker and squish it down. Or just pop them into your mouth, one by one. They are quite addicting so if you don't have enough willpower while making them, you may need to double the recipe. Just in case.
If you're a huge cheese fanatic, be sure to stop by
Boar's Head website
to discover new cheeses and build your ideal cheese board. Then you can print a shopping list to recreate your cheese board at home.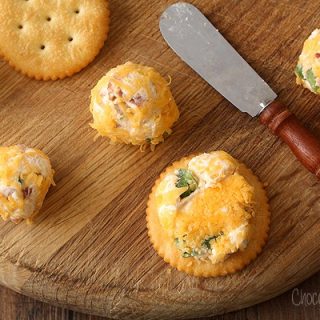 Mini Jalapeno Popper Cheese Ball Bites
Yield: 18 balls
Prep Time: 30 minutes
Chill Time: 1 hour
Total Time: 1 hour 30 minutes
What party isn't complete without cheese, bacon, and spice? Mini Jalapeno Popper Cheese Ball Bites are spicy little appetizers perfect for entertaining.
Ingredients
2 cups shredded cheddar cheese
4 ounces cream cheese, softened
1/4 teaspoon onion powder
1/4 teaspoon garlic powder
1/4 cup minced jalapeno (seeds and membrane optional for heat)
1/4 cup crumbled bacon
Instructions
In a large mixing bowl, beat together 1 cup cheddar cheese, cream cheese, onion powder, garlic powder, jalapeno, and bacon. Using a #60 small cookie scoop or by hand, roll the mixture into 1-inch balls.
In another bowl, add the remaining 1 cup cheese. Roll each ball into the cheese, covering as much as you can. Refrigerate at least 1 hour before serving with crackers.
Want More Cheesy Recipes?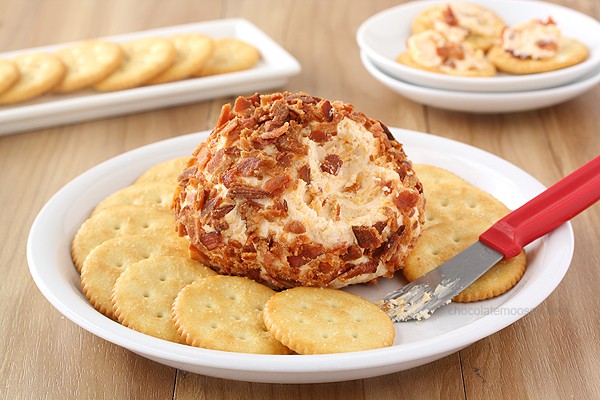 Bacon Cheddar Cheese Ball

Jalapeno Popper Dip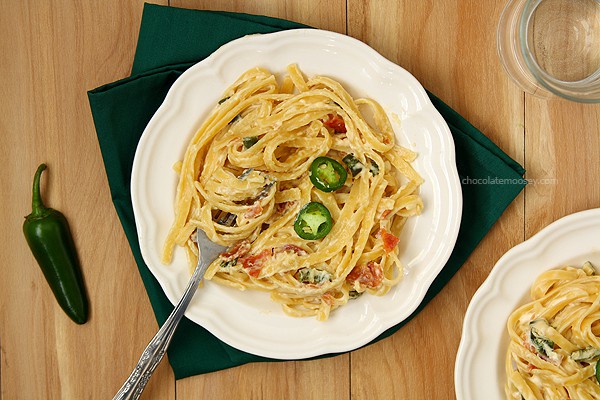 Jalapeno Popper Fettuccine Alfredo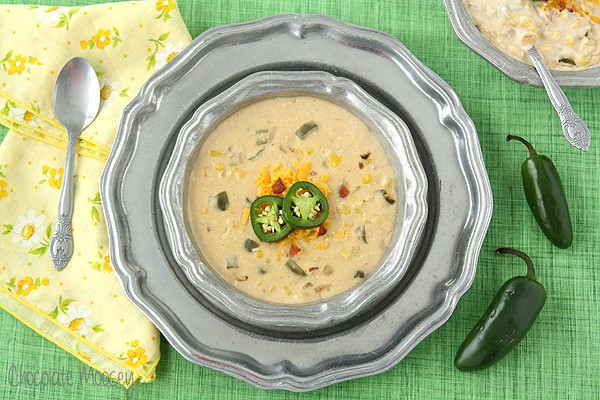 Jalapeno Popper Corn Chowder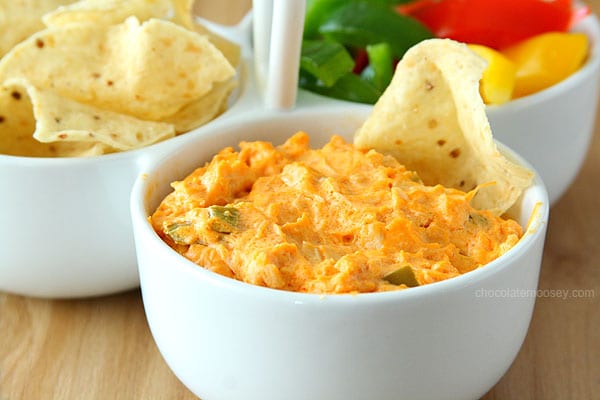 Buffalo Chicken Dip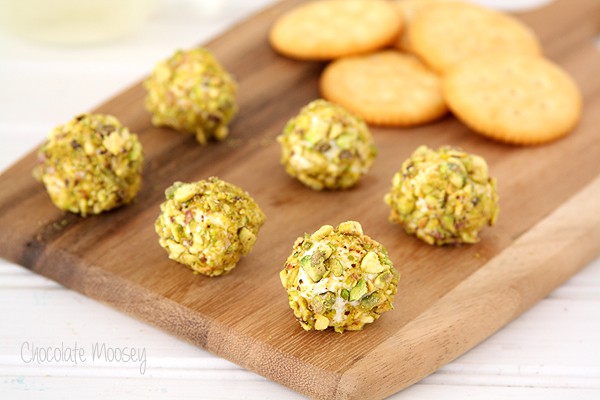 Goat Cheese, Bacon, and Pistachio Truffles
Disclosure: This post is sponsored by Boar's Head. As always, thank you for reading and supporting brands I work with, which helps keep Chocolate Moosey running.
This post may contain affiliate links. As an Amazon Associate and member of other affiliate programs, I earn from qualifying purchase.