Goat Cheese Balls
Little heavenly bites of Mini Goat Cheese Balls with bacon and pistachio will elevate your next tailgating party.
Are you guys ready for The Big Football Game coming up next weekend?
To be honest, I don't care about the game when the Steelers aren't in it, but that doesn't stop me from watching it (mainly for the commercials) and from making football party food.
Typically at parties, there's usually a meat and cheese tray or a cheese ball. Cheese + wine is a no brainer.
Because everyone's plates are piled high with food, I wanted small bites of cheese (mini cheese balls, if you will), which is what inspired these Mini Goat Cheese Balls with bacon and pistachio.
Goat cheese was the first cheese that popped into my mind because it's one of my favorite cheeses.
Named after the use of goat's milk, it's a bit tangy and almost like a savory cream cheese.
I added bacon because you always need bacon at parties and rolled the truffles in pistachios that added a nice (and necessary) crunch. You can eat them as is or serve on crackers.
Now that I have my recipe, which wine pairs best with goat cheese?
After some research, I learned that Sauvignon Blanc pairs best with soft creamy cheeses like goat cheese because the acidity in the wine matches the tangy acidity in the cheese.
You can also serve some Pomegranate Punch for New Year's Eve.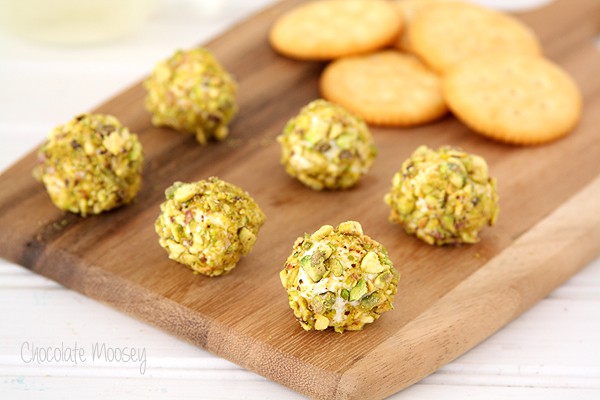 Goat Cheese, Bacon, and Pistachio Truffles
Yield: 18-20 mini cheese balls
Prep Time: 15 minutes
Chill Time: 30 minutes
Total Time: 45 minutes
Little heavenly bites of Goat Cheese, Bacon, and Pistachio Truffles paired with Sauvignon Blanc will elevate your next tailgating party.
Ingredients
8 ounces creamy goat cheese, softened
1/4 cup crumbled bacon (roughly 3 slices cooked bacon)
1/4 teaspoon garlic powder
1/4 teaspoon onion powder
1/8 teaspoon salt
1/2 cup finely chopped pistachios
Instructions
In a large mixing bowl, beat together goat cheese, bacon, garlic powder, onion powder, and salt. Make roughly 1 inch balls with your hands or a cookie scoop.
In a small bowl, add the pistachios. Roll each ball in the pistachios to coat then place on a plate. Refrigerate for at least 30 minutes before serving. Store in an airtight container in the refrigerator.
More Cheese Recipes:
This post may contain affiliate links. As an Amazon Associate and member of other affiliate programs, I earn from qualifying purchase.