Got strawberries? This super quick Strawberry Sauce can be ready in minutes and makes a great topping for pancakes, waffles, ice cream, and so much more.

I'm totally not a breakfast person. Since I work during the week, I grab something quick like a bagel or oatmeal. On the weekends I do take some time to make hashbrowns or pancakes but nothing fancy. On vacation I have trouble finding something to eat at the continental hotel breakfasts. And when I do eat at a restaurant, I tend to order the same breakfast – two eggs over easy with hashbrowns and bacon, mainly because that's the only thing I'll eat on the menu (although one time I did get country-fried steak. That was artery-clogging good). However, when I visit my parents for the weekend, I often request chocolate chip waffles with strawberries on top. For as long as I can remember, we used frozen strawberries in a tub (thawed, of course) to top pancakes, waffles, and French toast, but when there are fresh strawberries in the house, I like to make this super quick Strawberry Sauce. Ready in 5-10 minutes, this easy sauce makes a great topping for waffles, pancakes, ice cream, and anything else you can imagine. Just slice the strawberries and cook in a saucepan.
Breakfast at my parents just isn't the same without strawberries. A few times Dad has even gone out the night before just so we would have them the next morning. When they visit me and if I have fresh strawberries in the fridge (usually in June), I'll whip up this sauce for them. Mainly because I don't buy syrup, so they literally have nothing to top their breakfast with except for butter. One time Dad managed to drop butter into my tote bag on the floor. Don't even ask how that is possible.
I think the best way to serve this sauce (besides breakfast) is on top of ice cream. My favorite way is on top of
vanilla bean ice cream
, but a big bowl of
strawberries and cream ice cream
would be even better. Or even
strawberry lemonade ice cream
.
This strawberry sauce is so versatile, you can use pretty much any juicy fruit – strawberries, raspberries, cherries, peaches. I tend to make strawberry the most because that's what I've always had for breakfast, but one summer I won half a bushel of peaches, so I made lots of peach sauce too.
Strawberry Sauce
Yield: 1

Prep Time: 10 minutes

Cook Time: 5 minutes

Total Time: 15 minutes

Serve Strawberry Sauce on top of pancakes, waffles, French toast, ice cream, and more.
Ingredients
1 cup sliced strawberries
2 tablespoons granulated sugar
1 tablespoon lemon juice
1/2 teaspoon vanilla extract
Instructions
In a medium saucepan, bring 1/2 cup sliced strawberries, sugar, and lemon juice to a boil. Boil for 3 minutes or until the strawberries are cooked down and the mixture thickens. Remove from the heat and stir in the vanilla and remaining strawberries. Serve immediately. Store any leftovers in the fridge for up to two weeks.


—-
Want more? You won't be able to resist these favorites!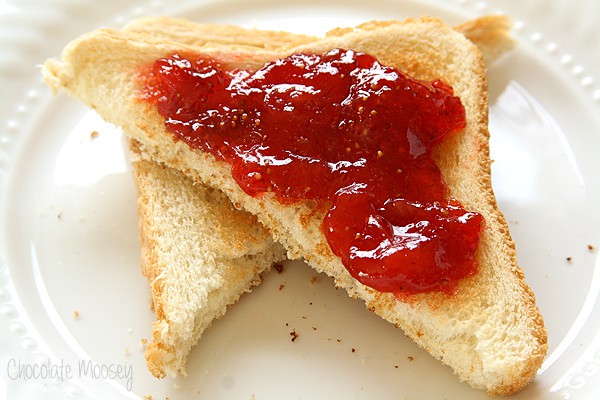 Small Batch Strawberry Jam (No Pectin)