Making Homemade Fudgesicles at home from scratch is one easy recipe you need to make this summer.

I don't think there's ever been a summer where I didn't eat a Fudgesicle. Whether it's from an ice cream truck while spending outside in the hot summer sun or from a box sold at stores to enjoy at home, I never could resist eating one. In fact, I searched a long time
for the popsicle mold I have now
just so I could have that iconic look for making Homemade Fudgesicles from scratch. Now I've made this recipe multiple times since last year but just haven't shared it yet. With a double dose of chocolate, these ice cream pops will cool you down in no time.
For those of you who aren't familiar with Fudgesicles, think of chocolate ice cream on a stick. A friend asked if they tasted just like frozen fudge. They do have that rich, decadent fudge taste where you can only eat a small portion at a time but with the texture of ice cream. In other words, only mega chocoholics need to apply.
As you can see in the photos, I was a bit impatient with unmolding then refreezing, so they didn't take long to melt at all. Ideally you'll want to unmold then re-freeze until firm again, but if you're cool with chocolate all over your face, I won't blame you for being impatient too. And if you don't have official popsicle molds, you can use those 3 ounce dixie paper cups and just cut away the cup if they don't unmold easily.
You may need these items to make your fudgesicles (Amazon affiliate links):
Homemade Fudgesicles
Ingredients
1 ounce chopped semisweet chocolate
1/3 cup granulated sugar
1 tablespoon cornstarch
2 tablespoons cocoa powder
1 cup milk
Pinch of salt
1/2 teaspoon vanilla extract
1/2 tablespoon unsalted butter
Instructions
In a medium saucepan, melt the chocolate. Whisk in the sugar, cornstarch, cocoa, milk, and salt until smooth. Continue cooking until the mixture thickens, about 5-10 minutes. Remove from the heat and stir in the vanilla and butter until completely smooth. Pour into popsicle molds and add sticks. Freeze until firm, at least 4 hours or overnight.
Source: Slightly adapted from
Smitten Kitchen
—-
Want more? Check out these other frozen treats: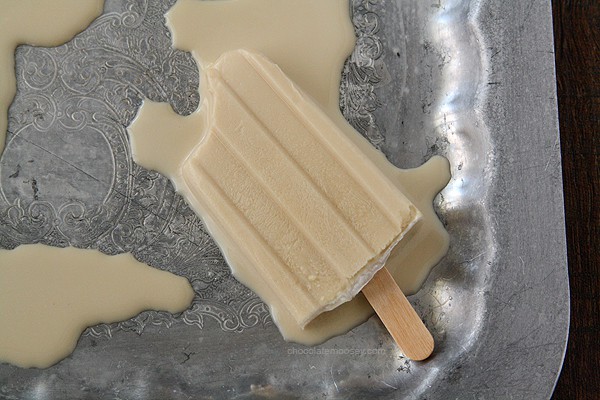 Root Beer Float Ice Cream Bars