This Chicken Fajita Feta-ccine is a long lost recipe from my recipe binders.
I have three thick binders plus a few skinny ones. As I cooked throughout college, I printed recipes and stored them in my binder along with magazine pages I tore out.
I made this fettuccine dish a lot, and I remember my mom even requested it a few times when I would cook at home for them. Soon after graduation when I started my night shifts at Target, I lost a lot of my joy.
Finding a degree-worthy job while cleaning up after slobs and being yelled at because you don't know what color the filing cabinet is in the box or whether the wrinkle free sheets are truly wrinkle free doesn't exactly leave you inspired to do much.
However, those binders mean a lot to me, and as I moved on to my big girl job, I packed those binders as is. They sat on my shelf as my cookbook collection grew. Then I got my iPhone and started digitizing my recipes.
One day, I needed my recipe for pizza sauce in my binder, and as I turned the pages, I found all kinds of recipes I used to make, including my Chicken Fajita Feta-ccine. I was so excited that I couldn't wait to share it with you. It's the flavors of chicken fajita with an Italian twist of pasta.
Chicken fajitas are a pretty common staple in Tex-Mex food – tortillas filled with strips of chicken rubbed with
homemade fajita seasoning
, bell peppers, and onions. For this pasta dish, you take the chicken and bell peppers, use salsa for the sauce, toss with fettuccine, and top with feta cheese (hence feta-ccine).
I know this dish isn't one you normally see for Cinco de Mayo given that it is pasta, but the flavors will transport you to a fiesta filled with dancing in colorful flamingo dresses and a mariachi band (this is also the part where I say it tastes like a fiesta in your mouth, but I hate the phrase "in your mouth" along with amazeballs, om nom nom, get in my belly, and unctuous mouthfeel).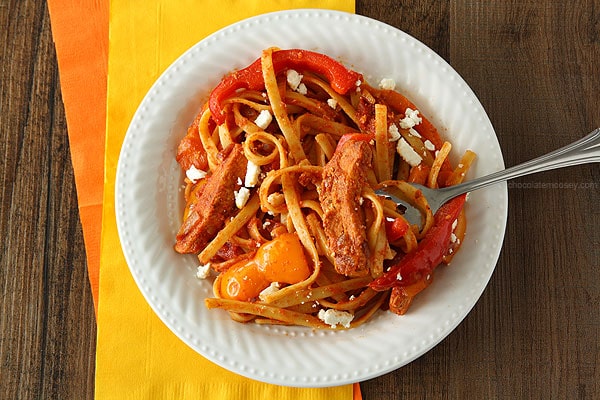 Chicken Fajita Feta-ccine
Ingredients
4 ounces fettuccine pasta
1 boneless and skinless chicken breast, cut into strips
1 tablespoon fajita seasoning (get homemade recipe here)
1 tablespoon lime juice
1 tablespoon olive oil
1 small onion, cut into strips
1 garlic clove, minced
1 medium bell pepper, cut into strips (or a mix of red, yellow, orange, and/or green)
1 cup salsa (store-bought or homemade)
1/2 cup feta cheese
Instructions
Bring a pan of water to boil. Cook the pasta as directed on the box.
While waiting for the pasta, in a medium bowl, toss together the chicken, fajita seasoning, and lime juice.
Heat 1 1/2 teaspoons oil in a skillet. Add chicken and cook until no longer pink in the middle. Remove from the pan.
Add the remaining 1 1/2 teaspoons oil to the skillet. Add onion, garlic, and bell pepper and cook for about 5-6 minutes or until peppers are crisp tender.
Add the salsa and bring to a boil (if too thick, add some water). Add the chicken and 1/3 cup feta. Stir until cheese melts.
Once the fettuccine is cooked and drained, toss with the chicken mixture. Top with the remaining feta cheese.

Source: Adjusted from Food.com