Homemade Red Enchilada Sauce (Small Batch)
Learn how to make Homemade Red Enchilada Sauce from scratch using tomato sauce and fajita seasoning. Makes a small batch to make 6 enchiladas.
I've been cooking from scratch for so long, sometimes I forget to share old tried and true recipes on this blog.
I've had this recipe for Homemade Red Enchilada Sauce since, well, forever. Growing up, I kept a three ring binder full of recipes I printed from the internet. I still have that binder to this day, although I purged a lot of the papers since.
This recipe was printed way back when Recipe Zaar existed (which rebranded to Food.com and is now Genius Kitchen). I made it a lot throughout college and into adulthood.
I still follow the same recipe, although over the years I've made minor adjustments to seasoning (and naturally cut the recipe in half for a small batch).
This small batch enchilada sauce makes enough for 6 enchiladas, which I used for my Slow Cooker Beef Enchiladas.
I wanted to separate them into two posts so 1 – I can keep linking to this sauce in other recipes and 2 – to keep the post from getting too long (as you read on, you'll notice I have a lot to say about the sauce let alone adding enchiladas into the mix).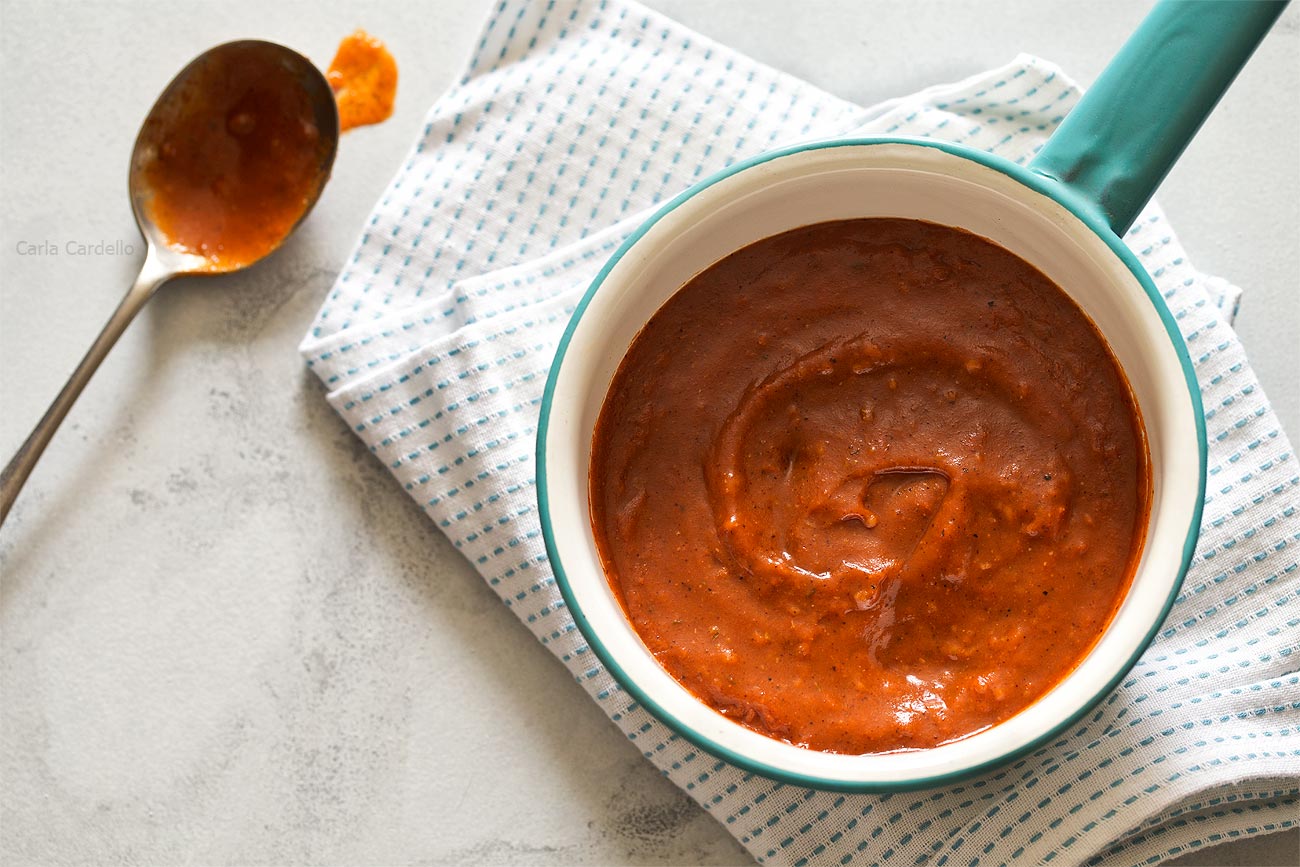 The ingredients in red enchilada sauce are simple – olive oil, canned tomato sauce, chicken broth, spices, and flour. The red color comes from the tomato sauce as well as using chili powder and paprika.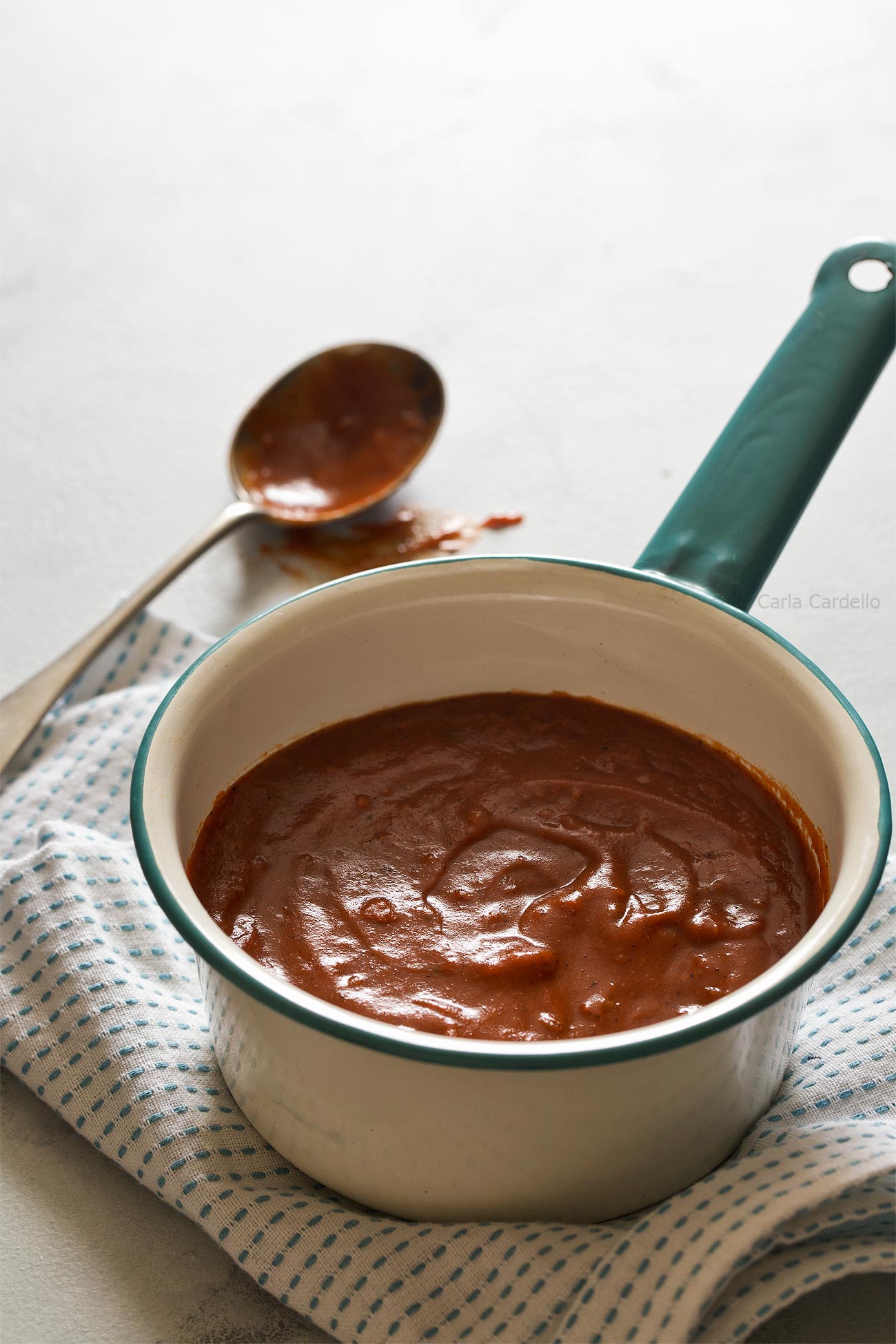 To make red enchilada sauce, first mix together your flour and spices.
The first time I made this sauce, I didn't have my mise en place ready (which is a fancy way of saying having your ingredients prepped and ready to cook).
By the time I threw everything into the pan, my flour mixture burnt. This is why you shouldn't skip mise en place.
Next, you make a roux with the flour and oil. A roux is a mixture of flour and fat that forms a paste used to thicken sauces.
Then you whisk in the broth and tomato sauce. I use chicken broth, but you can certainly use vegetarian broth if you're making vegetarian enchiladas.
Once you bring it to a boil, cover with a lid and simmer for about 10-15 minutes. The lid is mostly so you don't have sauce splattered EVERYWHERE on your stove.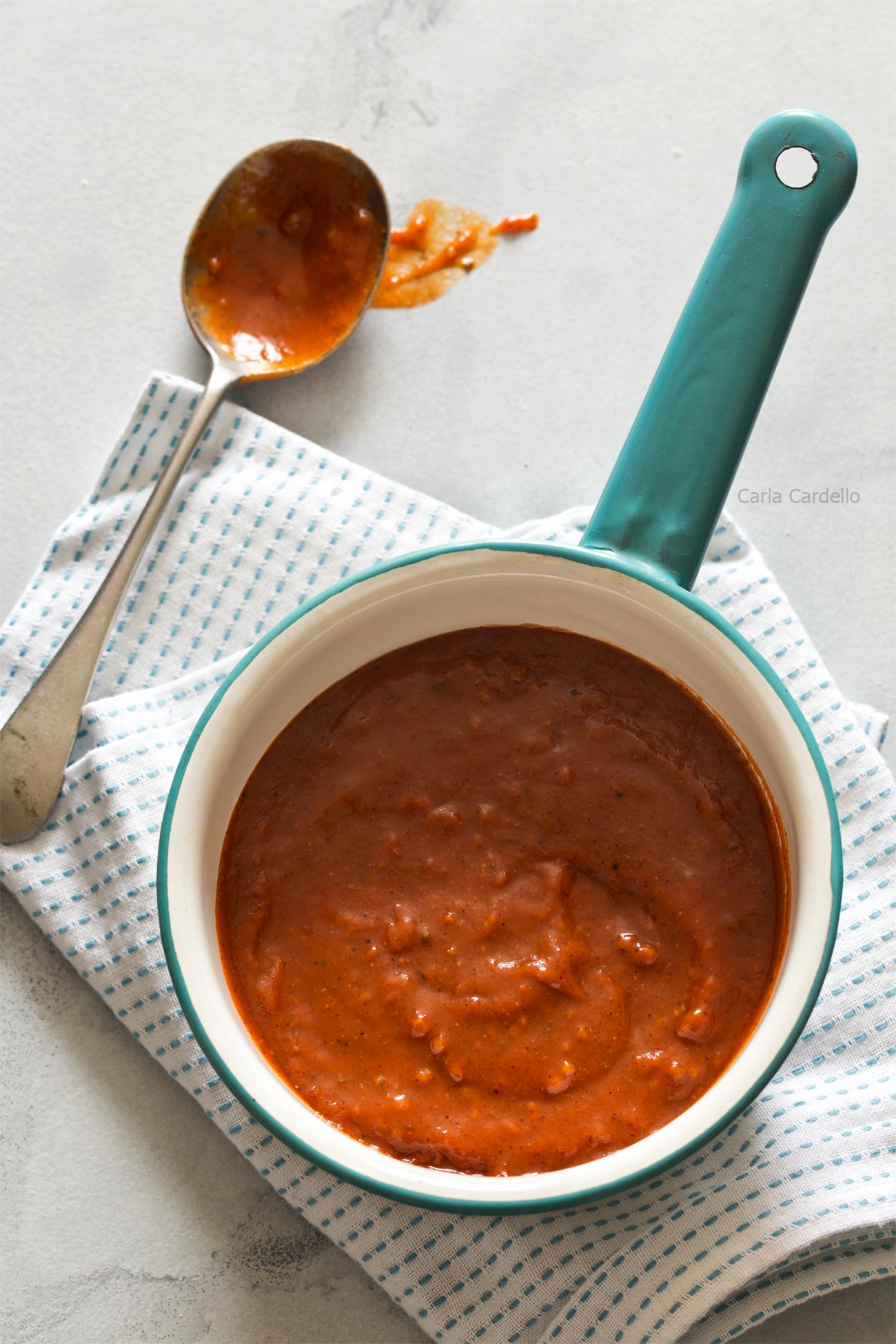 The spices used in enchilada sauce are chili powder, cumin, black pepper, salt, paprika, oregano, garlic powder, and onion powder.
I quickly realized these are the same ingredients as my fajita seasoning, so I simplified the recipe by using my spice mix instead of listing each individual spice.
Recipes Using Homemade Red Enchilada Sauce

Now that your sauce is made, let's put it to good use!
Homemade Red Enchilada Sauce (Small Batch)
Yield: 1 cup
Prep Time: 15 minutes
Cook Time: 20 minutes
Total Time: 35 minutes
Ingredients
2 tablespoons all-purpose flour
1 1/2 tablespoons fajita seasoning (get homemade recipe here)
1 tablespoon olive oil
3/4 cup chicken stock or broth (use vegetable stock for vegetarian)
3/4 cup canned tomato sauce (roughly one 8-ounce can)
Instructions
In a small bowl, whisk together the flour and fajita seasoning.
In a large saucepan over medium heat, heat the oil. Once hot, whisk in the flour mixture until a roux (paste) forms.
Slowly whisk in the broth then whisk in the sauce. Bring to a boil.
Once boiling, turn it down to a simmer and cover with a lid. Simmer for 15 minutes or until thickened. Cool to room temperature before using. Refrigerate if not using right away.
This post may contain affiliate links. As an Amazon Associate and member of other affiliate programs, I earn from qualifying purchase.