Apple Filled Doughnuts (Small Batch)
Doughnut of the season award goes to these Small Batch Apple Filled Doughnuts – 6 fried yeast doughnuts stuffed with apple pie filling then dusted with cinnamon and powdered sugar.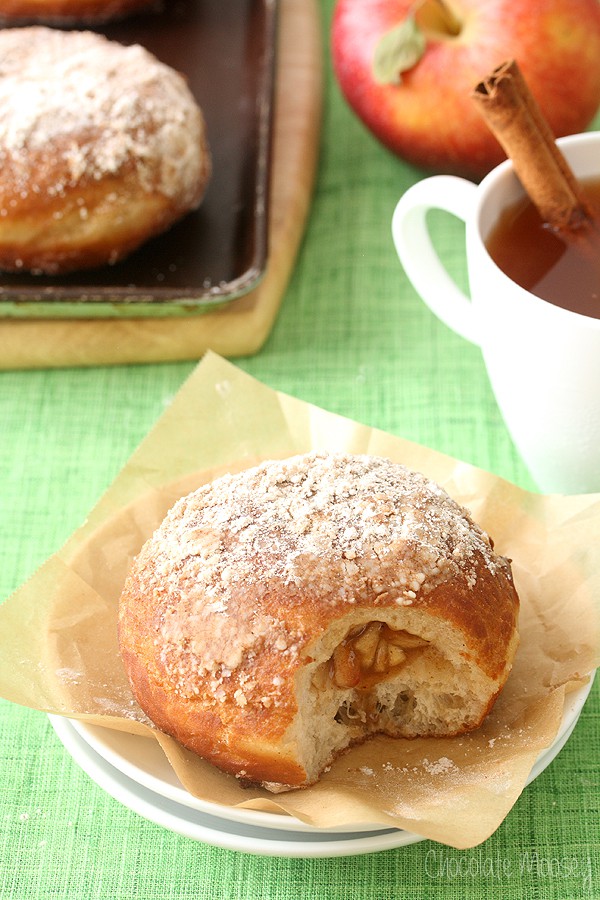 Do you like doughnuts? Delicious doughnuts? Well if you do, then you deserve some doughnuts.
Every time I hear doughnuts, I think of this YouTube video of doughnuts and pugs that my friend and I somehow discovered in college while studying one night.
I have no idea why it's about pugs, but hey the song is quite catchy.
Since we're talking about doughnuts, I'm so excited to talk about these small batch Apple Pie Filled Doughnuts!
Just as the name suggests, these are 6 fried yeast doughnuts stuffed with homemade apple pie filling then covered in cinnamon and powdered sugar.
I don't even know where I got the idea except it's now apple season and I wanted doughnuts.
Most apple doughnuts I saw where either apple cider based or topped with apple pie filling; none were actually stuffed.
After two attempts, I made apple pie filled doughnuts a reality.
If you've never made doughnuts before, one – don't be scared! And two – you'll need some extra time to make the dough because it needs to rest and rise twice BUT I promise your patience will be rewarded.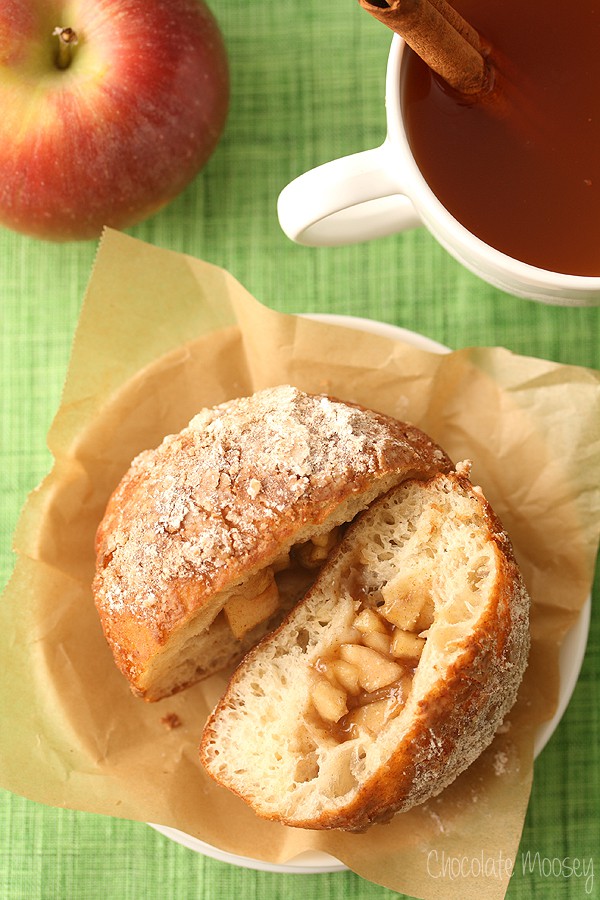 At first I wasn't sure how to stuff them.
Normally you would put a smooth filling like cream or jelly into a piping bag and squeeze into the doughnut, but we are talking apple chunks that would get stuck.
I decided to take a risk and stuff the doughnuts before frying by sealing two dough circles together.
I wasn't sure if the filling would somehow fall out or disintegrate, but the doughnuts turned out perfectly.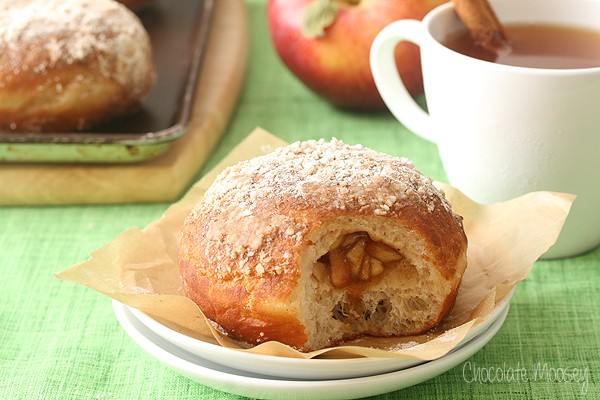 I'm not one to fry food at home, so my first attempt was baking filled doughnuts.
I've baked doughnuts before, like my vanilla bean doughnuts and carrot cake doughnuts.
I bookmarked a cream-filled baked doughnut recipe awhile back, so I knew it was possible. I could use that recipe as my base then cut a slit and shove some apple pie filling into the middle!
However, when I pulled my tray out of the oven, I was skeptical at what I saw. Baker's instinct, I guess.
I tasted one before stuffing and… it tasted like a sweet biscuit. Biscuits are not doughnuts.
I tried imagining it filled with apple pie and cinnamon sugar dusted on top. Nope. Still a sweet biscuit.
I knew I had to give into frying and opted for a new dough recipe altogether.
I have a deep fryer (
this one, to be exact
– Amazon affiliate link).
Well, technically it's not mine, but I borrowed it from my parents when I officially moved out of the house (which was like, 5 years ago. Oops).
Since oil temperature tends to fluctuate once you start frying, I prefer using my deep fryer because it regulates the temperature the whole time.
Except it was taking for-eve-r to heat to 350F (read: me being impatient). I quickly abandoned my fryer and heated the oil in a deep pot on the stove.
You really do need a digital thermometer (I have this one – Amazon affiliate link) because the heat needs to be between 350F-355F.
Too hot and your doughnuts will burn before the middle is cooked.
Too cold and the doughnuts will be extra greasy from not cooking fast enough.
When the temperature got to 365F, I stopped frying, turned the heat off, and waited for it to cool down before frying again.
Once the temperature got to 349F, I turned the heat back on.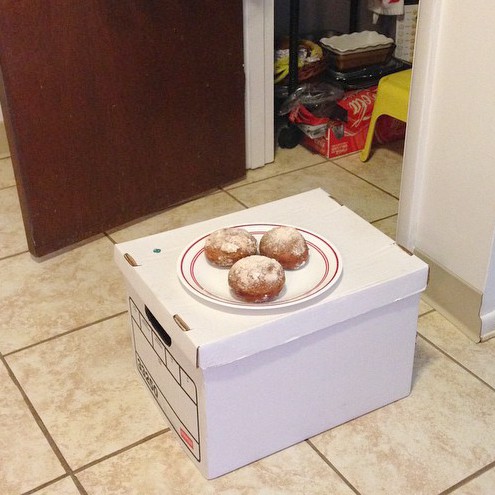 Remember when I said I had my deep fryer out but wasn't working?
I left it on the counter because I needed to clean it.
Funny thing about my apartment is my lack of counter space. I have only three counter space areas, two of which are constantly occupied with my dish rack, stand mixer, and a few other essentials, which means I have one small clear area for prep and dirty dishes.
Since my fryer took up that last counter, I resorted to storing my perfectly-fried doughnuts on a box on the floor.
The one thing I hate most about frying is my apartment smelling like oil. When I came back later that evening, my apartment smelled, but instead of the usual fried oil, it smelled like doughnuts. I think I can live with that.
Looking for more? Check out my full list of recipes using apple pie filling.
Don't want to make apple? Substitute peach pie filling or cherry pie filling.
Equipment you may need:
Small Batch Filled Doughnuts
Yield: 6 donuts
Prep Time: 30 minutes
Cook Time: 20 minutes
Rest Time: 1 hour 30 minutes
Total Time: 2 hours 20 minutes
Doughnut of the season award goes to these Small Batch Filled Doughnuts – fried yeast doughnuts stuffed with fruit pie filling then dusted with cinnamon and powdered sugar.
Ingredients
1/3 cup warm water (110F-115F)
1 package active dry yeast (0.25 ounces)
2 tablespoons unsalted butter, melted and cooled
1/3 cup warm milk (110F-115F)
1/3 cup granulated sugar
1 egg, room temperature and lightly beaten with a fork
1 teaspoon salt
1/2 teaspoon vanilla extract
2 3/4 cups all-purpose flour (plus more for stickiness)
1/4 cup powdered sugar
1 teaspoon ground cinnamon
Vegetable oil, for frying
Filling Of Choice (Pick One)
Instructions
In a large mixing bowl, mix together the warm water and yeast. Let sit for 5 minutes.
After 5 minutes, add the melted butter, warm milk, sugar, egg, salt, cinnamon, nutmeg, vanilla, and 1 1/4 cups flour. With the paddle attachment on a stand mixer or a regular hand mixer, beat on low speed until everything is combined (the dough will be wet and loose).
Add another 1 1/2 cups flour and beat until the dough is soft and elastic. It should be slightly sticky but if it's too sticky (sometimes due to the weather), add up to an additional 4 tablespoons flour.

If using a stand mixer, switch to a dough hook and beat for 4-6 minutes or until the dough pulls away from the sides of the bowl.

If not, knead the dough by hand on a floured surface for 4-6 minutes until the dough is smooth, holds its shape, and an indented hole fills back up quickly.
Place the dough in a lightly-oiled bowl and cover with a towel. Let the dough rise in a draft-free warm area until doubled in size, about 1 hour.

At this point if you're not making the doughnuts right away, seal the bowl with plastic wrap (touching the dough surface) and refrigerate for up to 2 days. Bring to room temperature before continuing.
When the dough is ready, roll out the dough on a lightly floured surface to 1/4-inch thickness. Using a 3-inch round cookie cutter, cut out as many circles as possible and place on a lightly floured cookie tray. Gather up the dough scraps and repeat until the dough is gone. You should have 12 circles.
Place some of the filling in the middle of one dough circle, roughly 2 teaspoons (do not overfill or it'll leak). Dip a pastry brush in room temperature water and brush the edges of the dough. Add a plain circle on top, pressing the edges together with your fingers to seal**. Repeat with the remaining dough. You should end up with 6 filled doughnuts.
Cover with a towel and let rest in a draft-free warm area until doubled in size, about 30 minutes.
In a shallow plate or bowl, mix together the powdered sugar and cinnamon.
Heat 3 inches of oil in a deep pot or fryer to 350F. Line a few paper plates with paper towels.
Once hot, fry a few doughnuts at a time (do not overcrowd!) until lightly golden brown on the bottom, about 1-2 minutes. Flip and repeat, another 1-2 minutes.
Using a slotted spoon, remove each doughnut and drain on paper towels. Immediately toss each one with the cinnamon sugar mixture.
Repeat until all of the doughnuts are fried.

Doughnuts are best eaten the same day but can be stored in an airtight container for up to 2 days.
Recommended Products
As an Amazon Associate and member of other affiliate programs, I earn from qualifying purchases.
Source: Adapted from
A Baker's Field Guide to Doughnuts
Want more doughnuts and pastries to make?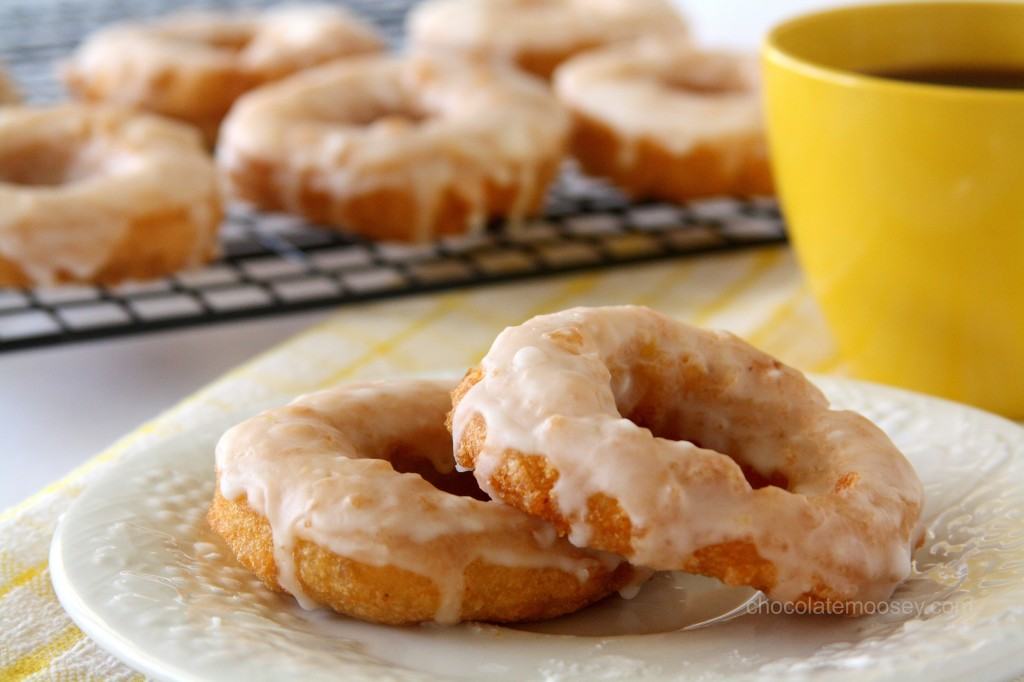 Double Lemon Glazed Doughnuts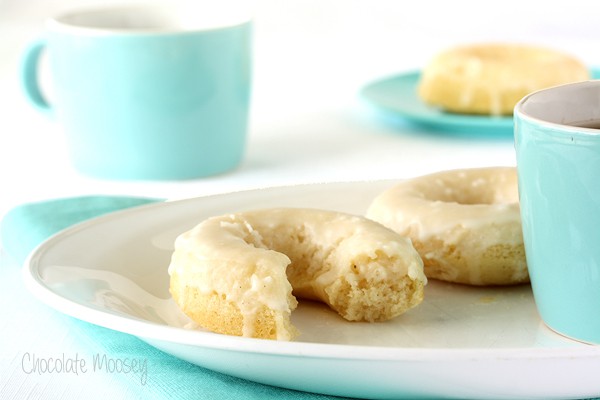 Baked Vanilla Bean Doughnuts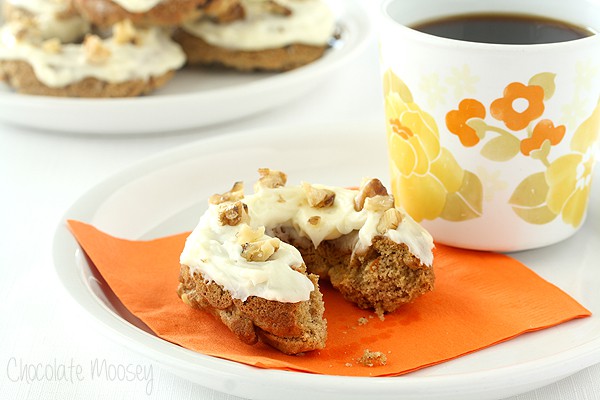 Carrot Cake Baked Doughnuts

Apple Cider Cinnamon Rolls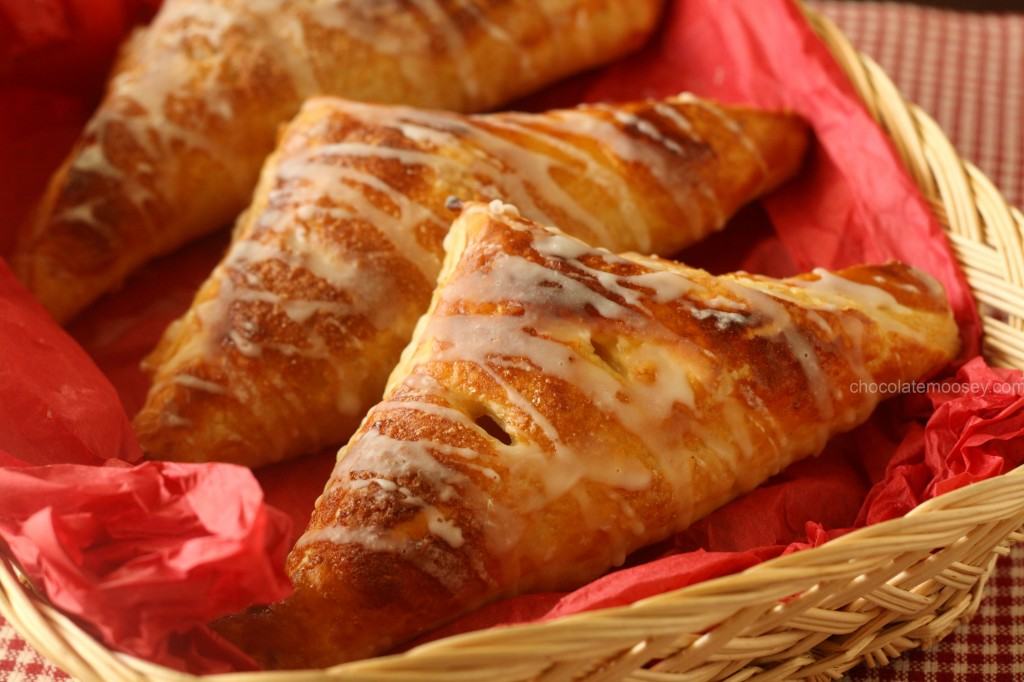 Apple Pie Turnovers
This post may contain affiliate links. As an Amazon Associate and member of other affiliate programs, I earn from qualifying purchase.