Shrimp Curry (Without Coconut Milk)
Tired of the same boring recipes? Go global with Shrimp Curry without coconut milk and have dinner ready on the table in 30 minutes or less.
Shrimp Curry For Two in a hurry – ok, ok so the name is a little cliché, but I wanted to emphasize how fast it is to make this, which means that this dinner can be ready in 30 minutes or less.
This is a recipe I've been making since college, and considering what my cooking skills were back then (read: still developing), it is very easy for anybody who loves spice to cook.
Indian food is one of my favorite cuisines, mainly because nobody else eats it.
Dad may be an adventurous eater, but he draws the line at curry. Mom certainly won't eat it. My brother may or may not eat it (he might eat chicken dishes if they aren't too spicy).
I have one friend who ate it with me in college, but since there were no Indian restaurants near campus, it was very, very rare.
I think that's why I love Indian food so much – it tastes so good, yet I never have it.
That's the beauty of cooking at home – you can make anything you want without worrying about take out prices.
If you love shrimp, vegetables, and spice (or if you're feeling adventurous in trying a new cuisine), then this Shrimp Curry is a must for you.
If you're new to Indian food, curry is a great place to start.
Curry refers to a dish of meat and vegetables in an Indian-style sauce of strong spices and is typically served with rice.
Curry powder, which is what I used in my sauce, is a spice mixture that can vary on the blend. Mine is a Madras-style powder with turmeric, cayenne, coriander, ginger, cumin, fenugreek, white pepper, cinnamon, fennel, nutmeg, cardamom, cloves, and black pepper.
They can also vary in spice level. Mine is specifically labeled hot curry powder, but not all curry powders are that spicy.
You can pick up curry powder where you buy your spices. Mine came from Penzey's Spices.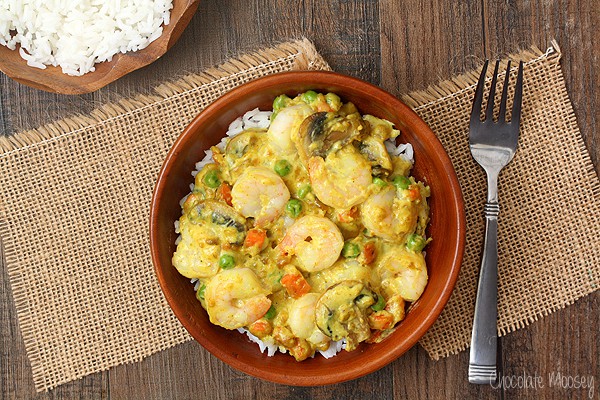 The first time I've tried curry sauce was…from a grocery store in Ireland (bet you didn't expect me to say that).
It was jar of pre-made curry sauce. I don't even know how I ended up with it; I think I was tired of spaghetti sauce and wanted something new.
Studying abroad in Ireland marked my transition into cooking since moving out of my parent's house. For the first year and a half on campus, I had a meal plan and ate at the dining hall every day.
When I spent a semester in Ireland, I had my own kitchen. Well, I shared it with three other students, but I bought my own groceries.
Sure, the University of Limerick had a few eateries on campus, but you paid out of pocket each time. $6 for a sandwich every day? No thanks.
I knew how to cook but wasn't well versed in cooking from scratch. Add in that we didn't own a microwave nor money for kitchen tools that we'd end up tossing after a few months, and I ended up with a few shortcut ingredients such as jarred sauces and packaged soup mixes.
When I started my junior year back in the U.S., I lived in an apartment with a kitchen. No more dining hall for me!
I also went through this phrase where I cooked everything I could from scratch. Jarred sauces were the first to go.
I absolutely loved that curry sauce I bought and set out to recreate it. I became obsessed with making curry. Chicken curry, mushroom curry, butternut squash curry, broccoli curry, beef curry (yes, I know beef goes against Indian beliefs, but hey I had beef in the freezer).
It wasn't until I started my first big girl job that I made shrimp curry since I could now afford shrimp.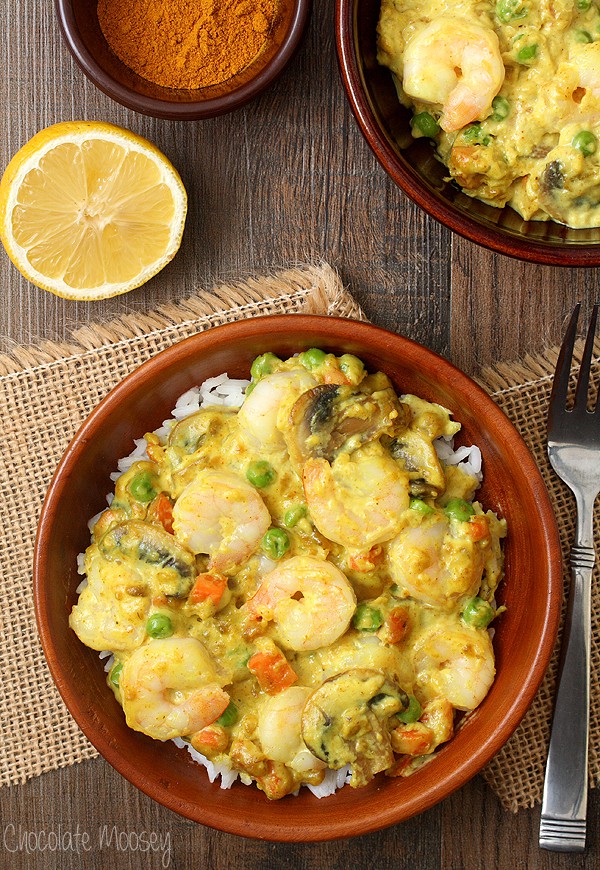 Shrimp is probably one of the fastest cooking proteins, which is why I often make shrimp dishes when I need dinner in a hurry.
You can certainly change up this dish as you see fit. I toss in whatever vegetables I have on hand, usually broccoli and mushrooms but today's recipe has carrots and peas.
Replace shrimp with chicken or make it vegetarian by bulking up the vegetables and using vegetable stock.
You can also go non-traditional and make Curry Chicken Wings.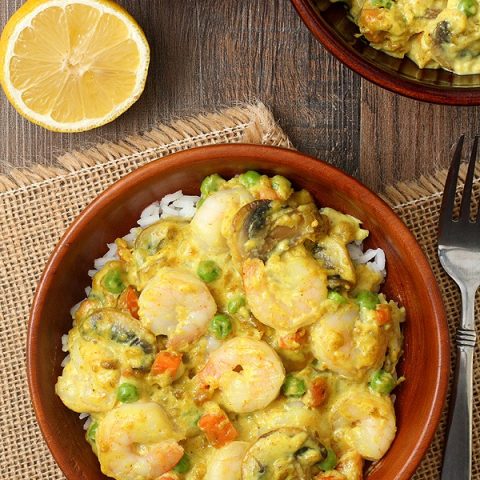 Shrimp Curry Without Coconut Milk
Yield: 4 servings
Prep Time: 10 minutes
Cook Time: 20 minutes
Total Time: 30 minutes
Tired of the same boring recipes? Go global with Shrimp Curry without coconut milk and have dinner ready on the table in 30 minutes or less.
Ingredients
1/2 cup uncooked white rice
1 cup water
2 tablespoons all purpose flour
2 teaspoons curry powder
2 teaspoons granulated sugar
1/2 teaspoon salt
1/4 teaspoon ground ginger
1/2 pound (8 ounces) raw shrimp, peeled, deveined, and patted dry
2 tablespoons unsalted butter
1/4 cup chopped onion
4 button mushrooms, sliced
1 large carrot, diced
1/2 cup chicken stock or broth
1/2 cup whole milk
1 teaspoon lemon juice
1/4 cup peas
Instructions
In a large saucepan, add the rice and water then bring to a boil. Once boiling, turn the heat down to low and cover. Simmer 10-12 minutes or until the water is absorbed and rice is fluffy. Remove from the heat and let stand covered 10 minutes.
While the rice is cooking, in a medium bowl, whisk together the flour, curry powder, sugar, salt, and ginger.
In a large skillet over medium heat, melt 1 tablespoon butter and big pinch of salt. Once hot, add the shrimp. Cook until the shrimp are pink and no longer transparent, flipping once halfway through, about 5 minutes. Transfer the shrimp to a bowl and keep warm.
Using the same skillet, melt the remaining 1 tablespoon butter. Add the onion, mushrooms, carrot, and a big pinch of salt. Cook until softened, about 5 minutes.
Stir in the flour mixture to coat and form a roux (paste). Slowly stir in the broth. Bring to a boil and cook until thickened, about 3-5 minutes.
Stir in the milk, lemon juice, peas, and cooked shrimp. Taste and adjust for seasoning.
Once everything is ready, serve the curry over cooked rice.
Looking for more quick recipes?

General Tso's Sweet Chili Shrimp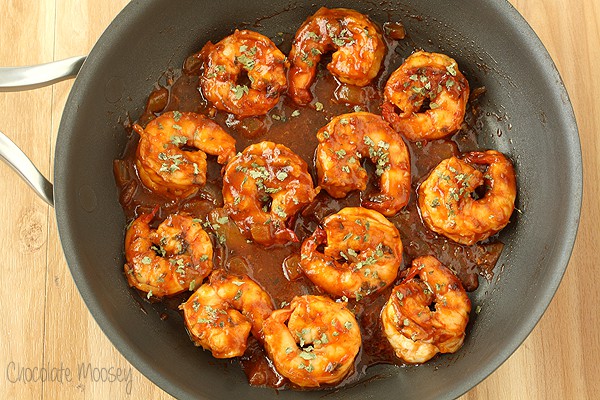 Spicy Beer Shrimp

Asian Shrimp Tacos with Mango Salsa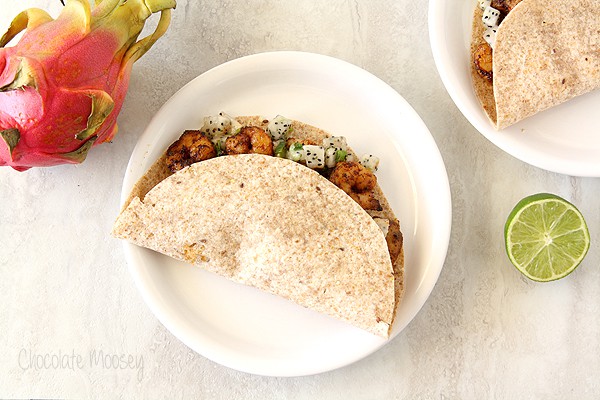 Fajita-Spiced Shrimp Tacos with Dragon Fruit Salsa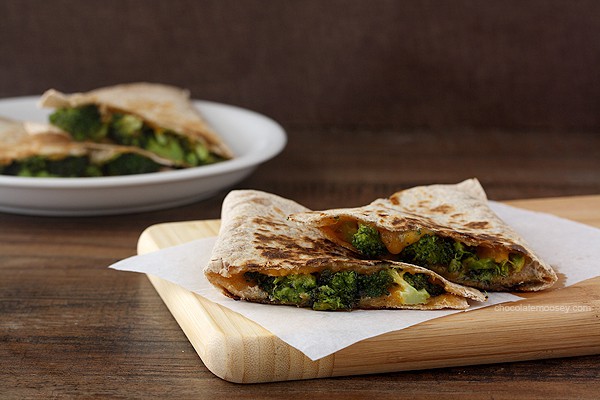 Roasted Broccoli and Cheese Quesadillas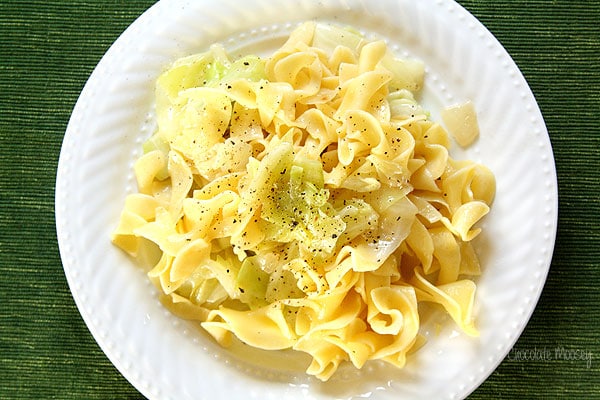 Haluski (Cabbage And Noodles)
This post may contain affiliate links. As an Amazon Associate and member of other affiliate programs, I earn from qualifying purchase.