Jalapeno Popper Fettuccine Alfredo
Jalapeno Popper Fettuccine Alfredo brings a spicy twist to an Italian classic with jalapeno slices, bacon, and a variety of cheeses.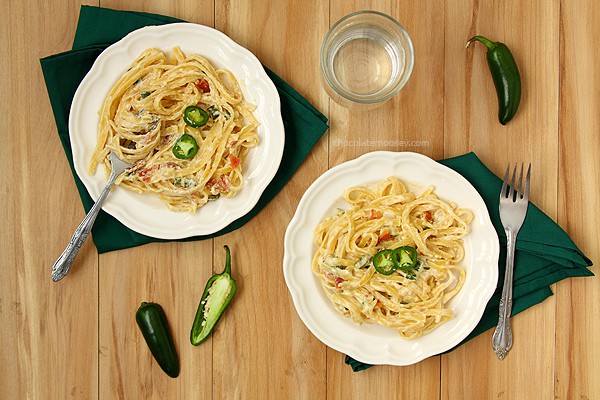 Confession: I'm kind of a wimp when it comes to spicy foods. Some like it hot; I like it mild.
I remember one time I bought a habanero pepper from a farmer's market during college. Anxious to give it a shot, I made a habanero pasta sauce.
It was the only dinner I had to throw out because I couldn't even finish a plate; habaneros are just way too hot for me. I even had a glass of milk to tame the fire, but it was just too torturous.
Now I just stick with jalapenos. Every year, I grow jalapeno plants, but for some reason, they are not producing this year.
This makes me so upset because I add jalapenos to a lot of things, just to give the ordinary a bit of a kick.
Take this Jalapeno Popper Fettuccine Alfredo for example. What may be an ordinary Italian classic is now brought into the spotlight with the addition of jalapenos, bacon, cheddar cheese, and cream cheese.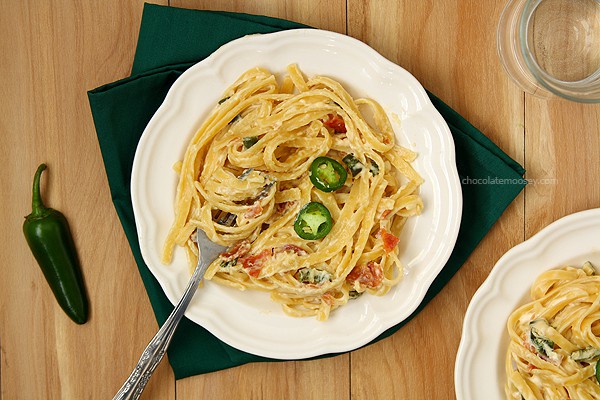 This idea popped into my head awhile back when I saw recipes for jalapeno mac and cheese.
I'm not sure why I chose fettuccine alfredo – maybe because the sauce is already creamy like the cream cheese filling you often find in jalapeno poppers.
It just felt right to add jalapenos, bacon, and cheese to it.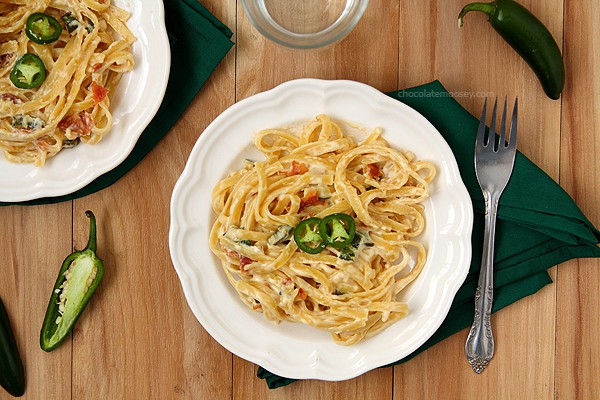 When I made this for dinner, it wasn't spicy at all because I didn't add any jalapeno seeds or membrane. I told you I'm a wimp.
However, for those of you who like it HOT, add the entire chopped peppers, seeds and all.
Or if you're hesitant, reserve some seeds for the end and add to taste.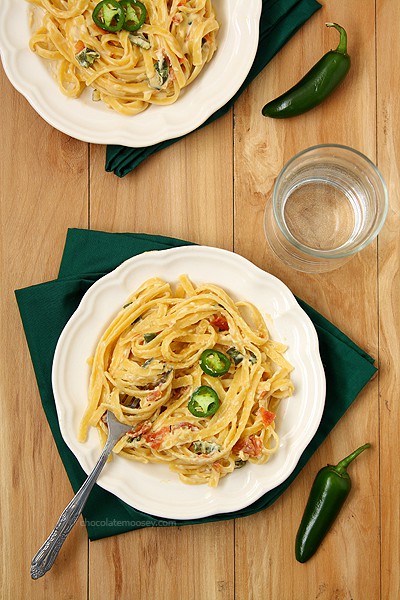 Jalapeno Popper Fettuccine Alfredo is now a part of my 30 minute meal rotation. I really need to start a notebook of easy and quick after work recipes.
I used to have a notebook of ideas in college, but not only is it outdated (I can afford groceries now!), I have no clue where it is. I think it's on the floor in the bedroom somewhere….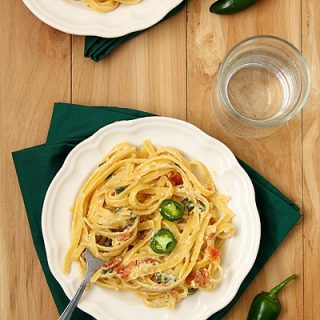 Jalapeno Popper Fettuccine Alfredo
Yield: 4 servings
Prep Time: 20 minutes
Cook Time: 30 minutes
Total Time: 50 minutes
Jalapeno Popper Fettuccine Alfredo brings a spicy twist to an Italian classic with jalapeno slices, bacon, and a variety of cheeses.
Ingredients
1/4 pound fettuccine, uncooked
1/4 cup (1/2 stick) unsalted butter
1/2 small onion, chopped
2 jalapenos, chopped (seeds removed if desired)
2 garlic cloves, peeled and minced
4 ounces cream cheese, softened and cut into pieces
1 cup milk or heavy cream
1/4 cup shredded cheddar cheese
1/4 cup grated parmesan cheese
2 slices bacon, cooked and chopped into pieces
Instructions
Bring a large pot of water to a boil. Cook pasta as directed on the box.
Meanwhile, melt butter in a large saucepan. Saute onion and jalapeno until softened, about 5-8 minutes. Add garlic and cook 1 minute.
Slowly whisk in the milk. Add the cream cheese and stir until melted. Boil for a few minutes or until it starts to thicken.
Stir in the cheddar and parmesan cheeses until smooth. Stir in the bacon.
Once the pasta is finished and drained, add it to the sauce*.
Notes
*If the sauce cools down and thickens too much, reheat and stir in some more milk or cream to thin it out.
This post may contain affiliate links. As an Amazon Associate and member of other affiliate programs, I earn from qualifying purchase.